The Guide Dogs Way
By Julia Barnes
Reviewed by Amanda Cable

Description: The Guide Dogs for the Blind Association has an unparalleled reputation for breeding, rearing and training dogs. Now for the first time, this great bank of knowledge and expertise has been made available to all owners so that they can transform their lively, mischievous puppy into a beautifully-trained adult. The only training book officially approved by Guide Dogs.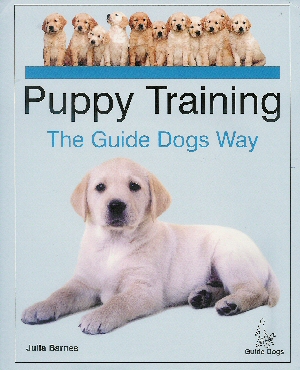 Contents:
The perfect dog

The choice is yours

The right start

The homecoming

Early learning

Basic exercises

Puppy socialisation

Growing up
Best Features:

This book provides logical and easy to understand excellent explanations and illustrations on how and why puppies can become socially accepted dogs through proven socialisation and positive learning techniques.

Topics include such things as breeding for temperament, the importance of socialisation, understanding the dog's mind, positive learning experiences and overcoming problem behaviour.

It is a good reference for the first time puppy owner as well as providing useful advice to pet owners who already have some dog experience. It helps avoid potential problems developing and demonstrates how consistent, clear ground rules can help prevent having an unruly puppy.

The case studies are useful and give an insight into what is required of a Guide Dog puppy walker.

The book successfully addresses how individuals can overcome particular problems with their puppy. I, also, like the idea that the Association keeps information on computer of every dog they have bred and can track information on dogs back several generations.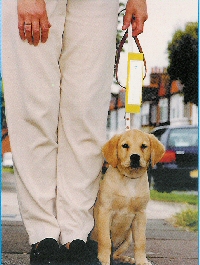 Could be better: This book is aimed at all dog owners but to some extent focuses on the 50 stud dogs and 250 bitches they have bred in their Association. The issue of being able to train puppies from rescue is not seen as an option. Additionally, there is no information on what happens to the guide dog puppies which do not make the grade.

The importance of well-run puppy parties and what to look for in a good puppy class needs more explanation. For example; it is vital that off-lead play is controlled and monitored effectively by experienced people to avoid behaviours such as bullying or phobias developing and being reinforced.

There needs to be an index in the back of the book. It would also be useful to have contact addresses for people who may wish to become puppy walkers as a result of reading the book.

Design & Format:

This book is hardback with more than 150 colour photographs. The design and format were on the whole good, although some boxes with text referred you to several different pages making it disjointed. Important training tips in highlighted boxes are a good idea.

Overall Rating: 7/10. This score would be higher if I was specifically looking to become a guide dog puppy walker.

Price: £9.99

Value for Money: Yes. It contains very good information with excellent training and socialisation tips from an Association, which has a proven track record for training well-behaved, adaptable and reliable dogs. All royalties from the sale of this book go direct to The Guide Dogs for the Blind Association. 10% of the Publishers net receipts (plus VAT) will be donated to The Guide Dogs for the Blind Association Trading (Company) Ltd., which covenants all its profits to The Guide Dogs for the Blind Association (registered charity 209617) at the end of the financial year.
---
About the Author:
Julia Barnes is a former journalist who has written many books, including several on dog behaviour and training. She was editorial director of Ringpress Books as it grew into Britain's largest specialist publisher of dog books.
In addition, she is an experienced dog handler and has been responsible for puppy walking a number of assistance dogs.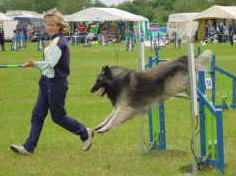 About the Reviewer...
Amanda Cable (BA Hons) is currently studying for an Advanced Diploma in Practical Aspects of Companion Animal Behaviour and Training after passing an intermediate award in canine training and behaviour in 2003.
Amanda has had first-hand knowledge of raising litters of puppies. She currently competes in agility with her two Belgian Shepherds, Cloud and Frost at Starter/Novice level as well as owning, Henry, an Afghan Hound.
Published by Ringpress Books
A division of Interpet Publishing
Vincent Lane, Dorking, Surrey RH4 3YX
Also available from
---
If you would like to comment on this product or add your name to the Agilitynet list of reviewers,
email your name and details to Ellen Rocco at Agilitynet today.