We are here to help...
There are many national and local charities - large and small - which benefit from and support agility people. Thousands of pounds are raised by agility clubs and individuals around the country via demonstrations, sponsored walks and other events. What have you or your club done today?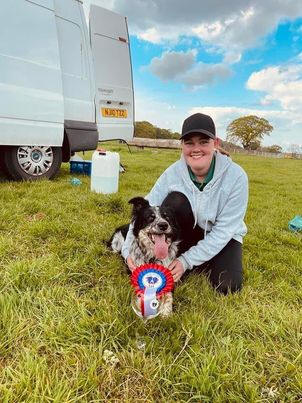 Help Replace Michelle and Rebecca's Stolen Gear
Michelle Naughton and Rebecca Paterson's Ford Transit Medium Wheelbase Panel Van. (Reg. NJ10 TZZ) was stolen from Esh Winning on Tuesday night, 4th August Not only did they lose the van but all their camping equipment and dog stuff such as cages, leads, toys and bowls as well as personal stuff - too many things to list.
The van was insured but not their personal things.
Paul Willett, one of Michelle's agility students, has kindly set up a Go Fund Me page to try and raise funds for some of the things they lost.
He said, 'Over the past year Michelle and her daughter Rebecca have introduced me to the sport of dog agility, which now has taken over my life. It's amazing! It also needs a van and loads of gear to attend competitions.'

Rebecca added, 'We have five dogs and compete in agility so we virtually lived out of that van. Any help at all would be greatly appreciated.'
---

Ray Amps Memorial Class
Martin Gowler, Craig Stevens & Val Amps
In a lovely end to the RVA Show, there was a fun class in memory of Ray Amps to raise money for pancreatic cancer research.
Organised and judged by Jeanette Tandy and compered brilliantly by Neal Lye, the class was for all heights and was really was great fun with all competitors having to decide on who was going into the pool after the last jump - the handler or the dog! Amongst the 40 odd dogs entered, there were lots of really good sports including overall winner Martin Gowler whose little 'princess' was going nowhere near it. Needless to say, he ended up with a wet backside!
It all finished off with Ray's three granddaughters running his three dogs around the course together. There were lots of laughs and almost certainly a few tears.
Martin said, 'Sarah and I were thrilled that Echo won the Small class, and then also ended up winning the Overall competition! Thank you Val and RVA for a great show, and of course, for the many of us who were helped by him over the years, thank you Ray - much missed, but never forgotten. They did you proud.'

Craig Stevens added, 'Of all of the rosettes that I have won over the years, this one means more than most of them to me. I met Ray at my very first agility show, and he was so kind, helpful and friendly. I will never forget that encouragement he gave me from his red golf buggy. I've run courses that he judged, and judged him running my courses, and every time we had some great chats afterwards.

It was so lovely to have a really fun class in his memory, I'm sure he would have loved the laughter around the ring as we dived into the water! Thank you to RVA for a really fun and great evening, and thank you to Ray, for just being Ray.'
Val thought that Ray would have loved it especially the part with everyone sitting around cheering and heckling the judge.
She said 'I haven't finished counting yet but the current amount raised is over £500. The event was all sponsored by Spytech, Steve Gardner, Pawstrading and Lianne Hulett plus others who filled the winners bags with goodies. There were lots of donations from those who didn't want to take part but enjoyed watching.'

We hope to run a similar event next year - again with sponsorship from Spytech. We can't raise too much money to find a treatment for this horrible disease.'
---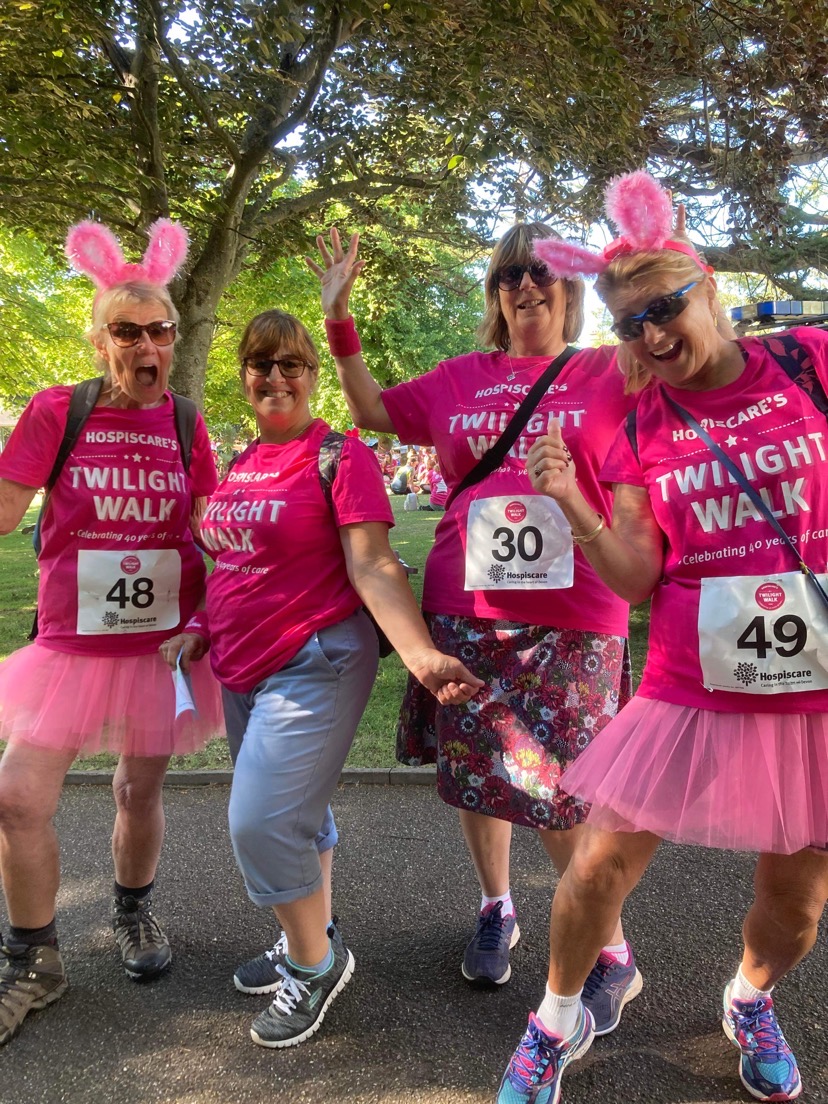 Jill's Charity Walk for Hospicecare
On 9th July 2022, Jill Robertson will be taking part in The Twilight Walk with the Sounds Choir. This means putting her best foot forward and taking steps to make a difference. She'll be getting my glam rags (and trainers) on to complete a sponsored walk, all to raise vital funds for Hospiscare.
Hospiscare is a local charity, caring for terminally ill patients and their families across Exeter, Mid and East Devon. Their teams of doctors and nurses offer specialist palliative care, to ensure that patients can make the most of the time they have left.
After a difficult couple of years that saw Hospiscare launch their Save Our Services campaign, Jill wants to help make sure that Hospiscare can continue to be there for the local community - now and in the future.
Please help make a difference by Just Giving whatever you can - and thank you in advance!
Update: After the event, Jill reported it was very warm evening but god fun. She raised £570 for her charity.
---
Fundraising Continues for Canine Epilepsy Research

In memory of Kye Evans
Laura Evans has sent Agilitynet an update to let you know that she is still here and even though she's not been around at any shows lately, her fundraising efforts have continued in the background, albeit at a slower pace than she would have liked.
She said, ' Our previous fund-raising money had gone to The Animal Health Trust towards their Canine Epilepsy Research Program but unfortunately the Trust went into receivership in July 2020. This was a complete shock to all of us and a sad loss to not only us personally, but to everyone who had been involved with the Trust which had employed over 200 staff ranging from researchers, scientists, vets, nurses, support staff plus the fundraising department too. Before the Trust closed their doors our own fundraising via Kye's Just Giving page raised a staggering £14,500 thousand pounds which was a fantastic achievement.'
A new Just Giving page was set up in August 2020 so now all fundraising money goes to The Royal Veterinary College Animal Health Trust, once again towards their Canine Epilepsy Research Program. Fundraising has continued during the pandemic with a few 'Pick a Number' prizes along with proceeds from selling various pieces of clothing plus loads of dog related items plus some cash money donations too. To date nearly £2,500 thousand pounds have been raised which, during such a difficult time for many, is a remarkable achievement and just goes to show how important this cause is to so many people and not just personal to myself.
Laura continued, 'We hope to get out and about this year with not only ourselves spreading awareness but also with our BIG purple event tent. If you see us at any of the agility shows please come and say 'Hi' and stop for a chat. We are well known for our fantastic raffle prizes with such great chances of winning a prize because we always have so many gifts to choose from. I would like to again thank all my helpers past and present plus send out a huge thank you to everyone who kindly donates prizes, plus everyone who buys tickets at the shows or via online activities. It's with the help of family and friends and the agility community that helps us to continue with this much needed fundraising.'
And why do we do it?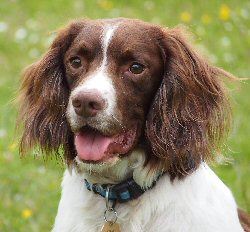 Meet Kye
Kye was a beautiful, happy cool, laid-back kind of a guy. Everything was fine until he received his first and only booster jab when he was 16 months old. Six days after his booster, he fell seriously ill. He spent three days in and out of our own vets before being transferred to NDSR Referrals where he spent the next 10 days fighting for his life.
Against all odds, he pulled through but, when he came home, he had lost so much weight he could not stand up or eat anything. We had to carry him everywhere and force feed him every hour until he regained his strength. He very very slowly began to get better day by day.
We thought 'Okay that was scary. Let's put this behind us and move forward. That was before the seizures started. With the help of our vet and Fitzpatrick Referrals we 'coped' with Kye's seizures. Kye was refractory to meds so we tried all different combinations and meds to try to gain some control. At his worst he went five days clustering with up to 18 seizures a day. At his best he went 286 wonderful happy days seizure free.
In between we were dealing with seizures every 5/10 days. He went into status on the 15th October 2016 and we lost him on the 16th. Kye was only 5 and half years old. My sweet boy is now running free over Rainbow Bridge.
24 January 2022
---

Coffee & Cakes for Macmillans
On Saturday, 18th September, Positive Paw4mance will be running a coffee and cake event alongside the Scunthorpe OATC Champ finals, so please go along and support this amazing cause.
Cake available to eat in or takeaway. Pre-orders till be available to collect on the day.
If you cannot attend but would still like to donate, you can do so via this link :
Sarah Bradford
---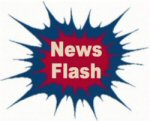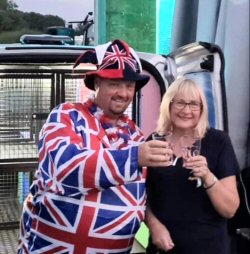 And the Winner was... Agility Forever
Congratulations to Heather Bagshaw, 1st place winner of the Win a Van Draw at KCI. More than £14,000 was raised for charity.
Martyn Hall said, 'Irrespective of what's happened or been said, the outcome of the draw was financially amazing, and I am still grateful for the opportunity of giving something back to the Agility world. Thank you to Forever Agility for the opportunity to support your charity.'
K9 Transport Solutions will be running a poll in January to decide which charity to support in next year's draw.
---

Win a Van Statement
Unfortunately, due to reasons beyond their control, K9 Transport Solutions has withdrawn from this years Kennel Club International Agility Festival (KCIAF). Those who were present at the showground today will undoubtedly be wondering what exactly was going at the K9TS stand.
Martyn Hall said, 'Our trade stand was booked and paid for in June when the KCIAF organisers were made aware that a 12-berth sleeper bus would be present at the show. The purpose of the bus was certainly not a PR stunt, but to act as a 'hub' for both the stand and the Forever Agility Van charity draw.

Draw night on Saturday had a purpose-built Cash Cage, a PA and lighting system and multiple cameras on the draw and public for a FB live post. We needed a strong Wi-Fi system to enable us to do this The PA and lighting were also all being operated from within the bus. It was also to act as accommodation for staff and volunteers for the draw. I wanted to make sure all were looked after, more so after the crazy amount of hours they have put in making this event happen.

Hundreds aid T-shirts were printed to give out along with other freebies. We wanted our first show to be the best particularly after the horrendous 18 months we have all endured.

So after being allowed entry and set up, we were informed that the landowner did not allow buses in the showground. Hard to believe considering they hold steam engine rallies there.

We were offered four options, all totally unacceptable. There was absolutely no way of operating the stand and draw without the bus.

It was that point that I made the decision to pull the show. To say I am devastated is an understatement. Please accept my apologies if you were looking forward to visiting us.

I would finally like to say a huge thank you to all of those who donated prizes, everyone who has followed our posts building up to the draw, my staff and friends that have made sacrifices of their own personal time and to customers who supported us. A special shout out also to Lia who has had to put up with my daily tasks and the amazing job she has done with social media.

This draw will happen And everyone at K9ts will make sure it's a success for the charity.
---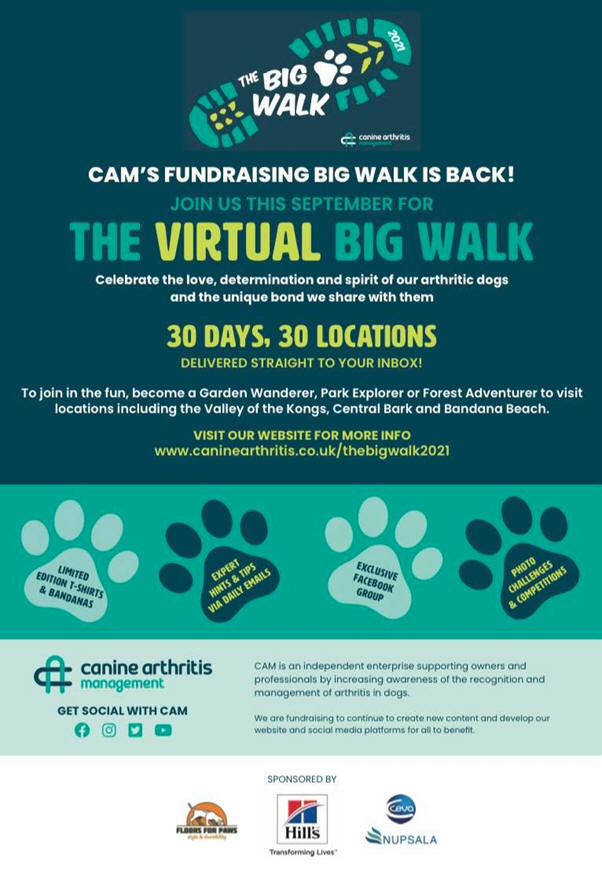 The Big Walk for Canine Arthritis Management
Throughout September, Canine Arthritis Management is celebrating the arthritic dog with The Big Walk 2021. They're asking for your help to get the word out there that there is more to life with an arthritic dog!
So much of having an arthritic dog is things they can't do and CAM intends to change that by showing what our dogs CAN do with a 30 day series of information-packed e-newsletters filled with tips and ideas to make life easier and more fun for our dogs and an exclusive Facebook group for light-hearted chat and sharing of daily adventures.
You may know agility people who have suffered the heartbreak of having their dog diaggnosed with arthritis or a related condition, please share the information about the Big Walk to get the word out that there is so much more to life with an arthritic dog.
You can read more about The Big Walk 2021 on our website https://caninearthritis.co.uk/thebigwalk2021
---
A Close Shave at Empingham
At lunchtime on Saturday, 24th July, after the presentations, Neet Lawrence had her hair cut to raise money for four different charities in memory of her husband Tim who died in February 2021 after a 15-month battle with bowel cancer. There was also a live Facebook feed.
She said, 'Agility has always been my escape and release, so I decided to do a shave at a show to say thank you to all those who helped when Tim was unwell.'
Neet is aiming at raising £4000 - £1000 each for the following charities:-
Macmillan Cancer Support for their amazing palliative support

Arthur Rank Hospice Charity for their wonderful care

Widowed & Young (WAY), a fantastic charity that supports widows under the age of 50 years

Young Lives & Cancer as it's not just adults who suffer with cancer
Tim was diagnosed in November 2019 with a tumour and then, in the new year, they were told it was terminal. He had lots of chemo, the first working well for him but the second took months as he was so poorly. Neet spent Lockdown caring for him and he died in hospice in her arms. He was 51 when he died.
He was a very private person, who could be quite stubborn but was always there for Neet.
She said, 'He so very supportive when I had bad attacks of depression and anxiety. Although we were quite different personalities, we seemed to fit well together. We made each other laugh. He loved roller coasters and walking on Dartmoor. We also enjoyed taking the dogs for walks together. We'd been together since 2005 and married since 2014 - no kids but four amazing dogs.
The link to the Virgin Money Giving fundraising page closes on 21st October 2021.
---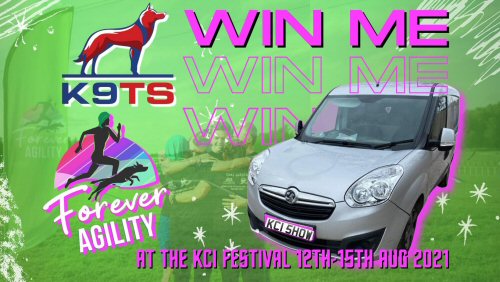 Super Forever Agility Fundraising Draw
There will be an amazing fundraising event at the Kennel Club International Agility Festival (KCIAF) for Forever Agility, the charity which raises money to support those in the agility community who need it most. The draw will take place on Friday, 13th August 2021. All proceeds will go direct to Forever Agility.
The top prize will be a fully kitted out 2016 Vauxhall Comoi, donated by K9 Transport Solutions. It even comes with its own private registration KC1 5HOW.
Other prizes include training, a photo session, a tunnel and an online module with Stacy Weeks.
Martyn Hall of K9TS said, 'I've been racking my brain for months on how I can give something back to the Agility world, mostly as a thank you to everyone who has taken the time to look at and buy our cages, shared our posts and supported out company which had to diversify due to Covid-19. We have loved every moment of the journey.
Due to UK the gambling laws which surround such draws, between now and the draw, you will only be able to 'pledge' to purchase a ticket. In order to do this, you need to copy the message below and sent it to The Forever Agility website.
---

Kate Thomson Is Raising Money for Forever Agility
On the 31st December, Kate Thomson (17) will be cutting her hair in memory of her Grandad by cutting her hair. She is trying to raise £500 to support the Forever Agility charity, helping to support those within the agility community who need it most.
Kate said, 'This is the first time I have cut my hair short since I was a baby. As a baby my hair never fell out. It just kept growing! It is currently over 1 metre long, and we hope that it will be enough for The Little Princess Trust to turn into either two medium length wigs or one long-haired wig for somebody who really needs it. We will be livestreaming it on the day.'
Her Granddad passed away earlier this year. He loved coming along to competitions to watch and cheer her on and, in his last few months when he wasn't as mobile, he was always asking about how she was getting on and asking for videos and pictures of the scoring sheets! He loved to critique any videos that were posted on Facebook of Kate and her dogs as well as pictures of the scoring sheets!
Abut Kate
Kate currently has three dogs - Betsy (7), a jet black Golden Retriever X Miniature Poodle, Zack (5), another Golden Golden Retriever X Miniature Poodle and Cassis (1), a crazy blue roan Spaniel. She started agility when she was 11 years old with Betsy who was about 20 months old, and they have never looked back albeit Betsy is the most stubborn dogs ever. She is also the quirkiest and loves learning new things, and running around doing agility - less so if it is raining!
A few years later Kate got Zack who has a heart full of love. He is incredibly caring and very tuned in with how she is feeling. About a year after she got him, Kate became very ill with ME/CFS. She was housebound for a while and wasn't in school at all. She still suffers with the symptoms, but Zack is always been right by her side, laying with her when she's been been unwell and unable to move and walking with her when she's able to get out of the house. He has taught himself how to calm her down when she is upset or frustrated with CFS and the implications it has on her ability to do the things she loves... like agility!
Zack and Kate managed to get into - and win - The Agility Club Starters Finals - their first ever final - in 2018. Following on from this, they qualified for UKA Grand Finals, Agility for Juniors 2018 and 2019 and Crufts 2019 in the YKC ABC and Graduate where they placed 3rd. Zack is a 1 in a million dog, a little crazy but totally loveable.
And then there's Cassis, a totally nuts spaniel! Though much like Zack, she is loving and caring, truly a girl's best friend. She has moulded to the way Kate has to live, and is more than happy to curl up on her bed when Kate's not well or go on walks when she is feeling a bit better. She has just started her agility journey and is loving it thus far, although Kate is slightly concerned about how fast she's going to have to run to keep up with her!
To donate, go to Just Giving/katethomson.
Update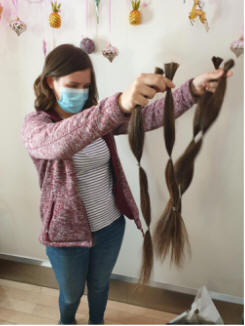 Because of the risk of a new lockdown, Kate's amazing hairdresser Rachel brought forward The Big Chop. She did an absolutely fab job, cutting four long tresses for The Little Princess Trust and giving Kate a beautiful new look.
Kate thanked everyone, saying, 'We've smashed our target and are on track to raise almost £1000 for our charity, Forever Agility.
---

LAE Charity Raffle
Lincoln Agility Enthusiasts had planned to run a raffle for a local Lincoln teenager who was going through his third cancer battle at their show last April. As their August show was also cancelled, they have decided to do it online. The draw will be 1st November.
Cindy said. 'We are elated to find out that he's managed to get the all clear for the third time, however for his treatment his parents had to pay to stay as it wasn't local costing lots of money. Any parent wouldn't want to just leave their child, in a strange place going through such a traumatic time for their son.'
LAE organised a raffle for a blue and white 5M dog (KC spec) agility tunnel.
ONLY £2 per ticket. Payment via PayPal 'Gifted'
ALL profits will be given directly to the family.
For any extra information or to by your tickets message or email Cindy Osborne who will give you a number.
---

World Big Dog Walk for Charity
The Elsanna Border Collie Crew are taking part in the #WorldBigDogWalk and pledging to walk 2,000 miles between them during the month of September. Miles are tracked via the PitPat each dog wears.

They have two JustGiving pages as they wish to raise money for two worthy causes. Even the smallest donation adds up and is very greatly appreciated.

Please share these links.
---
Good News from the Forever Agility Trustees
Whilst on the surface it would appear that there has been little activity at Forever Agility, over the last year we have been working hard to make sure we complete a goal we made 18 months ago - to obtain charity status.
Given the uniqueness of our CIO (Charitable Incorporated Organisation) we faced some challenges in illustrating to the Charity Commission our intentions. But, with some extra support, we are bursting with pride to announce that from today, Forever Agility is a registered charity! Registered Charity Number 1190989.
Whilst most of you are aware of what we do, here is our charitable 'object' which explains how we intend to support the agility community;
The prevention of poverty and relief of financial hardship among those involved (or previously involved) with dog agility in the UK (or their dependents or immediate relatives) who are in need by, but not limited to, the provision of grants of money for providing or paying for goods, services or facilities which they could not otherwise afford.
We are proud to be able to offer support to those not just who face financial hardship through illness, but also to those who are facing tough times for other reasons. We are proud to be sharing this simply amazing news with you on what is an historic day for dog agility. We finally have a platform to support our own and are acknowledged as a community that deserves a dedicated charity service.

Lastly, we'd like to thank you all, each and every single one of you, for your support over the last 18 months in helping us to fundraise, spread the word and participate in events and therefore help us to already be in a position to award successful grant applications.

Website to be updated in the coming week! Please spread this far and wide so everyone knows of this incredible news. Here is to a very exciting future for Forever Agility. Ann, I hope you will be proud, this is all for you.

We hope you are all staying safe and healthy as we slowly emerge from what has been a very sad time for agility in the UK and indeed worldwide.

Neil Ellis, Ryan Hennessy, Cat Harvey & Abee Wilkinson
---

Photo: Shropshire Star
Treat Your Dogs and Help the NHS!
Louise Lewis is now baking and selling 'Super Hero' dog biscuits to help the NHS. The healthy, gluten-free biscuits cost £5 each with £1.50 going towards postage and packing. They come in two flavours Banana & Blueberry and Peanut Butter & Banana.
Louise told her local newspaper, 'In 2017, my agility dog Fred got injured and then we ended up not competing for a whole year. When he came off his medication, I wanted to give him a treat, but I couldn't find anything in shops that was healthy and was going to help him lose weight. I started making these biscuits for him and shared some with my friends. Their dogs instantly loved them. And that's how I started my business Pawfect Delights.'

'When the coronavirus crisis hit, I just couldn't sit here and do nothing, so I came up with the idea of doing these biscuits.'

In addition to healthy dogs biscuits, Louise also does dog friendly peanut butter that contains no xylitol, no palm oil, no fillers and no preservatives - just 100% peanuts!
Visit facebook.com/pawfectdelight to place an order. You can donate via my website's online shop or send a Friends and family PayPal payment to orders@pawfectdelights.co.uk.
---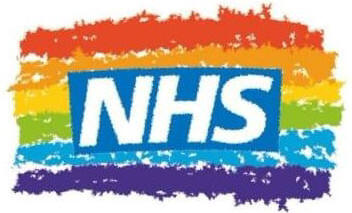 NHS South West & South Support Appreciation Group Appeal
Agility competitor Mark Williams has started the NHS South West & South Support Appreciation Group on Facebook to make this stressful Coronavirus time a little happier for NHS staff. They are currently helping Radiology at Musgrove Park Hospital in Taunton (Somerset) where staff are now doing split shifts to cover nights for COVID-19 patients needing x-rays at night.
Mark said, 'We want to show our kindness to our NHS workers - many of whom are also Agility competitors - by purchasing items such as toiletries, hand cream and food etc, from an Amazon wish list. We have been in contact with Neil Ellis who works for the NHS John Radcliffe hospital as nurse in Neurological Intensive Care for suggestions as to what his team at work would like to receive as gifts. Items will be dispatched to the NHS department/ team member. Once completed we will then put up another wish list for another team/ hospitals.
Please join the group NHS South West & South Appreciation support and then purchase an item or items off the Amazon wish list. They are looking for other NHS workers at other hospitals or other departments at the same hospitals to get in contact with their Amazon wish list.
Contact me through Facebook or email.
Mark Williams has been doing Agility since 2006. Currently competes with his Nova Scotia Duck Tolling Retrievers Tango and Crunchie. Tango competes in KC Grade 7 & UKA Champ, Crunchie Grade 3 & UKA Beginners & Novice Steeplechase. Many people may know him for being UKA Camping Manager at 14x shows each year.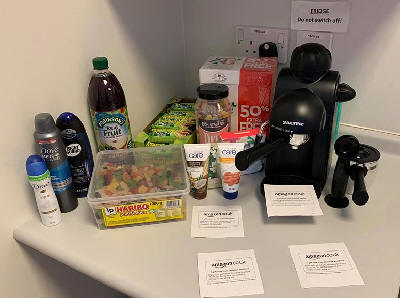 From Neil Ellis...
I am very sorry for the delay in getting this posted. Thanks for your patience. Myself and the team in Neuro Intensive Care at the John Radcliffe Hospital cannot thank you all enough in your generosity in purchasing items off the wish list earlier this month. Not all in this photo = some sweets held back to release in stages - as deodorants and shower gels and hand cream already deployed for staff to use during shift. It's the little things that make the big difference so thank you. (24th April 2020)
---
Running for Guide Dogs for the Blind
Jessica Bridgman is running the London Marathon to raise money for Guide Dogs for the Blind. She has supported this charity for many years by sponsoring numerous puppies. The work they do, changes lives for so many people with sight loss and she want to help them continue this fantastic work.
Jessica said, 'I only found out I had a place on the 14th January which only leaves me with 14 and a half weeks to train as the London Marathon takes place on the 26th April 2020. As this is my first marathon, I better get training! I have only ever ran one 10k so this is a big challenge for me but I will be running alongside my lovely friend Lauren Spinks, who was the one to suggest this crazy idea in the first place!

The only running I am used to doing is around an agility course with my spaniel, Tilly. We got to Grade 5 a couple of years ago, but she is now 14 and a little deaf so unfortunately I can no longer run her, but we still have lots of fun together! I really appreciate all your support and thank you for any donations.'
Virgin Money Giving is a not for profit organisation and will claim gift aid on a charity's behalf where the donor is eligible for this.
https://uk.virginmoneygiving.com/fundraiser-display/showROFundraiserPage?pageId=1135828#
---

Kye's Fundraising Update
Throughout the year, Laura Evans and her helpers have been been out and about with their big purple event tent, holding various raffles, selling donated item and Pick a Number tickets to win some great prizes but, most importantly raising awareness of Canine Epilepsy and offering support and advice where ever possible to owners with dogs who have seizures or epilepsy. Their target for the year was to try and reach £15,000.00 by the 31st December 2019.
Laura announced, 'We are supper excited to announce that Kye's fund exceeded their target of £15,000 pounds to end the year with a staggering amount raised to now stand at £15,531.90. This money has been gratefully received by the Trust via Kye's Just Giving page if anyone wants to see our progress or make a donation directly.'

'As we start the new year, we are supper pleased to announce that we have two runners doing the London Marathon for us this year. The lovely ladies Carole Nicol and Louise Docherty have signed up for this mammoth task are both busy training hard for the event while trying their hardest to raise sponsorship as well.'
Laura and her crew have lined up a few more agility shows for this year so watch out for their big purple event tent. There will be lots more raffle prizes up for grabs at as many agility shows as they can throughout the year. The fundraising never stops so if anyone has anything they wish to donate either gifts or vouchers, they would be most grateful. They can also make use of your used stamps as well as again the stamps help to raise cash for Canine Epilepsy Research.
Laura finished, 'On behalf of myself and my dedicated helpers, we would like to send out a huge thank you to everyone who helped us with our fundraising, Every pound counts. We expect 2020 to be another busy year. Our 2020 target has now been increased to £20,000.00.'
Vouchers or donated gifts can be posted directly to Laura Evans at:- Unit 2, Newhouse Business Centre, Old Crawley Road, Horsham, West Sussex RH12 4RU. Alternatively contact Laura directly to arrange a pick up if possible at various agility shows throughout the year.
---

Last Call for Forever Agility Tournament
This is the last week to enter the Forever Agility Tournament being hosted by Pachesham Agility on Sunday, the 15th of December. All entry fees will be going directly to Forever Agility, as well as the money raised from catering.
---

Beancroft Agility Fundraising for Cancer Charity
Beancroft Agility's Charity fundraising event on Saturday, 28th September along with those who donated online has raised £2101.50 so far from the day and donations! All proceeds will go to DKMS Blood Cancer Charity.
Many thanks to everyone who came along to their Doggy Fun Day Out at Beancroft Farm. The whole event was a huge team effort and wouldn't have been possible without the fantastic support of key people who ran each dog event professionally and provided great amounts of fun for everyone and, of course, the dogs. The helpers who were there all day and mucked in with everything thrown at them were just the best.
The event was sponsored by Dovart Pet Supplies, Millbrook and there were great prizes for every event and rosettes. Annabelle Mackintosh of Furbaby Castings contributed a great prize for Overall Best In Show while Katrina Wilson Photography provided fantastic photographs of the day along with an amazing prize for the Reserve Best In Show!
Thank you everyone.
---

Young Fundraiser Honoured Again
A happy, excited and immensely proud mum, Julie Bearder has announced that her daughter Georgie has received further recognition for her tireless charity fundraising. They're off to House of Lords soon where George will have have a British Citizen Youth Award (BCYA) bestowed upon her.
Georgie has asked that Julie to personally thank the agility community for it's unfailing support in her glass painting and water carrying services. To date you folk have been instrumental in helping her raise £4152.
Thank you all.
---

Charlie's Appeal for Bristol Children Hospital
Please support Bonny Quick in her mad attempt to raise money for the Bristol Children's Hospital by running the Bristol Half Marathon for Wallace & Gromit's Grand Appeal
On 15th September her young son Charlie was scalded by boiling water and had to be transferred to BCH for treatment. It's an incredible place with play equipment for the children, fun voiceovers in the lift, fairy doors along the skirting boards in the corridors. Most importantly, the staff were absolutely fantastic with Charlie, going out of their way all the time to make him as happy and relaxed as possible. The time and effort at every turn put in to helping the children is amazing and changes the experience they have.
Bonny said, ' I want to be able to give something back, because we are so grateful for everything done for our gorgeous little boy. I can't imagine what it would be like to not have had the care Charlie received, which means he is able to go back to being a healthy, happy little one. He is well on the journey back to 100% now.

'I hear it's hilly! I've never run anywhere near that distance before, but I figure if Charlie can get through what he did then I can run 22 kilometres.'
Please support this cause, by donating a few pennies to Charlie's JustGiving Page. Every penny raised goes directly to the Grand Appeal - Bristol Children's Hospital. Feel free to share.
---

Forever Agility at KCIAF
The Kennel Club International Agility Festival this year will be supporting Forever Agility, the charity whose goal is to support those within the agility community who need it the most. The annual Forever Agility fundraising event will take place on Saturday, 10th August Rockingham Castle.
Founders Neil Ellis and Ryan Hennessy said on FB, 'We are so so excited for the event. We'll actually be there the whole weekend, and want as many of you to get involved and embrace the day for what it means. Share the love and tell as many people as you can about the event. Let's make it a special, special day.'

A diagnoses of a life limiting illnesses can be devastating news and can cause great distress which may inhibit you or your families ability to work. Forever Agility is here for those that require financial support in a real time of need, and not just those suffering from illness, but also those suffering from financial instability through other unfortunate circumstances.'
To be in with a chance of winning some wonderful prizes provided by the International Agility Festival official sponsors Skinner's, as well as from this year's trade stand, please purchase a raffle ticket or two from Forever Agility's trade stand at the show.
---

Tina Stockton Fire Tragedy
Some of you may be aware of the awful accident that happened to Tina Stockton. Sadly she returned to a house fire which had taken all her six dogs.
On FB she explained that she had gone out to a friend's birthday meal and returned to her bungalow to find the burglar alarm light flashing, When she got in there was a lot of smoke and no dogs were barking. The bungalow was gutted and all her babies were gone. The Fire Services worked on them for sometime and were superb but to no avail. RIP Disney, Harvey, Lexi, Jack, Beryl and Ruby.
A JustGiving page has been set up to help her in this terrible time. The funds raised will never replace the dogs but it may help Tina after this awful situation She is a proud lady and would never ask for help. However, she is the first to always help someone else. She has been informed and is blown away by everyone's generosity.
If you would like to show Tina show how much we are thinking of her in this time which no words can describe, go to JustGiving, Anything you can spare will be appreciated.
Dog Vegas will gave a charity box in the office and all donations will be added to her Just giving page to her JustGiving page.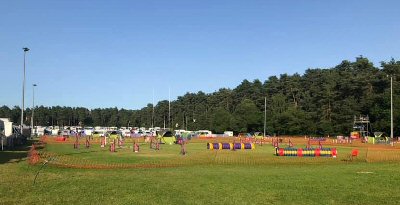 Update from Hazel Bew of Dog Vegas...
Thank you so much to everyone that donated to the charity pot and did the practice ring, which raised just under £250 for a Tina Stockton. I will add this to the just giving page today. it won't bring her dogs back, but hopefully let her know that the agility community is thinking of her. (01/07/19)
From Tina
On Wednesday 17th July, I have arranged a service for my six babies. The service is at 7pm and after tea and cake at the Dorothy Parkes Centre and, of course, dog biscuits for your babies. You are welcome and I would love to see you and your dogs.
I appreciate that many of you live a distance away and understand if people can't make it or feel they do not feel they can attend I will completely understand.
I feel this is the last thing I can do for my kids to say a good bye to them. My heart is so broken and my brain totally screwed up.
The address for the church is Church Road, Smethwick B67 6EE. Please if you can attend let me know for catering. I hope you are able to attend and bring your dogs.
Finally I want to say a huge thank you to you all for your kindness. People I have not seen for ages or only know slightly have all been in touch with offers of help. My heartfelt thanks to you all.
Love Tina
---
Help Emilia Bowers & Hannah Thorpe Go to the European Juniors
Emilia Bowers and Hannah Thorpe have been selected for the second time to represent Team GB at the Junior European Open in Switzerland this July. To help fund their travel to the Championships, their parents and friends have organised a variety of fundraising events including two fun dogs shows and an on-line auction.
The auction will start on Sunday, 26th May at 9pm and you will be able to bid until 9pm on Wednesday, 5th June. If you are a lucky winner I will be in contact with you the following day on payment information and how to claim your prize.
Whirlwind Agility will be hosting a fun dog show at their field in Stoke Poges area on Sunday, 23rd June. In addition, the girls are also teaming up to put on anothyer fundraising dog show in the Midlands at the Wedgewood Cricket Club in Stoke on Trent, Staffs.
Sue White who owns Ting the dog that Hannah is taking to the Europan Juniors sent her best wishes. She said, ' Well done for all your dedication and hard work. Looking forward to being there and supporting you with Ting as I did with Squiffy last year. You know what to do and she can do it.'
To help raise the £2500 needed to send Emilia and Ting to the European Juniors, go to her JustGiving page.
---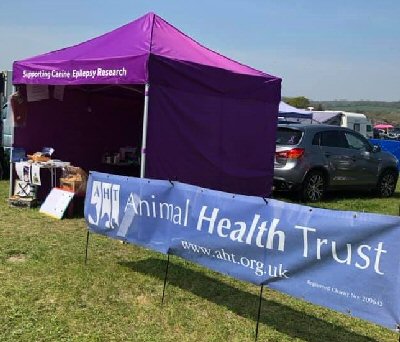 AHT Fundraising Reaches First Target
Laura Evans reports that with your support she has reached their first goal this year, raising over £10,000 for The Animal Health Trust. All money raised from our events goes directly to the Trust towards their Canine Epilepsy Research Program in memory of Laura's dog Kye who was lost in October 2016.
Laura told Agilitynet. 'Canine Epilepsy affects around 6% of dogs in the UK alone and this figure is rising which is why we are helping the Animal Health Trust to find a cure. We have been busy attending shows throughout the year and I think we are getting to be known around the agility circuit if not for our infamous raffles and prizes, then for our big purple canine epilepsy tent. You can't miss us now. It's because of the agility community's help and support that we can do this and for the donated gifts we are truly grateful.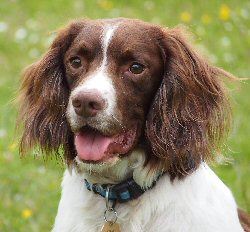 Laura will be at The Agility Club show next month on the 20th-22nd July 2019. If there is anything - new or nearly new - that you would like to donate as a raffle prize then please bring it to the show to be used on the day or kept for another event. Alcohol goes down well as well as gift vouchers for training days or gift vouchers for shops etc, plus anything for the dogs from treats to leads to toys.
She and her fundraising helpers will also be attending Quadpaws, Highdown, SKS and Southdown so watch out for the purple tent. If you are there, don't forget to buy some raffle tickets for this very worthwhile cause.
A huge thank you to everyone who has donated prizes, helped with the fundraising or helped out at the shows with each event we do. Let's see how much more we can raise this year.'
The Just Giving page can be found under the name Kye Evans with a photo of Kye or by using this link
Flash... Laura Evans has already raised more than £11,000 for The Animal Health Trust. Help her make her target of £15,000.
---

Vouchers for Animal Health Trust
My name is Laura Evans and I need your help.
I fundraise for the Animal Health Trust and as such I am looking for vouchers or donated items to use as prizes when I do our charity raffles. Donated items can be anything - as long as they are new or in very good condition so basically anything you yourself would be happy to chose as a gift if you were lucky enough to win a prize. Like wise vouchers can be for anything too. Anything donated can be for a human or a dog, you decide. Everything donated will be most gratefully received.
I am collecting now for 2019. With the help from friends, family and the agility community we have held a few raffles, had fun holding an agility fun day and have had many 'Pick The Number' competitions with all proceeds going to a Just Giving Page which has been set up on behalf of the Trust. The Just Giving page can be found under my name Laura Evans with the photo of Kye as below or by using this link https://www.justgiving.com/fundraising/laura-evans71
And why do I do this?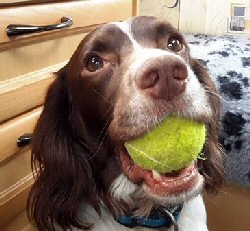 Meet Kye
Kye was a beautiful happy, cool, laid back kind of a guy. Everything was fine until he received his first and only booster jab when he was 16 months old. Six days after his booster he fell seriously ill. He spent three days in and out of our own vets before being transferred to NDSR Referrals where he spent the next 10 days fighting for his life.
Against all odds he pulled through but when he came home he had lost so much weight he could not stand up, eat, nothing. We had to carry him everywhere and force feed him every hour until he regained his strength. He very very slowly began to get better day by day. We thought okay that was scary, but let's put this behind us and move forward. That was before the seizures started…
With the help of our vet and Fitzpatrick Referrals we 'coped' with Kye's seizures. Kye was refractory to meds so we tried all different combinations and meds to try to gain some 'control.' At his worst he went five days clustering with up to 18 seizures a day. At his best, he went 286 wonderful happy days seizure free. In between, we were dealing with seizures every 5/10 days. He went into status on the 15th October 2016 and we lost him on the 16th.
Kye was only five and half years old. My sweet boy is now running free over Rainbow Bridge. Although Kye was not with us for long enough I truly believe he was sent to me for a reason. Cherish these special epi babies, take one day at a time and never never give up hope.
So, my way of dealing with Kye's loss is my fundraising.
The Animal Health Trust are doing research into Canine Epilepsy which affects 6% of dogs in the UK alone, and this figure is rising. Help me to help the Animal Health Trust find a cure.
Donated items can be posted to me or vouchers emailed to me using the contact details below. Please enclose your name and where you heard of my fundraising efforts.
Email vouchers to: laura@ideal-installations.co.uk
Posted items to: Laura Evans, Ideal Installations Limited, Unit 2 Newhouse Business Centre, Old Crawley Road, Horsham, West Sussex RH12 4RU.
---

Carol Disley Auction
As some of you may already know, agility judge Carol Disley unfortunately suffered a major stroke and is presently in hospital in long-term rehabilitation. Her dogs are currently being fostered whilst she is unable to look after them.
Liz Finchett is looking to raise funds to help towards their feeding costs and any vet bills. She will be holding a raffle at the Absolutely Barking Agility Addicts show on 3rd November. Top prizes include a six months subscription to Laura Chudleigh's Agility Secrets on-line website and a photo session with award-winning photographer Dave Finchett.
Tickets are £1-00 each or 6 for £5-00.
If you are not at the show, you can still purchase tickets via Liz through Paypal or BACS. Email her at liz.finchett@blueyonder.co.uk for details.
---



Photo: Valerie White
Raising Money to Support Jon Winney
A few weeks Jon Winney suffered a heart scare whilst training one of his dogs. The quick response of his trainer means than Jon is still here to tell the tale and after a short stay in hospital Jon has been sent home, with an Internal Defibrillator fitted. Unfortunately this means that he will have his driving licence revoked for 6 months and is unable to return to his regular job .
Jon has always had a love for dogs and has been participating in Agility for many years, He is a judge, official KC measurer and a long standing trainer in the Essex area, helping many on their Agility career . He has in the last few years turned his hand to judging and can be seen at most local shows supported on his ring by his own club Red dog Agility. Jon can often be found at these same shows giving up his free time and helping out with the set up and marking out camping pitches.
This is a worrying time for Jon and his partner Lee and so a JustGiving page has been set up so his friends can support him through this tough time.
---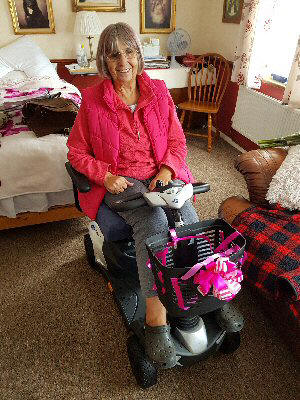 The Agility Family Comes Through for Dawn
Dawn Taylor has been around the agility circuit for years. Despite having suffered from arthritis all her life and always found walking any distance difficult, she has never let that hold her back. Over the years, she has given a lot to Agility, organising and running shows and helping on rings with her friend Sheila Taylor who also runs Dawn's dogs, Betsey and Nigel.
On the last day of Dog in Need 2018, she went to a pub for an evening meal with Sheila and some friends when unfortunately she fell down some steps and broke her hip - and this was before she had even had a drink!
Dawn spent some time in Ipswich Hospital where they operated on her hip. She was told she would be there for a few weeks until they could move her back to a hospital closer to her home in Wellingborough. Happily Dawn is now back home with her dogs, wowing doctors with her grit and determination.
Last weekend at Letchworth Sheila was saying she wanted to buy Dawn a new buggy and asked Hayley Wilson if she could put something towards it. Hayley suggested they set up a Crowd Funding page to raise money towards a light weight buggy which could fit into Sheila's car, as the buggies cost a lot of money especially the lightweight ones. Hayley set up the page and shared it on Facebook. A week later they had raised enough money to buy a buggy that Sheila could fit in the back of her car.
The agility family certainly came through for Dawn and Sheila. When Dawn saw the buggy and found out how it was paid for, she was overwhelmed. In fact, all three Dawn, Sheila and Hayley - were in tears. Both Dawn and Sheila would like to thank everyone for their kind donations to help get Dawn mobile again. Her plan is to make it to the Suffolk Five Rivers show at the end of September. She is a very determined lady so look out for her and her new buggy if you are there.
Once again thank you everyone for your kind donations. Our agility family is the best.
---

Samantha's Memory Walk 2018
Samantha Foreman is taking part in the Maidstone Memory Walk 2018 on 8th September for the Alzheimer's Society because she wants a world without dementia. She has seen and heard first-hand how this condition affects people and their families and wants to beat it.
Sammy's Grade 7 dog is a little too old to be taken and would only spend the time looking for jumps and dog walks but she will be taking her Grade 3 dog with her.
Help Sammy and 110,000 others beat this bad condition by donating to her Just Giving page.
Update: Sam raised £335 for her walk. There was 100's of people there. She was a bit stiff afterwards but very excited she had done it.
---

Auction for Emilia & Squiffy
The auction to help raise funds to send Emilia Bowers and Sqiffy to the European Open Junior Agility Championships closes at 7pm on Friday, 29th June. There are currently 60 items to bid on including a Dog Vegas camping voucher worth £20 for their August show. Premier dog food, Champagne, dog books, leads, toys and treats for dogs and even a VR headset.
Bidding started on 22nd June and Team GB fly out to The Netherlands on 9th July . The show 13th - 15th July 2018
Winners will have to collect their items at shows or pay potential postage. Collection will be arranged from the person who donated items,
To bid go to https://www.facebook.com/groups/205187213436434/
Payments can be made via PayPal or BACS.
---
Don't know if we mentioned it last year but, when we were holding a stall in the Otley Council offices last year we bumped into the Mayor, Nigel Francis, who showed a lot of interest in our work. Then at Christmas we found ourselves one of the Mayors listed charities (he had 15 in total) on the back of the local Mayors calendar.
Anyway, we forgot all about it until last weekend when we had a phone call inviting us to attend the outgoing of the current Mayor and the inauguration of the new one. The upshot was that we were handed a cheque for £4,500!
Gobsmacked didn't cut it!
So thank you so much, Nigel, and all the people of Otley who supported all the fundraising activities throughout last year. We are truly grateful fro every penny.
---

Stolen Caravan Appeal
Please help support a fellow agility lady. Ashley Carter's 'new to her' caravan stolen just one day before she was due to collect it. Unfortunately, it had not been insured yet.
Nicky Gleadow said, 'Ashley is one of the kindest people I've met and Jenny Hastie, one of her friends set a Gofundme page to help her and her partner Steve get another caravan. Please give if you can.'
In the meantime, please keep an eye open for an Elddis Avante 534 2004 model - Vin number SGE5000EX4AVA1489. (Similar to the one above.) It was taken on 24th April from Washington, West Sussex.
To donate to a fund to replace Ashley and Steve's caravan, go to Gofundme.
---



The Pit Sessions
Through contacts at Imerys and in conjunction with Canicross Cornwall, Max Archenhold has managed to get permission to use a disused clay pit which has a stunning luna-like lake at it's centre for a charity Canicross event to raise money for the Cinnamon Trust, a Cornish-based National charity for helping the old and terminally ill with problems faced by them and their pets.
The site has stunning coast to coast views over the mid-Cornwall landscape. It is a very unique event because of its location and that the general public would not normally be allowed on the site.
It is happening at Blackpool, China Clay Pit, Trewoon, St. AUstell (PL25) on Saturday, 13th of May 2018. There is a novice class if anyone interested. The course is 5k long and is at an old clay works not normally open to the public
Booking is via www.bookwhen.com/Canicrossuk
For more information, contact Max at entries@canicrossuk.com
---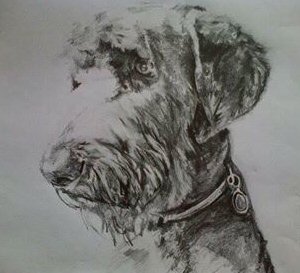 Tristan's Pawprints for Charity
Now you can buy your very own pet portrait and help raise money to open a new dog rescue centre, Tristan's Pawprints!
Megan Smyth is now taking commissions for her friend Rebecca Hoedemaker, a 23 year old widow who is in the process of starting the charity in memory of her beloved husband who died suddenly in December 2017, aged 27.
Portraits - dogs and people - are drawn personally by Rebecca and all proceeds go straight into the charity. Portraits are A4 size and come with a glass covers starting at £40.
Please visit Tristan's Pawprints on Facebook for more information.
---

Carol's Close Shave
Carol Careless would like to thank all the wonderful people, friends and family who contributed to her shave for charity at the TAG Easter Show. On the day, people donated £233.40. Thank you to Rachel Rogers for allowing me to do the shave at TAG, Helen and Rob Taylor for your support and Roz Bradbury for the lift home! and to all you wonderful friends and family for the generous donations.
In addition, ABAA members donated £95 and Annie Austin (formerly Knight) has contributed her year's tops which was another £70. There were also personal donations of £180. Altogether the grand total so far is £578.40 with hopefully more to come.
The recipients of the money include:-
Smokey Paws who provide pet oxygen masks to the UK's fire service.


Cuan Wildlife Charity, Shropshire's only 24/7 wildlife rescue centre that rescues, cares for and rehabilitates sick, injured and orphaned wild animals and birds.


Alex Davies to cover his entry and expenses to go to the World Games / Special Olympics next year. Alex is on the Autistic spectrum and unfortunately earlier this year lost sight in one eye. He always helps at our shows and always has a smile. Occasionally he runs Kera occasionally.


Macmillan nurses
---
This post is in praise of all the wonderful, kind and generous agility folk who have been helping the small charity Oasis Relief to bring safe, fresh and readily available water to thousands of vulnerable people in Zambia.
Oasis Relief has been selling cakes at agility shows, car boot sales and market stalls 'Up North' since 2012. They have been going out to Zambia every year since 2005, and we have sunk 41 boreholes in total. Two of these have been dedicated to Northern Agility, and this year they specifically named one for Otley DTS and another for Weardale DAC. Altogether they have have raised enough money to sink 41 boreholes in total from the proceeds.
Campaigner and agility competitor Maureen Shepherd said, 'We pay all our own administrative costs and pay for the cost of travel and accommodation in Zambia each year so we can get a feel for what needs doing next at our two schools, the clinic and the skills centre. And, of course, we go to all the borehole sites and oversee the dig.
There are still a million communities in need that have no choice but to drink the filthiest water imaginable!
So if you are travelling to Otley, Weardale or Lincoln shows this year, please help us by buying our cakes. They come well recommended. There will never be a better reason to put on a bit of weight!
---

Dogs for Good Demo
Nigel Perry is organising a demo on behalf of Dogs for Good (Dogs for the Disabled), to be held at KC House in Warwickshire on the 17th June 2017. The fun show is open between 11am – 3pm. The actual Demo will be run at about 12.00, and will last approx 30 minutes.
Nigel said, 'I have been part of the demo and running the agility ring now for the past four years, and love the work that DFD do. Unfortunately, due to costs involved, it is entirely on a voluntary basis, but free lunch is provided. And it's an all together fun day out with your dog.'
If there are anyone out there who is disabled or has mobility issues who like to take part, contact Nigel Perry by email or ring 0161 776 9785 or m. 07950 636435.
---

Charity Event Triumph for Team Agria!
Congratulations to cycling Team Agria! Once again, they've conquered the notoriously tough Extra Mile Challenge, and in doing so, raised crucial funds for three exceptional charities – Medical Detection Dogs, Service Dogs UK and Willen Hospice.
Having cycled in relay for three days covering over 500 miles, three countries and tackling daily elevations of around 12,000 feet, Team Agria is now very close to reaching their fundraising target and helping their charities have a great start to 2017.
This was the 4th year that Agria Pet Insurance has taken part in the challenge, and this time three Agria teams went to help raise as much for the charities as they could. Agria's Angels – the only all-girl team taking part in the event, and the two all-boy teams - Agria Forsakens – who lived up to their name with a team member forsaken through injury, cutting them to a team of just three, and Agria Willens.
Simon Wheeler, Managing Director of Agria Pet Insurance and Team Captain of Agria Forsakens commented, 'A daunting challenge! One man down, a crazy distance and some imposing mountains … but a combination of clear blue skies, breath-taking scenery and dogged tenacity saw Team Agria Forsakens acquit themselves admirably arriving in Montreux ahead of the pack. With just three of them – what an incredible achievement! '

Leading the girls' team for another year, and her 6th Extra Mile Challenge, was Agria's Partnerships Manager, Lorraine Tannatt Nash: 'This year's event was as tough as any with steep hill after steep hill to climb – at one point taking us up past the very top of a ski lift! The result was the usual combination of sore legs, burning lungs and aching derrières.'

'We didn't help ourselves by riding a stint in full angel regalia; the wings and skirts did nothing for our aero dynamism, but we did get lots of waves and smiles as a result! I'm glad to say that the exceptional camaraderie of the event helped take our minds off the exhaustion, and the pain was a small price to pay to support such incredible charities.'

Dr Claire Guest, CEO of Medical Detection Dogs, says, 'Yet again, Team Agria has amazed us all with their fantastic 'Extra Mile Challenge' fundraising initiative. A huge well done from everyone at Medical Detection Dogs.'
Every pound raised makes a real difference. For Medical Detection Dogs, this could be towards a £10 collar or a £250 puppy starter kit – ensuring their crucial work can continue.
Dawn Clark, Fundraising Manager at Willen Hospice, said, 'We're absolutely delighted that Agria Pet Insurance chose to support Willen Hospice as one of their charities for the Extra Mile Challenge. We'd like to say a huge well done to everyone who took part and a big thank you again to them all for helping raise vital funds for the care here at Willen Hospice.'
Could you help Team Agria reach their target? See http://uk.virginmoneygiving.com/team/Agria-2016 for more details.
You can also see how the challenge went by visiting the team's Facebook page: https://www.facebook.com/pages/Team-Agrias-Charity-Challenges/723203504361787
---

'Is it wrong to be ridiculously excited about receiving my sticker? '
Karen Young
Crufts Car Stickers for Charity
The Kennel Club has kindly sent 100 x 'I've qualified my dog for Crufts 2017' car stickers to Agilitynet to distribute to anyone who has qualified for Crufts next year -either as an individual or as part of a team.
Basically, the stickers are free of charge but we do ask for a small, completely voluntary contribution to the Kennel Club Charitable Trust, a great organisation that funds research into canine disease and supports dog welfare. Cheques should be made out to the Kennel Club Charitable Trust, NOT Agilitynet.
We are happy to send out stickers to anyone who has qualified for YKC events, Flyball, Obedience and Breed etc. in addition to agility but there is a limited supply so you need to apply quickly.
Just send a standard size SAE to me at Agilitynet, 38 Northolme Road, London N5 2UU.
---

Fundraising for the Royal British Legion
Roger Williams and his trying to raise £45,000 for the Royal British Legion Dunkirk Memorial House Amenity fund 2017. This works out at £500 per person each year and every year. The money will be used for activities, entertainment, day trips, running costs of the minibus, residents hobbies like gardening, digital photography, computers, cooking and art etc. This provides these servicemen and women activities for their futures who served our country home and abroad, which gave our futures!
Dunkirk Memorial House in Taunton is one of the Royal British Legion's Care Homes, with a specialist dementia care wing. Like every one of the Legion's Care Homes, it is exclusive to ex-Service people and their dependents. Situated close to the village of Bishops Lydeard, eight miles from the bustling town of Taunton in Somerset, it is the only nursing home in the South West. Spacious and comfortable, it's somewhere residents can feel is their real home, for as long as they are with us. Currently there are several husbands and wives with relatives involved in Agility at this particular home in the South West including Roger's father (100 years old next month). Roger#s wide and son compete in both KC and UKA events all around the country.
Roger said, 'We just thought that at this time of year in particular it was very important to support our arm force personal both serving and those resident and supported by the British Legion.'
Dunkirk Memorial House has 60 rooms, all with en-suite facilities, and a 30 bed Dementia care wing. We know how much being independent means to our residents, so everyone has a key to their own room, as requested. Round-the-clock care from a team of experienced, registered nurses and dedicated care assistants ensures safety and security for our residents.
Two residents will have their 100th Birthdays in November and December 2016. One of them received the Lord Lieutenant's award in August 2016 at 99 years old. He served in Burma in 1939-1945 as a Captain in the Royal Signals. He also served in the TA prior that. He learnt computers and digital photography at 90 yrs old and gained qualifications in both.
He is one of the many veterans who have great stories to tell and great futures to live. Please give them a future by giving a donation large or small.
Thank you and please share the link, so we can get this great cause go public thorough out the UK.
http://www.justgiving.com/crowdfunding/uka-swws-1
---

Agria's 500 Miles for Dog Charities
With just a few training sessions left, Team Agria is gearing up for a 500 mile, three-day intense cycle relay with the Extra Mile Challenge to raise money for three very worthwhile causes. This is the second year Agria will cycle for Medical Detection Dogs. The charity trains bio-detection dogs to use their sense of smell to detect cancer in urine and breath samples and assistance dogs to alert individuals with severe medical conditions to an oncoming life-threatening event.
It's the fourth year that Agria Pet Insurance has taken part in this gruelling event, and this year the team will be supporting Medical Detection Dogs, Service Dogs UK and Willen Hospice. But it won't be easy. The 2016 route will push the twelve taking part to the limit as they cross from France to Germany and finally into Switzerland, whilst tackling numerous climbs of up to 4,000' with daily elevations of around 12,000'.
Aiming to raise as much money as possible, for 2016 Agria has three teams set to embark on the challenge:
Agria Forsakens - led by Team Captain Simon Wheeler, Agria's Managing Director

Agria's Angels All-Female Team - led by Team Captain (and 6-time Extra Mile Challenge veteran!) Lorraine Tannatt Nash, Agria's Partnerships Manager

Agria Willens - led by Team Captain John Walker-Lee, Agria's Head of Underwriting
Dr. Claire Guest, CEO of Medical Detection Dogs said 'Medical Detection Dogs is wholly reliant on donations to fund our ground-breaking work training dogs to detect disease through odour and we are delighted that Agria is continuing to support the charity with another incredible cycling challenge.'
Service Dogs UK provides veterans from the Armed Forces and Emergency Services suffering with PTSD the benefit of specially trained assistance dogs. These are all rescue dogs trained at no cost to the veteran.
Joint founder of Service Dogs UK, Judith Broug, says, 'To a small and new charity like ourselves what counts is the belief of fantastic individuals, like Lorraine and the rest of Team Agria, to go out there, push themselves to the limit, raise funds and awareness for Service Dogs UK. It makes all the difference; both for veterans with Post Traumatic Stress Disorder and rescue dogs.'
And last but not least, Willen Hospice provides specialist care for people whose illness no longer responds to curative treatment (also known as palliative care). Willen Hospice provides care for people over the age of 18 in Milton Keynes and the surrounding areas.
'The Extra Mile Challenge is an incredible event and we'd like to say a huge thank you and good luck to everyone in the Agria team taking part – we're delighted they're supporting us. Agria's fundraising will help Willen Hospice to continue to be there to care for our patients and their loved ones,' says Laura Conway, Challenges and In-Memory Fundraiser.

Simon Wheeler, Managing Director of Agria Pet Insurance continued, 'Taking part in the annual Extra Mile Challenge has become something of a tradition at Agria and a fantastic way for us to help raise crucial funds for some incredible charities. It's always a real test of everyone's fitness and ability, but supporting these organisations makes the pain, sweat and hill climbs all worthwhile!'
Could you spare £5 for Team Agria's sponsorship pot? They'd be so grateful if you could! See http://uk.virginmoneygiving.com/team/Agria-2016 for more details.
You can also follow and encourage Team Agria on their adventure on social media at: Facebook: https://www.facebook.com/pages/Team-Agrias-Charity-Challenges/72320350436178 Twitter: https://twitter.com/AgriaPetUK
---

Ruth Smith-Howell Brave Shaver
Ruth Smith - Howell and her 11 year old daughter Abi are having their hair shaved off on November 19th at the Bitz 'n Bobz show. The money will go to Macmilla Cancer Support. Their hair is then being donated to Little Princess Trust to make wigs for children and young adults with cancer. They are both doing this because they lost a very dear friend to cancer and Macmillans helped her and her family.
The link to the Brave the Shave JustGiving page is https://bravetheshave.org.uk/shavers/ruth-smith-howell
---

Agility Against Cancer
Agility Against Cancer is very simple concept. The Dog Agility Community is a great family and families always try to help each other. Seeing all agility people gather together to celebrate the life of Tracey Flower, one of our top agility competitors and also hearing the sad news about Yvonne Goode gave me the idea to make fundraising easy but also a way to bring our beautiful community together. Most of us have been affected in one way or another by cancer and together we can make a difference Agility Against Cancer was born and my vision is to create a sustainable fundraising platform to help anyone from our community. All profits will go directly to help fund treatment for the chosen person. We will help anyone in the agility community needing help.
So this is where we are. This website is to help you join in that fundraising and to show that together we are stronger. If you have any ideas or suggestions please feel free to make them. We are not website designers or professional fund raisers just normal agility competitors so we will always be happy to listen or take any help you can offer. If you know of someone that need our help please let us know.
Join our FB group Agility Against Cancer or look at our website www,agilityagainstcancer.co.nf
---

#YvonneGoode Fundraiser - Online Auction & Raffle
Many of you know Yvonne Goode and how much she has done to help abandoned dogs in the UK and abroad. Well, now Yvonne needs our help. She is suffering from drug induced leukaemia and secondary cancer, both very aggressive.
Yvonne was diagnosed with breast cancer in 2013. After treatment, she was given the all clear, but in January this year she got the devastating news that she was poorly again. Consequenhtly she had radiotherapy and chemotherapy, which resulted in her getting leukemia. After having six weeks intense chemo in March this year, she got the news she wasn't hoping for. She has been having chemo since which is just keeping her going and has been told she is too high risk for stem cell treatment here. She has been offered a place in Germany for some pioneering treat.
We are trying to raise funds to help Yvonne get life-saving immunotherapy treatment at the Hallwang Clinic in Germany as it's not available in the UK. The treatment will cost in the region of £150,000, so every penny helps. This Clinic has cured patients of cancer! For more information, visit http://www.hallwang-clinic.com
A small group of us are running an On-line Auction & Raffle on Facebook which will close at midnight on Sunday, 7 August. There are some amazing items on offer including a few multi-dog weekend breaks!
If you wish to pledge an item, please PM Mandy Melville-Love with details and photos, and she will turn it into a Lot and add it to the page. If you just wish to make a donation, please do so at AgilityAgainstCancer@yahoo.com
Jack Wilkinson has also set up a JustGiving page to raise £7,000 to help fund Yvonne's immunotherapy.
Mandy Melville-Love and Lotta Bowers
---

Marie Currie Fundraising
Over the last two years, Carol Lynch, who was diagnosed with breast cancer in 2014, has raised over £2,000 for Marie Currie. Following treatment she developed serve painful peripheral neuropathy - symptoms is damage to the nerves- predominantly affecting her feet and hands.Her cancer is now in remission, but she still attends the Marie Curie Hospice in Hampstead for pain management..
Carol regularly attends agility competitions with her dogs Meg (now retired) and Sky. She uses this opportunity to raise funds for the Hospice, With special support from Orchard Agility Club, she holds collection at each of their shows.
She said, 'Nothing stops me. As you can see I still enjoy agility even if I can't really run any more. I will be round the shows this year trying to collect more funds for Marie Curie.
---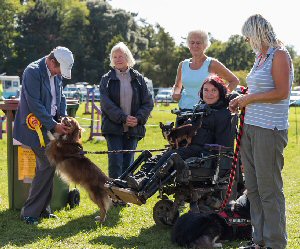 Gemsdale Photography
Agility Wheels Target Success
After 19 months of fundraising, Pauline Angus will at last be four wheel driven. The target (£12,500) was reached in September 2015. A large proportion of the money raised was from the agility community, what an amazing achievement!
Pauline Angus was born with a rare condition which rendered her a permanent wheelchair user. Her current wheelchair was not designed for muddy fields and agility and had seen better days (due to her lifestyle!) so we set about fundraising for a new 4x4 wheelchair, something more suited to the activities Pauline enjoys.
Karen Fuller said, 'Pauline and I would like to thank every single person who donated, the clubs who allowed us to fundraise, the other agility folk and clubs who were inspired to raise funds themselves and agility businesses who donated prizes - you have ALL contributed to improve Pauline's lifestyle especially during the winter months when she would previously be unable to access many of her local fields, woods and beaches.

Extra thanks to Andrea for spending hours making the udder toys and helping me organise and run the events, also to Lynne, Lydia, Jackie, Michaela and Billy who gave up so much time at the fundraising events and putting up with me. Not forgetting our Waverunners club members who pitched in and helped on the stands and for all their donations of raffle prizes and udder washing, etc.'
The reality of this generosity is life changing for Pauline who will now have so much more freedom to enjoy the things most of us take for granted. An added bonus will be she should be whizzing around the agility shows next season without worrying about the ground conditions, so please do keep an eye open for her and make sure she is sticking to the 5mph speed limit!
---
Agility Wheels Update
It was another great fundraising day at Southdowns show for Pauline Angus' Agility Wheels. Not only have they reached their target but have enough for some upgrades and we can also refurbish her current wheelchair. Pauline, who can be found most weekends at agility show, was born with the rare congenital condition known as arthrogryposis, which affects the muscles and bones of the limbs. In Pauline's case the condition
So a heartfelt thank you to every single person who donated money, gave raffle prizes, gave up their time, etc. You have helped change Pauline's life. Her new off-road wheelchair will give her so much freedom with her dogs - something that is priceless.
Pauline said, 'Thank you to my family, friends, agility community and the village community so much for all your generous support in helping me fundraise for my new all terrain wheelchair, we have reached our goal and I'll be ordering it this week.'
---

Dog Vegas Charity Cake Sale
Well done to everyone who donated, ate cake and bought raffle tickets at the largest coffee morning in aid of McMillan Dog Vegas this past weekend. The total raised for Macmillan is £630.00!
They also have a further £95+ to add to the running total of what has been raised this year for the Ainmhithe Animal Rescue, which is their chosen charity for this year.
They are starting to look towards our fundraising for next year and are looking for suggestions for which charity to support. They would like Dog Vegas members and competitors to have a think and let us know who you would like to support. Then we will put the most popular suggestions to a vote.
---
Buy a Cake and Help Provide Clean Water to Communities in Africa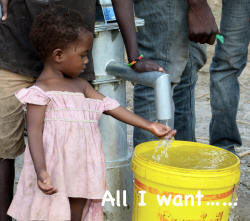 Maureen and the lovely volunteers from Oasis Relief are busy baking cakes and making jam and preserves to sell this weekend at Otley Show. Just some advance notice for you to bring some extra money. Their baked goods and preserves got rave reviews last year so be sure to get there early! They will also be at Weardale show on the 1st and 2nd of August.
The aim this year is to use the money raised at agility shows to sponsor an actual borehole to provide fresh water for a village in Zambia.
Oasis Relief is a small charity which has been supporting the sinking of boreholes out in Zambia for the last ten years. They have sunk 16 boreholes to date, and they estimate that this has provided clean, safe water for at least 30,000 people. To sink the hole, they hire a company who use an industrial drilling machine to dig a 6 inch diameter hole down to a depth of 50 metres. They then buy an India Mark 2 hand pump which is fitted by the local community led by Paul Swala, the project manager out in Lusaka. The total cost of borehole is approximately £1,200.
There are many, many communities desperate for water, and Paul helps to identify the most needy villages or compounds before the charity's yearly visit in October. Last year they were very productive and sank seven boreholes within three weeks!
Along with our water provision, Oasis has also helped to develop three schools as they believe that education leads to hope for a better future. The schools are all in areas where they have sunk a borehole.
Every penny raised through selling cakes and jams goes directly to the charity. They pay for all the ingredients themselves and even pay for a slice if they want to eat it! They foot all administrative costs, and pay their own air fares and expenses whilst in Zambia.
Maureen, Bernie and Pam said, 'We appreciate your kind donations, and this year we hope we can raise enough money to be able to dedicate a specific borehole to our agility friends. With your help, and a disregard for the calories, this could be sited and dug this October.'

Feedback
Huge thanks to everyone at Oswestry Show today - raised an incredible £612.68 selling cakes, teddies and tombola! Extra thanks to Peter for donating more of his amazing cakes, Oliver for helping with the baking on Friday and to Emily and Louise for all their help on the stall today. Oh yes, and well done Annette for winning the star prize! (14/06/15)

From Brenda Tenten on FB
Fabulous cakes at Otley show today! My freezer is now full, ready for when I need some comfort food again lol!

Hope they made loads of money for their bore hole, clean water charity. Really worthwhile. We fret over taking 'home' water to shows for dogs, and making sure the water bowls are always clean and full. In the areas covered by the charity, mothers have a choice of contaminated water for their babies and children, or no water at all. Put things into perspective for me! (15/06/15)
---

Help Julia Raise Money for Pet Blood Bank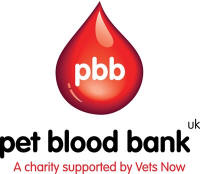 On Saturday, 6th June, a Team from Active Agility will be attempting Trekfest is one of the toughest charity treks in the UK, a 29 mile walk in 12 hours on the Brecon Beacons. The Team consists of Claire, Julia, Sam, Georgia and Kelly all members from our club.
They are walking on behalf of the Clubs charity Pet Blood Bank who in the last few years have helped so many dogs with this amazing service. My own dog gave blood during his lifetime and was a willing donor. Some of you may have had experience in the past if your furry friends have need an operation which required blood this is the service which would have been called on.
The team has already hit there original target of £500.00 but they would like to try and either double or possibly treble it. Donations go straight to Pet Blood Bank.
Stephen Bartholomew said on FB, 'I don't normally ask anyone to give to any charity but this is very close to me and the clubs heart and if you can spare a few moments and just a few pounds every little helps.
Julie Eady is fundraising on JustGiving
---

Guess the Sweeties for Team GB
Last weekend Amy Bennett's good friend Jennifer Machon did a 'guess how many sweets in the jar' game to help raise money for her trip to the EO, and World Champions, representing Team GB in agility! Amy was lucky enough to have the winning guess!
So Amy has decided to run the game again to continue to help her raise the money for Jen's trips this year! She has changed the amount of sweets in the jar and will be at Nottingham Champ this weekend JDA next week and Hinckley champ next weekend. Guesses start from 100 and finish at 400. Each guess cost £1 and the winner wins the jar of sweets!
It's easy and quick. so please help Jen raise money for her trips this year and support Team GB!
Update: Amy has decided to continue the competition at Dartford / Keston as the right answer has not been guessed.
---
Support Julie's Charity Stall for Irish Rescue
Julie Smith is going to be running a charity stall at JDA next week and a few other shows this season to raise funds for Ainmhithe (An-va-ha) Animal Rescue. This is a small Irish rescue which helps all animals in need. Lots of dogs/ puppies have been rehomed over here in the UK due to a lack of homes in Ireland. Julie foster lots of puppies for them.
Due to new legislation all dogs have to have a pet passport to travel. This results in extra costs for the rescues which takes its toll, so Julie is doing a doggy tombola for them. All prizes will be doggy related so hopefully useful prizes.
If anyone has anything they can donate as a prizes she would be most grateful.
Julie will be doing the charity stalls at JDA, Empingham and Dog Vegas (Thetford) so far. Hopefully more later in the season and next year. Anyone not at those shows can get things to me via Ian Hastie, Catherine Kendall, Nikki Emson and others that know me and train at Castaspell Agility or are going to those shows.
---

Defib Challenge Success
A big massive thank you to all those who took part in the Hare and Hounds agility show Defib challenge this evening. 'Resus Ted' only got bitten three times and jumped on once. Thus far £80 has been raised far for the Hare 'n Hounds defibrillator.
The competition was a Pay on the Day with a simple jumping course with purely jumps and tunnels set up in a heart shape. When the handlers got half way they had to do five chest compressions on Resus Ted, then complete the course. Competitors were eliminated if the dog bit Ted and the dog had to stay inside a marked area while resus took place.
In 1st place was Alice Hunter and Charlie, 2nd was Alice Hunter with Charlie again, 3rd place Louise Laidler with Tizzy, 4th was Louise Laidler with Tizzy and in 5th place was Janet Nero with Drew. Alice will be taking home a new wooden jump as 1st prize.
There were prizes to 5yj place so as the saying goes you've got to be in it to win it. The next Challenge will be on Friday evening, 22 May, around 6pm. You can have as many goes as you like and you jump your dog at their normal competition height and Anysize dogs can take part in their normal any size jump height. You can have as many goes as you like pay on the day £1 a run.
Update: As ever an amazing Spring show at Hare n Hounds has just finished, made even more special with the fundraising efforts of June and Derick Robinson who raised more than enough money over the week to buy a defibrilator for use at the shows. Incredible to raise over £1,100. Well done everyone. Let's hope we never have to use it
---

Guess the Baby's Weight for Charity
Want to win one of 20 great prizes, including a 1-2-1 session with Natasha Wise, and help Cancer Research UK in the process?
Selena Bray and David Isbister's baby is due on 18 February. Selena has agreed for a sweepstake to be held to raise money for Cancer Research UK.
Entry is a donation of £2 but please feel to give more if you wish. Then put your guess in the comments box in the following format (lbs,oz/date/time) eg, 7.12, 18.02.15, 0700. The sweepstake will be based firstly on the weight of the baby, then the date and time of birth. This will give you lots of options.
https://www.justgiving.com/Fox-Agility
---

Smiffy's Charity Valentine Ball
Those nice people at Smiffy's Catering are organising a Valentine's Ball in aid fo the Harrison Smith Future Care Fund on Saturday, 14 February
Harry was born on 25 March 2008 with a rare chromosome deficiency called 1p36 deletion syndrome, This means that Harry's physical and mental grown are affected as well as his motor skills, As he grows, Harry will need special equipment and care alongside his NHS care.
All the money raised at this event will go towards his future care. Tickets are £60 per head and include a 3 course dinner and wine. There will be live entertainment with Jamie Johnson from The Voice, a disco, auction and raffle.
The ball will be held at The Brand's Hatch Thistle Hotel, West Kingsdown, Kent DA3 9PS.
Any auction or raffle prize donations would be greatly appreciated. If you wish to stay at The Thistle, email Sue Smith for a reduced rate code (subject to availability)
Update from Sue Smith... After the ball was over
We had a fabulous night, and we raised a massive £10,040 for the Harrison smith future care fund which was more than i expected, if people would like to see more about harry they can on his Facebook page Harrison smith future care fund. and yes we would like to renew hour membership shall i send a cheque or can i transfer the £110.00. We even had some agility people along at the Ball which was fantastic!
---

Sky Diving for Cancer
Neil Ellis, a regular competitor and judge on the agility circuit! for a while now, has really wanted to do a sky dive, but he thought it would only be right to do it for charity. So he has decided to raise money for Bowel Cancer UK to help raise awareness of the disease and to help those who currently suffer from it.
His aim is to raise at least £400 in three weeks as he is jumping on the 26th September! Please pleaseee follow this link and help him reach his target. Even £1 will help to get there. Thank you soo much!
---

Wedding Anniversary Charity Pairs at Dog Vegas
Mike and Julie Stallard who got married at Dog Vegas last year are sponsoring a fancy dress Wedding Anniversary Pairs Special on Sunday evening of the 22 August Dog Vegas show this year. They are raising money to get a community electroic weelchair suitable for agility so all those who are wheelchair bound have access to our sport.
Thus far club members at MJS Agility have raised and donate £1300-1400 for the cause. Their goal is about £3000 so they can get a good robust chair what will be kept at MJS but will be available for anyone to use.
A huge thank you to Dog Vegas for all their support. Any donations are welcome. For details email Mike at mike.stallard2@btinternet.com or ring m. 07944 249350.
Follow up...
It was a fantastic wedding anniversary weekend at Dog Vegas with my lovely wife Julie. A huge thanks to all that entered the Fun Pairs Sunday evening - especially all those that dressed up, fantastic!

We raised approx £140 towards out communal agility wheelchair fund . A great laugh and good fun had by all. Our Dog Vegas were superb hosts, again allowing us to use their facilities in the evening. We shall be looking at doing something similar next year, if Vegas are able.

Again thank you to all those who just came up and donated as well. Agility folk are the best. Our total is now about £1500 . For those who don't know, we are raising money to get a proper all-terrain wheelchair for agility so we can get all disabled persons involved in our wonderful sport. We need approx £8000. See details on www.mjsagility.co.uk
---

The Crufts Car Stickers Are Back
Every year the Kennel Clubs makes 'I've Qualified for Crufts' car stickers available to anyone who has qualified for Crufts in either Agility, Obedience, Flyball, Ring Craft or Breed etc. You can buy them from the Kennel Club Shop or they are free from Agilitynet, providing that you send an SAE to Agilitynet, 38 Northolme Road, London N5 2UU. And here's an idea. If you are part of a Team which has qualified, you can ask for a stocker for each member. And don't forget the Reserves!


If you send a voluntary donation to the Kennel Charitable Trust, we will send you two stickers - one for your car and the other for your dog van. It's a great cause and every little bit helps.
The KCCT has been making a difference for dogs since 1987. It funds research into diseases and other health conditions in dogs, supports the training of dogs to help humans and helps rescue organisations. Thus far, it has raised more than £8 million in donations from dog lovers.
---
Help Save the Turtles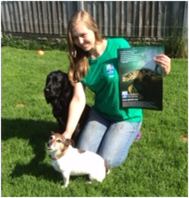 Rebecca (Bex) Bebbington is running a Beginners games show on Monday, 9 June at 6pm at Dig It DTC. This show is exclusively for people who have not yet competed, have just started competing, or have yet to win out of beginners.
This is a fundraising show for her expedition to Mexico this summer to conduct conservation research on an endangered population of Green Sea Turtles with Operation Wallacea.
Sea turtles are increasingly popular as a form of wildlife tourism, but little is known about the effect of tourism on turtle behaviour. This current study is aimed to investigate the effect of tourism on immature green turtles (Chelonia mydas) in Akumal Bay, Mexico and to investigate turtle feeding preferences and possible overgrazing of specific sea grass species.
Download schedule from Show Diary
---

East Yorkshire AC Signs Up for Race for Life Pretty Muddy Challenge
Cancer touches so many lives. After two close family members lost their fight two years ago one of the East Yorkshire AC trainers, Vikki Cowling, decided to enter Race for Life Pretty Muddy in September at Clumber Park. Not wanting to take this challenge alone, Vikki decided to ask club members if they would like to join her.
East Yorkshire Agility Club members are very close and supportive of each other. There are now 17 club members taking the challenge, and there will be many more supporting them by sponsoring or cheering them on on the day.
Over the last three years EYAC has raised money for the local branch of Hearing Dogs by doing a sponsored walk, so they aren't new to raising money for charity. They will give 100% to this challenge and will encourage and support each other over this 5k muddy obstacle course where anyone of any ability can climb walk or jog all over cancer.
If you would like to know more about the challenge go to http://raceforlife.cancerresearchuk.org/types-of-event/pretty-muddy/index.html
If you would like to sponsor EYAC the link to their just giving page is: https://www.justgiving.com/eyac-angels/
---

Philippa Reports on Wheelchair Fundraising

After a steady start, I'm delighted to report a recent burst of activity has taken my total raised so far to £5,006.49 or 35% of my £14,000 target.
I would like to thank everyone who has helped me get this far, be it by helping me write press releases and charity applications, by making donations including donations from not sending Christmas Cards, cooking bread pudding and cake sales and donating many and various items for draws/raffles and auctions.
I have updated my website with a list of Thank Yous. Now things are happening quite quickly the list is growing all the time and I will update it again shortly. I really appreciate all the support from the fabulous agility community, old and young alike, including your encouraging words that sustain me through the dark days whilst I'm working toward being able to compete again. Somehow saying thank you doesn't really feel like enough, but for now it's what I can do.
So, thank you to Sally Jones/Dogs 'r' Dogs, Kelly Howarth, Sue Howlett/Loafers Cafe, Bincknoll DTC, Sue Rafter/South Bay Holiday Park and her team of Shirley French, her friend Jenny and Vera Burton, Lauren Langman and Sandra Adams of Devon Dogs and Adams Show, Rose Ash K9's, Nutriment for powering Boogie, Verm-X and Bioflow, to name but a few.
I'm looking forward to more of this summers fundraising events, The next of which is a draw and auction at the Kernow K9 Easter Show. All donations welcome. I've had some fabulous prizes donated already, including 6 2x2 weaves, a fine art original, a rocker board, agility DVDs, T-shirts, dog gear, champagne, wine, jewellery, hair products and various agility-related vouchers, some do come along and but some tickets. For a couple of the items, I'm running a Sealed Bid Auction on 18-19 April 2014 at Kernow K9 Show and on-line before. Please do take a look at that, too.
After that I'll be at the UKA Phoenix Show on 24 May where I will be running a quiz, at the UKA Sands Show on 14 June 2014, running a Flick Flack Challenge and then at the UKA Aldon Show on 21 June 2014 where they are holding a Fun Class on my behalf - all of which I hope will be enjoyable and I look forward to seeing many of you there.
---

Support the Somerset Flood Appeal
When two Dog Agility friends from Somerset came up with the idea to raise funds for flood victims on the Somerset Levels, they could not have imagined the overwhelming response they would receive from the local community.
Ruth Soutar and Marilyn Adams, who both live near the flood affected areas, thought a fundraising morning at their local training field would be the perfect way of doing their bit for the Somerset Flood Appeal. Little did they know their small event called 'Run For The Levels' would result in a surge of support from across the region, and grow into an independent show with 24 classes which is due to take place at Taunton Racecourse on Saturday, 29 March.
Ruth Soutar said 'We sent out a few emails to our agility friends to see if anyone was interested and, within days, it became clear that our field was not going to be big enough to accommodate everyone. We started asking around for a larger venue and the next thing we know we have been offered the use of several large venues, assistance from equipment hirers and businesses, clubs and individuals wanting to sponsor rings and help.'
The pair have been overwhelmed with the support they have received including Taunton Racecourse who are providing a brilliant venue, while equipment costs are being covered by First Contact Agility, Daybreak Dog Training, Norton Rosettes, Taryntimers, iSS Show Services, Minster Veterinary Surgery and many other clubs and individuals. A number of organisations are sponsoring the trophies for the classes including; Paws on The Levels, Feroda Agility, Mind to Win, Poetic Paws Training, CSJ Canine Feeds, Active Dog Services, Tone Veterinary Centre and Wilmott Mobility.
Marilyn added 'We also have four judges who have stepped in to help at short notice and, on top of all, we also have raffle prizes flooding in together with offers of help on the day. It makes us feel proud to be part of such a great community who are all pulling together to make as much money as possible for the local people affected by flooding.'
All monies raised will be donated to The Somerset Community Foundation Flood Relief Fund via Just Giving which is being used to relieve the immediate hardship individuals, families and communities are facing and support their recovery over the coming weeks and months. For many, it is the second time in two years they have been affected, and whole communities have been cut off for weeks. The response within the communities themselves has been magnificent, but there is only so much they can do for themselves.
You can be part of Run for the Levels by downloading an entry form from their group Facebook page or the Agilitynet Show Diary or by registering via ISS Show Services. Those unable to attend can still donate by emailing ccwalker@lineone.net or via http://www.justgiving.com/RunForTheLevels
Update... (28/09/14)
For those of you that attended Cornwall Agility Club's shows this year, as you are aware this summer proceeds from the raffles and Fun Runs were in aid of the Somerset Levels Flood Appeal. We are pleased to report we raised £200 for them, and would like to thank everyone for their support. Lets hope for a drier winter for everyone this year! Kim Lawer
Update.... (03/04/14)
Thank you so, so much Agilitynet for supporting our fundraising event Run for the Levels SHow held on Saturday, 29 March. The day was fantastic - the weather, the people, the cakes, and the 403 dogs!

We have been overwhelmed with the amazing generosity of the clubs, businesses and individuals that donated prizes, sponsored rings, lent equipment and helped on the day.

Our raffle raised £1,596 and the event has so far raised £7,196 for the Somerset Community Foundation Flood Relief Appeal - all from Ruth & M's idea to hold a Saturday morning fundraiser at our little training field! Please pass our message of thanks on to others that we aren't aware of that have been also part of this achievement.
Christine, Marilyn & Ruth
Update... (27/03/14)
I wish to publically thank Tuffley Agility Show for donating some of their rosettes for our Run For The Levels Charity Show.
Thank you to the committee. Ruth Soutar
Update... (21/03/14):
Entry for Run for the Levels show is now closed. There will be no pay on the day but you can still donate n help raise money for Charity. The original target was £3000, but so far over £4,000 has been raised. The goal is now £5,000. Any donations would be very much appreciated. You can contribute via the Run for the Levels Just Giving page or by text RFLS90 £ to 70070.
---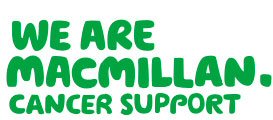 Amy's Big Chop for Charity
Amy Bennett will be trying to raise money for Macmillan Cancer Support by having 14 inches of her hair cut and then donating it to a charity so that it can be made into wigs for cancer patients!
Amy said, 'I'm sure every single person knows someone who has been brave enough to battle and beat cancer or unfortunately loose their battle to cancer! So this is my way of helping those brave people who are battling cancer helping to show my support!
Not only is she cutting her hair, but she is also trying to raise as much money as she can. She has set up a Just Giving... page to make it quick and easy to donate . Her aim is to raise £1000. So far she have raised just over £600!
She said, 'This is fab. I'm over the moon to have raised this much already as Macmillans does such an amazing job. I would really love to reach that £1000 target. I only have a week left until the big hair cut! Please visit my Just Giving page and help me make a difference! Thank you.
Update... Today was the big chop and as you can see it's all gone!! I would like to say a massive thank you to everyone who has been so generous and donated on my Just Giving page! I'm over the moon to have reached and exceeded my target of £1000 for Macmillan! Now I need to send off my hair to charity so it can be made into wigs for cancer patients! Thank you everyone for your kind support. It's means so much to me! And for those of you who haven't had chance to donate and still want to then please visit my Just giving page
---
M & M Raise Money for Prostate Cancer UK
Moira and Maddie from M & M's agility shows are pleased to announce that they were able to donate £700 to Prostate Cancer UK from the proceeds of a very successful raffle and from the show entries at their Christmas Cracker show.
Following the success of their show, they are having another unaffiliated show on Sunday, 9 March. March Madness and take place at the Dog Training Barn. The schedule will be available soon.
---