What's new on the agility scene...
---

Bamboozle Barking Bakery to Offer Tasty Treats for Judges
Bamboozle Barking Bakery, makers of home-made dog treats and biscuits, has introduced a range of healthy personalised dog biscuits which can be used as thank you gifts for judges and ring parties. They also make great gifts for special occasions - including Christmas - for the agility enthusiast.
All BBB products are made with healthy, nutritious ingredients and have a great taste to tempt any four-legged friend. The range includes a popular turkey treat to use as a reward for good work.
Owner Nina Whitnell said, 'As a dog owner for over 25 years, I have tried and tested many treats and biscuits for my dogs and others none of which ticked all the boxes and so i started to bake. After lots of trials, I eventually had products fit for purpose and made all my six dogs drool. I invited friends including dog trainers and competitors to trial my treats and I'm pleased to say were greatly received by them. '
Reviews and product information including ingredients can be found on the BBB website. Delivery options and sizes are all clearly displayed making it easy to order.
For more information or to get a quote for your club, show or doggie event, email Nina at info@bamboozlebarkingbakery.co.uk
---

Lintbell's Supports U. of Surrey Vet School Research
As an owner of an agility dog, you may be aware of the research that Lintbells® has supported, looking at the role of nutrition in supporting the health of dogs' joints.
Two 3rd year vet students at the new School of Veterinary Medicine, University of Surrey are undertaking a research project which aims to improve the understanding of the exercise and nutritional demands of the agility dog for the veterinary profession, to help improve the overall wellbeing of agility dogs in the UK.
With the generous support of Lintbells®, they are conducting a scientific study, to investigate management practices that may influence an agility dog's health and how this may relate to performance. They have created a questionnaire for agility dog owners to enable them to gather this information.
John Howie said, 'We ask for no more than 10 minutes of your time to complete this questionnaire about what you feed, the type of training and exercise that your dogs do, and other straightforward questions about your dog. '
All information collected will be treated as strictly confidential and only be viewed by members of the research team. No kennels, individuals or dogs will be identified in any publication or other means of dissemination of the research findings.
If you are interested in being a part of this exciting project, please follow the link below to take you to the questionnaire. If you have any questions, please don't hesitate to email us at pc00165@surrey.ac.uk / ja00196@surrey.ac.uk, or our project supervisor, Dr. Teresa Hollands at t.hollands@surrey.ac.uk
https://surrey.onlinesurveys.ac.uk/the-canine-athlete
---

Yellow Hound 2016 End of Year Image Clearout
2016 has proved to be a very successful year for Yellow Hound Photography, particularly with regard to coverage of dog agility shows. One measure of this success is the number of images that appear in the Yellow Hound galleries - roughly 65,000 images occupying around 3.2TB of disk space.

Sadly it is not practical to keep these images as the 2017 agility season draws near. A theme running through 2016 was the seemingly constant investment in hard disk storage for images, and this is something that cannot continue unchecked. So with this in mind Yellow Hound is launching a very special offer on digital image downloads (only) from all of the 2016 dog agility shows covered. This offer is live now and will run until January 31st 2017. After this date the galleries and images will be deleted.

The offer is a generous 60% discount on the existing download pricing, and on top of this there will still be the previous volume discount, with the top level of this discount (for 8 or more images) increased to 50%. At these prices I will not be undertaking any further editing.

10% of the profit will be donated to Agility Against Cancer.

There are no discount codes. All you need do is shop as normal. The download prices have been adjusted to the offer level along with the volume discount.

But... the images will be gone after January. So if you want some great pictures to tell the story of your 2016 'get 'em whilst you can!' Yellow Hound 2016 image collages have been a big hit and are a great way to present a selection of images.

In 2017 Yellow Hound will operate a strict 3-month rule on event galleries - i.e. an event gallery will be available to purchase images for three3 months following the event, and thenwill be deleted.

For more information, contact Chris Tarling at 27 Redgrove Park, Cheltenham, Gloucestershire GL51 6QY. Tel: 07736 973273. Email:

chris@yellowhound.co.uk. Web: www.yellowhound.co.uk
---

Specially Designed Agility Trainers Now Available in the UK
Touchango K9 is now the exclusive UK distributors for the new DOGGO Parcours, the first shoe designed specifically for agility! It's waterproof as standard and made to a high specification, exactly as you would expect from the German Shoe Company behind them. Designed in conjunction with Thomas Behrendt, German World Champion and National Agility Trainer, the Parcours are designed by agility people for agility people.
Touchango K9 have been trialling these shoes. They absolutely love them and think you will too.
So what makes them so special?
The Parcours have a high, stabilising heel cap with great cushioning on both the heel and forefoot area. They have an extra layer of lateral reinforcement all the way around the shoe, which provides excellent side support and stability to help prevent your foot from twisting when making quick changes of direction. The sole has a brilliant anti-slip profile, with improved hold on the sides and the heel. The profile makes it suitable for all kinds of surface.
We love the little touches that makes this shoe stand out from the crowd - not only does it have the excellent quick lace system, it also has a discreet neoprene pouch for you to tuck the lace ends away in - perfect !!
The shoe is very comfortable to wear, and very supportive if you have foot problems. The insole is also removable if you need to put in your own inserts. These shoes are designed as unisex, with a very generous toe box.
Weather Protection - Continuous waterproof membrane provides weatherproof, breathable comfort. Waterproof as standard.

Quick lacing system and lace storage pocket

Studded outsole profile for excellent grip on artificial turf, grass, and dirt; provides better grip than other shoes on soft, wet, or loosely packed surfaces

Ergonomically shaped sole optimally supports the natural motion of the foot

Mesh and PU upper, with textile lining

Extra cushioning and padding for the forefoot and heel

Removable insole

Stitched tongue so that it doesn't slide back and forth

Reinforced heel cap and toe box

Doggo Perfect Fit - More direct footprint with a flat midsole, optimised cushioning and better ground contact
These shoes are sold in European sizes, but run very true to size.
DOGGO is a German company that has been making shoes in the the fashion sector for over 25 years. After the principals of the company added a dog to their family—a Labrador Retriever that loved nature—not only did they realise what 'really matters in life,' they realised that they needed to go out with Bruno even if it was storming outside! So that was their inspiration for creating the DOGGO line of practical, waterproof shoes for people who walk, play, run, and do performance sports with their dogs.
They understand that dog lovers spend a lot of time outside with their dogs and need a shoe that keeps their feet warm and dry, and that also helps keep their feet from tiring. DOGGO is committed to creating shoes that fulfil this goal plus use innovative materials, new sole designs, and modern colours. The shoes are available exclusively through Touchango K9, you can find them here; http://www.touchangok9.co.uk/work-hard/doggo-parcours-agility-shoes/
---


Paws On It Running Contact Trainer
As running contacts are now seen as the quickest way to negotiate the contact equipment, the ideal way to train them is with a 12' ramp. Specialists in garden and training equipment company Pawsonit has listened to the agility people who have visited their trade stands throughout the year and have come up with a clever 12' x 1' Running Contact Trainer which matches a competition down ramp on the Dog Walk and can be used in the garden or anywhere.
It is unique in that it is actually two 6' ramps in a rubber chip finish which are securely bolted together.
Jan Thorpe says, 'The reason we make it in two 6' lengths is because most people cannot fit a 12' ramp into their vehicles to transport it to a training field nor can they store it easily in a shed at home etc. All of our equipment at Pawsonit has evolved from requests from Agility and obedience folk. We always try very hard to make the best quality product we can and come as close as possible to Kennel Club standards. Having been competing in agility ourselves for 20 years now, we always put dog safety and comfort first.'
The Running Contact Trainer has a supporting leg in the middle where the two ramps join to prevent any flex or strain on the join and also has a 12 inch high leg at the start end to elevate it. This leg has a wide foot to stop the ramp tilting or rolling over if the dogs come onto it at speed or from an angle.
Customers can choose their colours.
The Running Contact Trainer costs £180 (excluding any courier costs) and can be bought through the Pawsonit website or by emailing Jan Thorpe direct. She is at lots of shows competing with her dogs and will always take orders along, free of charge, provided she can fit them into her dog vehicle.
---

Am Byth Aloe Forever
Magwen Lloyd Williams (Mags) has been drinking Aloe Vera Gel and using Forever aloe products for many years. This month for the first time, she will be doing the Clean 9, Forever's expertly devised nine day cleansing plan, used by many celebrities and sports professionals.
She is doing this nutritionally balanced programme to kick start her back to fitness regime, following a knee injury this summer. She hopes to be running with her dogs Lasi, a 3 ½ old Collie and high energy Caleb, a 15 months Kelpie x Collie soon.
Mags says, 'C9 provides the perfect starting point for cleansing the body and transforming diet and fitness habits. It is based around Forever's bestselling Aloe Vera Gel drink . You should see real results in just nine days.'
The Clean9 package (aka C9) includes aloe vera gels, protein shake package, supplements, shaker and a tape measure.
Mags will be blogging her progress on her Facebook. Like her page to receive Notifications. Information added continuously. Currently adding to Animal Care Products/Info and Top Ten Best Selling Products 2016 Albums on https://www.facebook.com/aloeforeverambyth/
For more information about Forever human and animal care products, go to https://www.facebook.com/aloeforeverambyth/ Click Shop Now to browse & shop via SSL secure online shopping link on her Facebook page. There is a 60 Day Money Back Guarantee on all products. Forever is a member of the Direct Selling Association.
Magwen Lloyd Williams (trading as Forever Am Byth) is an Independent Forever Business Owner, authorised distributor of Forever Living Products in the UK and worldwide..
---


TOTO FIT Coming to the UK
Touchango K9 is excited to announce that they are now the Exclusive UK and European retailers of the Toto Fit Balance and Core Work Products.
Jo Dorrell said, 'Every dog can benefit from core exercises, whether a competitive performance dog, a senior starting to lose muscle mass and balance, young dogs or just your best friend. Maintaining core strength is an essential component of a healthy, sound life. Core fitness exercises are also fun, and easy to integrate into your dog's daily routine – and the benefits will help them live the best quality life for the longest time possible.'
Toto Fit is a market leader in quality balance and core work products. The Toto Fit inflatables are made of the original Burst Resistant Quality material. If there is a puncture, it will deflate rather than pop. Toto Fit products are certified phthalate, lead, BPA and latex free, and manufactured to CE (Conformité Européene) standards in Italy. You literally cannot get any better than that!

Toto Fit was founded by Dr Debbie Gross and Martha McCormick, to bring equipment, education and knowledge to all dogs and their owners, in a safe and affordable manner. Their philosophy is 'Keeping it safe - Keeping it simple.' A great company with first class ethics and attention to detail, bringing innovative and importantly affordable products to the canine conditioning market. And all of their resources are free!
Toto Fit is available exclusively through Touchango K9. They are now taking pre-orders - delivery expected first week of November.
Get your orders in to be part of the #PurpleRevolution #KeepingItSafe while #BuildingBetterDogs. http://www.touchangok9.co.uk/toto-fit/products/
Touchango K9, a family run business comprised of husband wife team, Jo and Matt DOrrell and their dogs, based in the beautiful Kent countryside. Having been involved in dog sports for over 25 years, firstly in obedience and then agility a few years later, they have a lot of experience with active dogs.
---
Ball Thrower Bag Launched on Agilitynet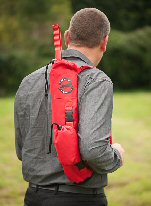 After months of design work and several prototypes, M & J Dog Products has announced the Ball Thrower Bag on Agilitynet.
The idea came to dog owner Jenny Fish back in January this year when she was out with her dog, Millie, trudging through the wet windy fields in the dark early morning, trying to keep hold of a lead, torch and a plastic carrier bag with the ball thrower and ball inside. When the wind caught the bag and one of the handles snapped , she first thought of a rucksack but that seemed a bit of overkill for a ball thrower and then she got the idea of a specially designed Ball Thrower Bag.
The bag is light being made from nylon which is waterproof, has a draw cord around the top to hold the shaft of your ball thrower and a mesh bottom to allow any water to come out. A small pocket is ideal for new poo bags and a pouch holds two tennis balls (or equivalent) which also has a draw cord. Turn the pouch upside down in wet weather stops the tennis balls getting wet, in the Summer if you are going out and are not wearing anything with pockets turn the pouch upright and you will find mobile phone and keys will fit in there nicely. Spare balls can always be put in the main bag at the bottom with the stick on top. The strap is adjustable allowing the Ball Thrower Bag to be worn across the back, over the shoulder or even carried in the hand.
Jenny said, 'If I had not got such a ball obsessed rescue dog, this bag would not have come into existence, so a big thank you goes to my wonderful, nutty little girl who makes me take her out in all weathers.'
The Ball Thrower Bag comes in two colours, red and blue. Both colours can be seen on website: http://www.mandjdogproducts.co.uk/ It is also available on e-Bay.
Jenny trains at Jump 'n Touch.
---
FitDog Nutritional Drinks Provide Hydration & Energy Boost
Colimanor is pleased to introduce a new nutritional hydration product that makes it easy to take care of proper hydration levels of your sports dog before, during and after exercise – meet FitDog Energy + Rehydration and Recovery drinks.

Developed by dog sport enthusiasts in collaboration with veterinary and food technology experts in Finland, FitDog has unique benefits especially for agility and sports dogs. Given during exercise and training, FitDog Energy + Rehydrate drink ensures dogs sustain their hydration levels better. Before longer exercise, it is important to start hydrating the dog already a day before exercise. Hydrating the dog is done by giving a small amount of rehydration drink several times during the day.
Rudina Wells said, 'As we all know agility is a real power sport which is why a dog's need of energy increases approximately 10% with every hour of activity. And on competition day the total amount of exercise in agility is equal to endurance sport. During the competition season in summer dogs usually have to work in warm weather which increases the dog's need of water.'
To provide that much needed energy boost, FitDog Energy+Rehydrate drink powder contains over 50% vegetable fat which is highly digestible energy for a dog. It also contains fast absorbing carbohydrates and protein and is extremely palatable.
The FitDog Recovery Potato drink helps to restore a dog's energy level and fluid balance after exercise with fast absorbing carbohydrates.
Part of the FitDog range is also the FitDog Puppy Booster drink which is recommended for lactating bitches to ensure proper hydration but can also be used for puppies.
The new FitDog range - together with the handy FitDog shaker bottle - is exclusively available from www.postalpetsproducts.co.uk.
---
New Look & Name for Dogbooksonline
Performance Dog is the new home of www.dogbooksonline.co.uk. The brand new website is still the place to find the best international selection of books and DVDs about dogs, but now they are offering so much more for the trainer, competitor and dog professional including a brilliant range of toys and training aids, specialist agility gear, sports collars manufactured with cutting edge technology.
Products include:-
Haqihana Harnesses and Leads – Handcrafted in Italy and endorsed by Turid Rugaas

Wicked Hounds Sports Collars

FitPAWS Products

Zero DC Canicross gear

Bait bags

Remote Controlled Reward Systems

Tug-E-Nuff dog toys

Lotus balls
Ellen Sellers said, 'Our new name better reflects our ever growing range of products, which alongside the best selection of dog books and DVDs in the UK, now also includes a whole host of toys, training products and more.'
Visit www.performancedog.co.uk to take a look at our new and improved website, designed to provide you with an easier and more pleasurable shopping experience. Shop now and enjoy a high level of customer service with free UK mainland delivery on all items.
To take advantage of the special Agilitynet code and save 10% on all orders until the end of May. To claim Enter Discount Code AGILITYNET at checkout


Skipper's Adds New Show to Agility Programme 2016
Skipper's Pet Products will be joining Hare & Hounds Easter Show at Helmsley later in the month in addition to the shows they announced in January. They will be supporting three classes at this event - that's one for each size of Agility dog with awards for Skipper's class winners to celebrate their achievements.
Additionally trophy winners are invited to present their trophy to any Skipper's trade stand during 2016 to enjoy a 10% discount on any purchases winners choose to make.
Managing Director of Skipper's Pet Products Steve Moore says, 'Skipper's Pet Products has a range offering something for every fit and healthy Agility Dog and we look forward to meeting you all at the shows in 2016.'

In 2016, Skipper's will be supporting the following events and they hope to add more events during the later part of the year.
April 2016
9-10 Scunthorpe O & ATC Championship & Premier Agility Show - Lincolnshire

16-17 Wallingford DTC Agility Show - Berkshire

23 - 24 Lincoln Agility Enthusiasts Agility Show - Lincolnshire
May 2016
7- 8 Hatton Agility Festival - Warwickshire

28 - 29 Nottingham Championship & Premier Agility Show - Nottinghamshire
June 2016
18 - 19 Golden Valley DTC Agility Show - Worcestershire

18 - 19 North Derbyshire DAC Agility Show - Nottinghamshire

25 -26 Dogs Unleashed - Bakewell, Derbyshire
July 2016
8 -10 Just Dogs Live - Cambridgeshire

16 -17 Rugby Championship & Premier Agility Show - Staffordshire

---

Agility Performance Record Book Launched
Lee Gibson's Agility Performance Record is out now and for a limited time available for order at a great price of £13.99. After 25th December, it will be the standard price of £15.99
This brand new product is has been designed with the agility handler in mind will never lose it!
Following the launch of his Agility Workbook, emphasising record keeping and performance analysis through the Skill Drills, Lee realised how much handlers were missing a user friendly resource for recording their own results and course designs all in one, central and easily accessible place.
He said, 'I am proud to say this has changed. Having watched so many handlers try and write down courses on the back of their running orders, or try and note down their results or dogs times on a scrap of wet paper, I analysed what was needed to make this process easier for handlers at competitions, and also produce a resource that could be referred to regularly at training sessions also. I have a passion for agility and helping handlers continually improve, and results keeping along with performance analysis are a vital ingredient for improvement and marking progress.'
Agility Performance Record features:
Hardwearing durable cover

Index page for quick references

Personalise YOUR Agility Performance Record with you and your dogs details

Key Information page, for dog registration numbers, measuring heights and other key details

Slick design pen that attaches to the back cover

Draw each of your courses on the templates, and record an array of details ranging from the course length, weather conditions, and the winners time, too your course faults and time

Performance Analysis box to critique and make notes – ideal for taking back to the training field to work on!

88 course map templates and Performance Record Keeping pages to use

Note space at the rear of the Agility Performance Record
The only choice now is which colour! Eye-catching orange or slick black, neon pink, green or blue. Each APR comes with a smart metal pen that sits attached.
For more information, go to http://leegibsonagility.com/shop/4588819198
---

Wicked Hounds Recurve Sports Collar
DogBooksOnline have recently started selling the Wicked Hound Recurve Sports Collar on their website. This is a collar designed by Kirsty Cumming, a vet and top Australian agility competitor and trainer, specifically for performance dogs. It features contoured sides to allow more freedom of movement through the shoulder and avoids pressure points on the neck. Her plan was to design a collar that provided proper tracheal support for dogs when they are running or pulling rather than the normal strap collar that has a 3 x load increase on the top edge when a dog is exerting pressure. The stiffer the collar, the higher the point of pressure, which inevitably leads to throat damage.
Several years were spent testing materials and working on digital modelling to perfect the design. The result is a collar that has a broad front that tapers and curves over the dog's shoulder to direct load back to the handler holding the lead. Thus, the world's first ergonomic collar, made from military grade cordura, was born.
In addition, the collar is cored with thermal shaping material. This means that although the collar initially feels stiff, within two or three days the dog's body heat shapes it to a perfect custom fit. This maximises the effectiveness of the collar's ergonomic design. The collar fastens with a high-quality plastic clasp. However, there is an additional feature that agility competitors particularly like: you can set the pull length via the tri glide on the D ring side and use it as a part martingale, which makes it quick to slide on if you want to.
When the dog is not on lead, the collar naturally rotates and sits like a bandanna, showing off the graphics. These will not wash off and are highly resistant to fading as they are created with a plastic-like material that is thermally bonded at 200 degrees to the cordura.
Available in three sizes and in an array of over 20 eye-catching and funky looking designs, the sports collar is at the forefront of modern technology. It now has an international reputation and is used by a number of top class handlers including Lucy Osborne, Susan Garrett, Silvia Trkman and Justine Davenport.


For more information visit http://www.dogbooksonline.co.uk
---
First Contact Defibrillators
First contact now has two defibrillators available for hire at shows.
Hazel Higgins said, ' They have arrived - just hope these are never needed. We are aware that most weekends we do hire to more than two shows, so they will be booked on a first come basis. If there is a demand for more, we will look to purchase more units in the future. '
Email info@firstcontactagility.co.uk for more info and for booking if you are hiring our equipment.
Dog Vegas have also purchased a separate unit for their shows.
---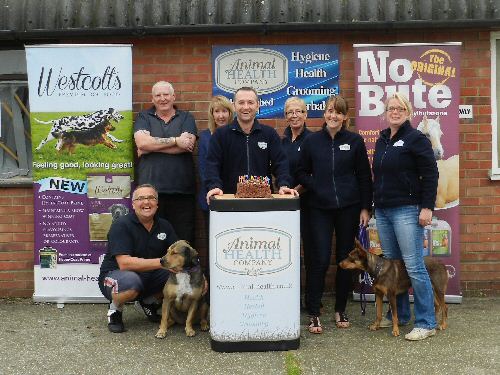 Happy Birthday AHC
The Animal Health Company, sponsors of The Animal Health Co Challenge, is celebrating its 24th birthday on 11 September! Celebrate with 24% off your order for 24hours starting from now! Online orders only.
---
New Adams Tunnel Straps
Adams Agility have launched their new strapping system for rigid tunnels. It requires no straps so it removes the risk of the tunnels being forced down by the straps narrowing the tunnel. The tunnel only moves a few inches at most and it means no more Velcro that keeps popping open.
Chris Adams said, ' We wanted to look for safety first and foremost for the dogs. After thinking long and hard and listening to agility competitors about the safety of the dogs in agility we have come up with this new method. We are very pleased with the new design and have received lots of fantastic comments off judges and competitors after they have been used at the first few shows.'
The price is £45.
---
Major Step Forward for YUMOVE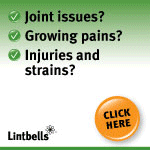 A study which has clinically proven the effects of joint supplements on dogs' mobility for the first time ever, has been declared 'a major step forward' by a leading veterinary scientist. Dr. Matthew Pead from the Royal Veterinary College (RVC) led a rigorous two and a half year placebo-controlled research study into YUMOVE. It used state of the art activity monitors, which were originally developed to track wild cat movements on the African plains, to record dogs' mobility levels in their home environment for 42 days. The study found that the dogs on YUMOVE were significantly more mobile after just six weeks of use.
It's the first time a joint supplement has been clinically proven and in such a short period, meaning YUMOVE can be used by dog owners with the confidence that it will support their pets' mobility.
The clinical study was sponsored by YUMOVE manufacturer Lintbells Ltd, who announced the results at the prestigious veterinary event BSAVA Congress this month (April 4).
Co-founder Dr. John Howie said: 'This is a really exciting development for us, because although we had significant feedback from dog owners and vets about how well YUMOVE worked, we felt it was important to establish independent, rigorous clinical evidence.'

Lead investigator at the RVC Dr Matthew Pead said: 'This study represents a major step forward for canine mobility." He added: 'It took nine months of careful planning to ensure a robust methodology was developed to provide clear clinical results that can be relied on with confidence.'

Dr. Howie commented: 'With so many supplements available, there is a great deal of uncertainty and confusion when it comes to choosing the right one for your dog, but this study will be an enormous help for dog owners. It's thought that 1.2million dogs suffer from joint and mobility issues and fewer than 15% receive a nutritional supplement. Having a proven product that owners can rely on will help them make informed choices, and choose a product they can trust.'
For more information, please visit www.lintbells.com .
---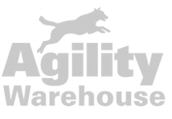 Agility Warehouse Has a New Home!
On-line shop Pets Perfect have taken over Agility Warehouse. The 'new' Agility Warehouse is located within petsperfect.co.uk. It is split into the same sections making it easy to find the items you are looking for, whether it's dog agility equipment and training aids or a great gift for your dog or an agility friend.
Sophie Knox and her team are still adding new products and brands to the website everyday so keep an eye out or let them know if there's anything you need.
She said, 'We compete ourselves so we use many of the products we sell. If you need any advise just give us a call. We look forward to seeing you and your dogs at local shows!'
You can still reach Agility Warehouse in the way you always have done. Either go to www.agilitywarehouse.com or visit Pets Perfect. Just click on the home page link and it will lead you straight to the Agility section. Make sure you sign up to our newsletter to be kept up to date with the latest offers and discounts.
For more information, ring Sophie or Pippa on tel. 01423 313324 or email. They are ready to help Monday to Friday 9am to 5pm.
---

Needem Pet Beds March Madness Stock Clearance
For the month of March, Needem Pet Beds are offering discounts on all beds and vetbed advertised on their website. They upply quality British-made waterproof and Merino fleece beds as well as Merino mix blend vet bed, both non-slip or traditional.
Hurry while stock lasts.
---

Patriotic Soft Tunnel from Mr. T
Mr T's Agility is now supplying tunnels with new designs including flags, pictures and Training Club Logos.
Contact Ian Dobison with your requirements by email ateamagility@gmail.com or ring m. 07581 248279.
---
Former YKC Member Wins Regional Business Award
Former YKC member Sally Marchant, (previously Rowe) - along with her husband Kevin - have won the Online Business of the Year award at the Hertfordshire Business Awards for their online video magazine, Naturally Happy Dogs.
Sally, 29, from Stevenage, started the business with her husband from their home, combining their experience in building websites with their passion and knowledge about dogs.
Sally was a YKC member for many years, attending its annual YKC camp and competing regularly at Crufts and Discover Dogs with her Swedish Vallhund, Lady. Sally then progressed on to teaching for the YKC, both at camp and activity days before starting her own business.
Sally and Kevin collected their award at the Hertfordshire Business Award ceremony at Knebworth Barns on Thursday 28th November 2013 in front of over 400 people.
Sally commented on her award: 'We are thrilled to have won the online business of the year award. I really enjoyed my time as part of YKC and the knowledge I gained during my time as a member has helped further my career and helped develop our company.'

'Our vision for Naturally Happy Dogs is to make it easy for people to find top quality information about any aspect of dog training and care, and it's great that our hard work has been recognised.'
Naturally Happy Dogs is a new on-line video magazine for dog lovers including articles on training, behaviour and veterinary advice. With contributors including Bill Bailey, Michael Ball and 'Super Nanny for dogs' Victoria Stilwell from Channel 4 programme, It's Me or the Dog, the website has viewers in the UK, USA, Europe and Australia.
Caroline Kisko, Kennel Club Secretary said: 'Congratulations to Sally and Kevin on their wonderful achievement. The Young Kennel Club, which is for young dog lovers aged 6-24, was set up to support people like Sally in their passion for dogs. We wish them all the success for the future.'
Sally is the author of Your First Agility Show and Your First Obedience Show.
For more information on the Young Kennel Club, please visit www.ykc.org.uk or alternatively for more information on Naturally Happy Dogs, please visit their web site
---

Pink is the New Black
For all the fans of things Pink, Mr T's Agility is now producing soft tunnels in Pinktastic Pink. Also coming soon, Union Jack and Stars and Stripes tunnels.
Mr T is also producing Cavaletti Jumps in pink.
Email or buy from Agility Warehouse.
---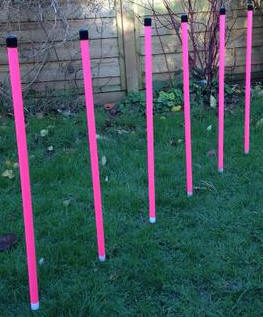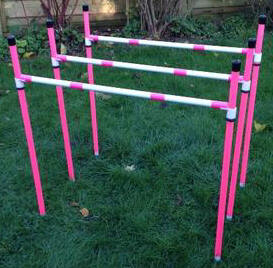 JJ Pretty in Pink
Warwickshire-based agility equipment manufacturers, JesseJump, have launched their new JJ Agility Pretty in Pink range on Agility Warehouse to celebrate 10 years of trading.
They recently did a survey on Facebook, asking people what colour they wanted. The two most popular choices were purple and pink. Purple was added in October to their existing range of orange, green, blue, red and, not forgetting, of course, white.
Neale Hardwick said, 'We think the pink is a fantastic colour and should sell very well at Crufts where people buy on sight. We are looking at adding yellow in January to complete our range of colours.'
JJ Pretty in Pink Hurdles and Weaves are available from Agility Warehouse
---

Christmas Competition Time at SWAG!
Those nice people at South West Agility Goods have decided to combine the excitement of their newly available PINK webbing with the chance for you to win an early Christmas Present for the most important family member... your dog!
Please like their page, share this photo of a lovely SWAG Bungee Tennis Ball, and comment in the box below and you will be entered into the SWAF prize draw. Don't worry if you think your butch dog can't carry off the new PINK webbing. They've made some blue SWAG Bungee Tennis Balls as well!
The deadline for entering is noon on Friday, 29 November.
Good luck!
---


Country Mun Moves Up North
Country Mun Canine, a regular exhibitor over the years at Crufts and agility shows around the country has relocated from Sussex to the north of England a few months ago. Set up just over 25 years ago by farmer, Irvin Werrett, the business is now based in South Shields, between Newcastle and Sunderland. Irvin handed over the reins to new owners Susan and Alan Hunt in 2012 after making the difficult decision to move on to pastures new.
Irvin said, 'I had such good times travelling the country with Country Mun and I met so many wonderful people. It was a very difficult decision to call it a day but I wanted to spend more time at home with my family and the show circuit was very demanding.'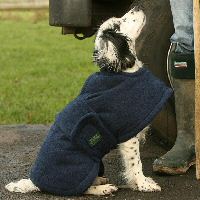 Irvin originally set up the company because he couldn't find dog coats able to survive the demands put upon them by his farm dogs.
'I had coats made just for my own dogs and people started asking me where they could buy them. It really snowballed from there,' he said.
The company now manufactures a wide range of dog clothing but is probably best known for its virtually indestructible Challenger fleece-lined dog coat and its luxury towelling rug coat which dries dogs fast and offers extra warmth. It also caters for gun dogs and working dogs as well as agility breeds with essentials like wetsuits and stopper pad protectors and has a custom-made service for larger dogs such as Great Dane.
'Country Mun products are well known for their quality and longevity,' said Alan. 'Trading conditions have been difficult for most small to medium-sized businesses over the past few years and the fact that Country Mun has survived in the face of cheap imports is proof that many dog owners prefer a quality, British-made product. Buying cheap products is a false economy since they rarely perform well and have a very short life. We have owners who have handed down our coats to their next generation of dogs and that is testament to the quality. We also sell coats styled for specific breeds such as pug, daxi, bulldog, whippet and hound since a standard style doesn't give them a good fit.'
Country Mun Canine products can be found on their web site and via Agility Warehouse.
---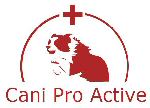 Camddwr Canine Launch Range of Cani Pro Active Performance Supplements!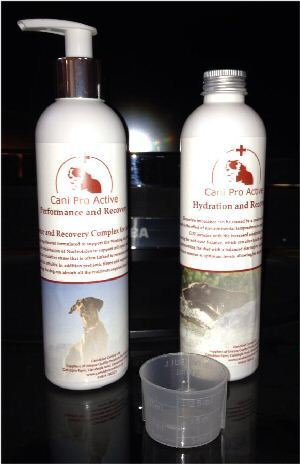 Following some very positive trials involving dogs from various dog sports, Camddwr Canine is thrilled to launch these new supplements for Active Dogs.
Cani Pro Active Hydration and Recovery Complex for Active Dogs

Ann Harmes said, 'Here at Camddwr, we strongly support the principle of Train = Compete = Recover, and these supplements are designed to support this philosophy.'

Our long awaited Hydration and Recovery Complex helps Active Dogs maintain performance balance whilst competing and training in varying temperatures, and also when stress is a factor. We often hear of dogs struggling in the heat, suffering from a lack of stamina, and/or simply going 'flat' and being in need of a boost, and we know that Electrolyte Imbalance contributes to this.

'Electrolyte Imbalance can be caused by a number of factors. The predominant factor is the effect of the environmental temperature on respiration rates, causing the loss of CO2 to rise with the increased respiration rate. This alters the acid balance which can alter health and metabolism. Supplementing the diet with a Balanced Electrolyte will help ensure the acid base balance remains at optimum levels, thus allowing the dog to perform at its peak.'

'We are very grateful for the hot weather we have had recently which has enabled our trial dogs to really test out this complex and we have been delighted with the feedback on these products.'
Cani Pro Active Performance and Recovery Complex for Active Dogs
With over 20 years competing and training Agility Dogs, and a background in the equine world, Ann felt that there must be more they could do to support our Canine Athletes. Following much research, and working in partnership with a top nutritional company in the UK, she set about developing these unique supplements which are specifically formulated with the needs of Agility and Sporting dogs in mind.
'The intensity of training for competition, combined with the short bursts of drive, braking ability, strength and endurance that we ask of our Agility Dogs, must take its toll on the musculo-skeletal system. The support of recovery from physical stress is vital in the Canine Athlete,' Ann says.
The Performance and Recovery Complex is a unique liquid nutritional supplement, specifically formulated to support the working dog following periods of training and competing. It contains a combination of Nucleotides to support Cellular Repair, and antioxidants to help protect against the oxidative stress that is often linked to recurrent problems such as muscular injuries and also arthritis. The addition of prebiotic fibres that support the digestive system ensures the dog can absorb all the nutrients required from its diet. This product is especially suitable for dogs who are in training, and also those who are recovering from injury.
Cani Pro Active Hydration and Recovery complex and Cani Pro Active Performance and Recovery are both sold in bottles of 250ml and 500ml and are only available from Camddwr Canine Ltd and other selected specialist retail outlets.
For more information, visit www.camddwrcanine.co.uk
---

The

McGregor Club Launched On-Line
Maintaining a consistent level of fitness isn't about doing more running or more jumping. It is about flexibility and mobility which can only be achieved through regular care and attention to muscles, joints and tendons. And it's this that plays a crucial part in injury prevention, speeding recovery, maintaining fitness - and improving performance. This is especially critical for dogs participating in sports needing high levels of flexibility and mobility such as Agility, Flyball, Disc Dog - but is beneficial to every dog and particularly those suffering from arthritis pain.
The on-line McGregor Club shows owners how they can personally do more for their animal's ongoing physical condition and performance
Formed by world leading animal osteopath Stuart McGregor, the Club has developed new fitness and performance management techniques which are entirely within the capability of every owner and a step forward in what owners can personally do for their dog. It uses video demonstrations, tips, advice and ongoing support through the website to show owners how they can build the necessary care into their everyday or weekly routines - and show them how they can be their dog's personal fitness trainer. It is a new standard of care that all owners will want to provide. And there is direct access to Stuart and his team for help and support at any time.
Stuart McGregor was the originator and first to apply modern osteopathy techniques to dogs and horses in the early 80's. He is internationally acknowledged as the world leading expert and 'father' of modern animal osteopathy and has trained most of the leading practitioners through his post-graduate osteopathic course at the Osteopathic Centre for Animals in the UK. He trains animal osteopaths and lectures in many countries.
The McGregor Club is inexpensive and easy to join at www.mcgregordogcare.org For more information, contact: Jeff Smithers: 01635 298522 M. 07710 231641 or email: jeff@mcgregorclub.org or write to McGregor Club, Orchard House, Portway, Wantage, Oxfordshire, OX12 9BU, United Kingdom
---
Pets Perfect Pippa

Goes G2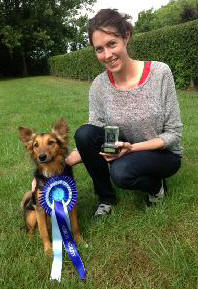 Pets Perfect very own own Pippa Wild and Lola for winning Medium Agility Combined G1-4 at their second Dog Agility competition at Cornforth DATC Show, held at Barnard Castle. Her time was 39.659 seconds!
Pippa decided to take up Dog Agility after getting her rescue dog Lola from Ponderose Rescue near Castleford, only 15 months ago. She goes to her local dog agility club every Thursday, Crazy Canines which is held at Crowtrees Equestrian Centre in High Birstwith, near Harrogate. Both Pippa and Lola find it very rewarding and fun.
If you would like to get involved in dog agility why not look at the website Agilitynet to find your local club or speak to Pippa who will more than happy let you know about her experience and where to start.
---
KC Pet Insurance Announces Greater Efficiency for Breeders and Lower Premiums
From July, breeders activating 4 Week Free Insurance policies from the Kennel Club will find the process faster and simpler, while owners will benefit from a greater choice of Lifetime cover options and lower premiums.
Faster 4 Weeks Free Puppy Insurance activation
In a move to help breeders activate puppy cover more efficiently, activating a Kennel Club 4 Weeks Free insurance policy can now be completed online in under 2 minutes. Setting up a policy simply requires the puppy's Kennel Club registration number to be entered, which will have been issued when the litter was registered. This number brings every detail needed for the policy directly across from the Kennel Club.
As well as saving time, activating cover online also removes any risk of inaccuracies during set up. The other benefit during the busy handover period is that the control is with the breeder to arrange puppy cover at the time of day or night that suits them – as far as seven days before the puppy is collected. And by supplying their email address to the breeder, the new owners' policy documentation will be sent directly to them.
Said breeder of Dialynne Beagles, Diana Spavin who uses the KC 4 weeks free puppy insurance: 'I like the KC's free insurance because it's easy to do with the KC [registration] number at any time, up to a week before they are due to go. I activated the insurance online at 10 o'clock at night last time, which was handy because I could plan ahead and do it properly; instead of doing it on the day they were leaving which can be a rush. It's just nice to know that they have some insurance from the moment they leave me with the new owners.'
Affordable policies to suit owners needs and budgets
The Kennel Club has also launched a new range of cover options with flexible, reduced premiums designed to make continuing on to a lifetime insurance policy a more affordable option for all new puppy owners.
The Kennel Club's unique 'pick 'n' mix' range of options allows owners to select or decline features depending on their own specific needs. By excluding benefits not required, such as overseas travel cover, owners can see their premiums drop significantly. This change makes true lifetime cover more affordable than ever, and new owners continuing a 4 Week Free policy online can do so quickly and simply using the puppy's existing policy number.
Ben Ashcroft, Marketing Executive for the Kennel Club Pet Insurance said: 'Whilst many breeders' acknowledge the Kennel Club Pet Insurance offers good, robust lifetime cover; it has been less price competitive compared to other like-for-like policies available. The new range launched this month addresses these concerns so they can activate the 4 weeks free cover with confidence that their new owners will now have a more affordable option available to them from the Kennel Club at the end of the free period.'
Kennel Club 4 Free Puppy Insurance is administered by Agria Pet Insurance Ltd & underwritten by Agria International Forsakring AB. Agria is one of the leading animal insurers in the world, dominates the Scandinavian animal insurance sector, insured its first horse in 1890 & enjoys strong relations with vets, breeders & other animal organisations. Agria also provides the Kennel Club Pet Insurance.
For more information visit www.kcinsurance.co.uk/breeder or contact Ben Ashcroft in our insurance press office on +44 7912 327 711 or by email: ben.ashcroft@agriapet.co.uk
---


Taryntimers Evolve
Taryntimers are proud to launch their new wireless timing! Their new, greatly anticipated timers have been trialled successfully at Otley and Newton Heath shows! Initially each agent will initially have one set of wireless available while a roll out takes place.
Please note that as of 12 June 2013, Taryntimers has no association with Adams Agility.
If you would like to book Taryntimers or confirm a booking, please contact Sarah on m. 07881 813 347 or email: Sarah@taryntimers@dsl.pipex.com
---
FitPAWS Arrives in the UK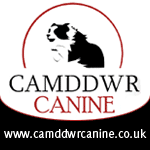 After many, many months of planning Camddwr Canine is pleased to announce that they have become the official distributor for FitPAWS for the UK.
You may have seen their bright shiny Fitness balls, balance discs and boards at Crufts and other events. These which have been specifically developed and manufactured for dogs with claw resistant material and sizes specific to breed and type.
FitPAWS equipment is used by canine physiotherapists and other specialists to support the rehabilitation and recovery of injured dogs. It can also have a significant role to play in supporting the development of core strength, balance and stability in sporting dogs. These skills greatly benefit of your canine athlete, and the results of this work can be seen to make a significant difference to performance both in terms of joint mobility and flexibility, proprioception and limb awareness.
FitPAWS® Canine Conditioning Equipment is used by sport dog enthusiasts and professional dog trainers for core strengthening, indoor exercise, increased range of motion, flexibility, neuromuscular facilitation, sensory and perceptual stimulation, joint alignment, and balance control. Core strength is a fundamental element used by your dog to control its body when jumping, turning, and running. Helping your dog develop strong core muscles can reduce and prevent injuries.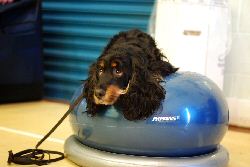 Core conditioning is an essential part of any athletes training program, including the performance dog. If your dog participates in sporting or breed competitions, you'll want to make sure your dog is in prime physical condition. Once on top of the FitPAWS conditioning equipment, your dog's body will automatically react to the shifting movement, causing your dog to use different muscle groups simultaneously in order to remain upright. Adding this strengthening activity to your dog's cross-training activities 3-4 times a week, has many benefits, including:-
Increased trunk and core strength

Strengthening the bond with your dog through interactive positive training

Stabilization of weak areas

Improved balance and proprioception (body awareness)

Improved reaction and control

Increased range of motion in joints and elongation of the muscles
We also have a range of resources to support the use of FitPAWS equipment including DVDs and publications brought to you by Canine experts from around the world in a variety of disciplines. We highly recommend their use with the FitPAWS equipment and you will also find a wealth of resources online on the FitPAWS youtube channel if you are looking for inspiration and ideas.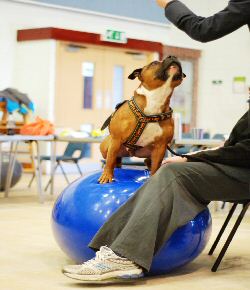 So what is Core Stability and why is it important?
Building the dogs core muscles and balance supporting the dogs body can enhance performance and prevent unnecessary injury. Dogs with weak Core Stability can be more susceptible to small injuries and muscle strains than those with strong core stability and balance. Core Stability exercises can be done at just about any age even for older dogs- using a variety of surfaces from the FitPAWS mat which provides a low balance challenge, to the FitPAWS peanut and Egg with a significant degree of weight shift and greater intensity which is ideal for the Sporting dog.
FitPAWS® Canine Conditioning Equipment is used by sport dog enthusiasts and professional dog trainers for core strengthening, indoor exercise, increased range of motion, flexibility, neuromuscular facilitation, sensory and perceptual stimulation, joint alignment, and balance control. Core strength is a fundamental element used by your dog to control its body when jumping, turning, and running. Helping your dog develop strong core muscles can reduce and prevent injuries.
Core conditioning is an essential part of any athletes training program, including the performance dog. If your dog participates in sporting or breed competitions, you'll want to make sure your dog is in prime physical condition. Once on top of the FitPAWS conditioning equipment, your dog's body will automatically react to the shifting movement, causing your dog to use different muscle groups simultaneously in order to remain upright. Adding this strengthening activity to your dog's cross-training activities 3-4 times a week, has many benefits, including:
Increased trunk and core strength

Strengthening the bond with your dog through interactive positive training

Stabilization of weak areas

Improved balance and proprioception (body awareness)

Improved reaction and control

Increased range of motion in joints and elongation of the muscles
Ann Harmes of Camddwr Canine said, 'There are also some exciting classes around the country run by Canine Therapists, one of which I attended recently in Manchester where I met up with Gail Baker. We can learn so much more about our dogs and understand so much more about the canine athlete. I would highly recommend attending one of these for an inspiring opportunity to understand the benefits of using FitPAWS as part of your conditioning programme. We were very lucky to have Gail working with us on our Stand at Crufts this year, I hope you were able to visit us and speak with her about using the equipment – Gail runs a series of seminars in both Flyball , Agility and herding throughout the country- and we hope to be doing more work with Gail in the future.'
You can see the full range of FitPAWS equipment on our website at www.camddwrcanine.co.uk and also on our Camddwr trade stand at Agility shows throughout the season- or contact us for a copy of our brochure.
---
Ace Canine Launches Health Supplement for Humans
Ace Canine customers have often asked Jon and Sheila Szegota it they sell their Flex Jointcare for humans as well as dogs? Well, they do now!
They've taken the two most effective joint and mobility supplements available: - full strength Green Lipped Mussel and patented Celadrin anti-inflammatory - and combined them in one product called i-Flex. Both ingredients are natural and have wonderful safety credentials, making them the perfect partnership for long-term use.
A brand new food supplement designed to help maintain daily joint health in one easy-to-swallow gelatine capsule, the active ingredients in i-Flex are quickly absorbed, allowing you to stop worrying about those aches and pains. i-Flex contains active ingredients that have been selected for their uses in maintaining joint health: Green Lipped Mussel and patented Celadrin anti-inflammatory, combined in a single daily dose.
The ingredients in i-Flex work together to help promote the free, unrestricted movement of healthy joints, allowing you to get on with doing the things you enjoy most in life. i-Flex can be taken by:-
People who wish to take a joint supplement to help maintain joint health

Active people whose joints are under regular strain

Older people with less mobile joints
Green Lipped Mussel contains all the building blocks found in other joint supplements (glucosamine, chondroitin, hyalauronic acid etc) but in a natural form. Green Lipped Mussel contains high levels of Omega-3 ETA fatty acids that are known to assist the body's natural responses to inflammation, which is often the cause of joint pain and discomfort.
Celadrin is a medically and clinically proven pain relief compound developed in America through a proprietary process of esterifying oils. It is an innovative, all natural ingredient, which has been medically shown to reduce inflammation and pain with no side effects.
iFLEX is available from Agility Warehouse and directly from www.ace-canine.com, telephone 0118 9842871 for further information.
---
Yumove for Young Dogs Launched
Lintbells, the company behind Yumove, the natural triple action mobility supplement for dogs, has launched a new version of Yumove aimed specifically at young and active dogs. The people at Lintbells have studied the needs of younger dogs, and especially those that participate in flyball and agility, and developed Yumove Young & Active specifically for them.
Young dogs, particularly larger breeds, can suffer from a number of conditions causing ligament and cartilage problems from around four months old. In addition, strenuous exercise can put extra strain on dogs' joints and cause stiffness making it harder for them to recover. Yumove Young & Active contains 20% more of the triple strength Green-Lipped Mussel than regular Yumove. Its powerful Omega 3 oils can help reduce cartilage breakdown and ease stiffness and discomfort. It also contains increased Manganese which is proven to support a dog's tendons and ligaments and Zinc to support tissue growth and repair.
Dr John Howie, co-founder of Lintbells, said: 'We know a lot of young dogs suffer from growing pains and other disorders which can affect the joints and cause lameness and Yumove Young & Active has been developed to help ease those problems. Original Yumove was an instant success with people who had older dogs that needed a little help with mobility but it soon took off with owners of working and sporting dogs too and these groups benefit most from a slightly different combination of the key ingredients. We subsequently brought out a variant for working dogs and have also recently launched Yumove Cat'.
Yumove Young & Active is based on the triple action formula of original Yumove which addresses the needs of joint structure, mobility and comfort, combining the proven ingredients of Glucosamine HCl, natural Chrondroitin, Manganese and Hyaluronic acid.
The supplement will be available from leading pet retail stores. In addition, Yumove Young & Active can be ordered direct from Lintbells. It is supplied in a pack of 60 tablets, costing £16.29, which is approximately one month's supply for most medium sized breeds.
For further information please visit: www.lintbells.com or telephone: 01462 790886
---
New SWAG Web Site Launched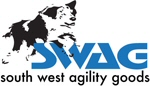 The NEW SWAG website is now up and running! They have added all the new bungee dogs toy range and made it even easier to use! Check it out now and receive a 15% discount by using the discount code NEWSITE1 during checkout!
Owner Dan Millwood said, 'Have a browse through our site. We've have spent a lot of time developing, testing and perfecting our products and believe that they are of the highest possible standard. All our products are handmade in Cornwall. http://www.southwestagilitygoods.co.uk/

Here at SWAG we believe that quality and choice are paramount which is why our exciting ranges of leads, collars, rugs, bedding and toys all come in a wide variety of colours and materials and can be personalised to you and your dog. We welcome feedback about our new website and hope that everyone can find a product they like! We are also happy to create a toy or lead you would like but is not currently available. If you can think it we can probably design it for you!'

---
Very Special Offers from Colbornes Van Centre
The Colbornes Van Centre, located just outside of Guildford in Surrey, has some exclusive offers for Agilitynet customers which you'll find on the dedicated Agilitynet section of their web site. Along with a great range of vans and passenger carriers, they also have dog-related accessories to customise your van, or can arrange for a bespoke conversion to be carried before you take delivery of your van, making it absolutely perfect for all of your dog agility needs.
The Colbornes Group is a company with almost 70 years' experience in the motor industry. At Colbornes, they aim is to deliver the ultimate customer experience - for you and your dog!
Visit www.colbornes.co.uk for more information.
---
Houston We Have a Problem...
DK9 Agility Equipment would like to apologise to anyone trying to view there web site at the moment, as it's not there! Unfortunately the site crashed on Wednesday and we are still chasing the medic's for prognoses. In the mean time anyone wishing to place an order or get in touch can do so by email nigel@dk9ltd.co.uk or by phone on tel. 01580 765078. Alternatively our product range and special offers can be found on DK9's Facebook page
Once again Nigel and Sarah would like to apologise for any inconvenience caused.
---
Ace Canine Supplements Launch Trimega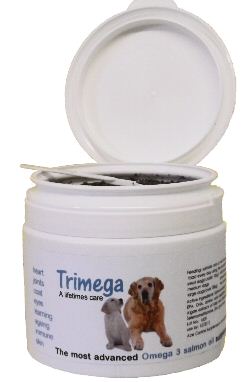 Ace Canine has launched an exciting new health supplement for dogs this month. Trimega is the first of the next generation of Omega 3 supplements, based on new technology that extracts the Omega 3 oil (fatty acids EPA and DHA) from salmon in its natural state as a phospholipid. Dogs naturally utilise Omega 3 primarily in the phospholipid form and so as a result, Trimega is assimilated more completely and gives even greater health benefits than cold pressed salmon oil.
Trimega is made from sustainably harvested Atlantic Salmon and the oil (fatty acids) is extracted without harsh chemicals, using natural enzymes and cold water. Trimega exceeds European and American standards of purity and so there are no concerns about toxins or contaminants.
It is available as a granule to be sprinkled onto food. It has no fishy odour but it does have a slightly fishy taste that dogs find very palatable. It is clean to use and easy to measure out.
Clinical evidence for the health benefits of Omega 3 oil from fish is now overwhelming. No such body of evidence exists for plant sources of Omega 3. This latest development now puts Omega 3 from fish even further ahead in the health stakes.
Trimega is available from Agility Warehouse and directly from www.ace-canine.com or ring tel. 0118 9842871 for further information.
---
Going to Crufts...
Keep Cool will be at Crufts this year in Hall 4 Stand 54. There will be show prices on all our Keep Cool products, including our latest Hi-Visibility Keep Warm & Glo Coat for dogs. You can view our products on our website: www.keepcool.org.uk. We look forward to seeing you there.
---
The Pets Perfect team will be there with Black Dog, Gencons (both left & right hand( Ruff Wear, colourful new Fat Cat toys your dog will go crazy for, Road Refreshers, Paw Plungers, toys, balls, Visiglo collars and so much more than space allows! See you in Hall 4 at Stand 82!
---
The www.naturallyhappydogs.com team will be making a guest appearance on the BARF Pet Foods UK stand (Hall 1, stand 34) at Crufts this year on Thursday, 8th and Saturday, 10th. There will have some free gifts for current subscribers who come to say hi and a one month free membership for not-yet-subscribers!
---
Canine Massage Therapy Centre will be at Crufts with a bigger stand, more products, special gift offers and a new catalogue. UK wide therapists launch. New workshops. Hall 1, Stand 24
---
Wicked or What! will have the CarPET - Pet Hair Remover available to purchase at their stand in Hall 2 - Stand 42

Xtra Dog will be Hall 1, Stand 125 and will be offering the full range of Xtra Dog fleece and water-repelling foam dog harnesses, multi-award winning Spiffy Dog Air Collars and leads, Bergan Crash tested car harnesses, Thundershirts, plus the Adanac range of sled dog equipment made in the USA, plus Pawtrrekker Dog scooters.
On the stand, they will also have a team from Tellington TTouch including Marie Miller who will be there to offer free advice on TTouch and dog training. There will also be special guests on Working Dog Day of Siberian Husky Club Welfare Rescue dogs. Come and meet a Search and Rescue dog from NSARDA Cantech while you are browsing the Xtra Dog product range.
---

Lintbells will be launching their innovative new digestive health range, YUMPRO BioActiv, at Crufts this year. With a unique BioActiv probiotic and prebiotic complex, YUMPRO BioActiv is designed to maintain the dog's natural gut balance. For serious digestive upsets and ongoing digestive challenges, there's YUMPRO BioActiv PLUS, a veterinary strength, fast acting prebiotic / probiotic complex.
Visit Lintbells at Hall 3, Stand 121 to find out more and to take advantage of the great offers across the Lintbells range. Or if you'd like a free sample ahead of Crufts, please contact us on tel. 01462 790886 or go to www.yumpro.co.uk.
---
Camddwr Canine will be in Hall 3 stand 86 same place as usual where they will be having a Hurtta Bonanza Sale as well as a discount on Back On Track and 20% off Ruffwear Swamp Coolers.
---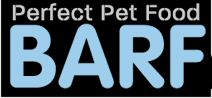 BARF Pet Food will be introducing its new rabbit meat - 70% meat and 27% ground bone - as well as Turkey Treats, another new product which is a dried neck chew. They will also have Canina BARFER's Best on the stand which is a supplement that they recommend.
BARF Dog Food is doing a competition with the prize being a weekend away for two people and up to two dogs in a dog friendly guest house in Wales. They are also running daily competitions - two per day - where people can win a trial pack, i.e. four meals in a freezer bag, there will be two of this per day. In addition, there will also be a Facebook and twitter competition each day with a free trial pack per day for Facebook and twitter entries.
Anyone ordering at the show will get free shipping. Anyone who has entered into any of the competitions will also receive a discount voucher by email so that they can apply this when they order online on our website. This obviously does not go for people ordering via your website.
---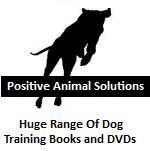 Positive Animal Solutions is making its first appearance at Crufts. They can be be found in Hall 3. Stand 109, near both Discover Dogs and the YKC ring. Theyll have their full range of books and DVDs from Clean Run and Dogwise including the latest release from Leslie McDevitt, Control Unleashed: The Puppy Program. They'll also have their ever expanding range of toys specially selected for their ability to create drive, desire and want, perfect for the agility dog!
---
After much deliberation, taking into account the spiralling costs, increasing trading restrictions at the NEC itself and the drastically reduced foot fall at Crufts Country Mun have taken the momentous decision that to use so much of our resources on this one show is not beneficial to our company or to you our customers. Therefore, after 24 years of supporting Crufts we will not be attending this year. You can find Country Mun products on their web site or Agility Warehouse.
---
Alpha Feeds Continues to Support Agility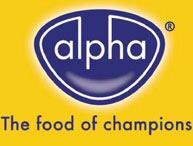 Nottinghamshire-based Alpha Feeds Ltd get 2012 off to a great start by proudly presenting an Agility competition for Large dogs Grades 1–3, using current Kennel Club rules and regulations. Competitors will have nine opportunities to qualify for one of the final places and will receive an invitation to compete at the Grand Final on Sunday, 30 September 2012 at the Malvern Autumn Show (Malvern WR13 6NW), kindly judged by Charlie Wyatt.
Unique to this competition is The Alpha Wildcard. Each heat judge has the opportunity to award one Alpha Wildcard Invitation to the final for that one great dog that miss the qualifying places.
Ryck Turner, CEO of Alpha Feeds said that he was delighted that Alpha was continuing to support the active dog community in such an innovative way and he looked forward to meeting competitors at the forthcoming heats.
2012 qualifying heats to be held at:-
April 2012
Easter 'Egg'gility (Warwickshire)
Lincolnshire Agility Enthusiasts (Lincolnshire)
May 2012
Beacon ADTC (West Midlands)
Belvoir Steam Fair (Leicestershire)
June 2012
PADS (Staffordshire)
July 2012
Chipping Norton DTC (Oxfordshire)
Caerphilly DTC (Monmouthshire)
August 2012
Herefordshire Country Fair (Herefordshire)
Pembrokeshire by The Pond (Pembrokeshire)
For more information contract Graham Taylor, 2 Medley Grove, Leamington Spa, Warks. CV31 2GA.
Mobile: 07831 548911 Email: rover.pro@virgin.net
---

Burns to Sponsor Welsh Handler of the Year
The 2012 Welsh Handler of The Year competition will be supported by Wales's premier dog food manufacturer Burns Pet Nutrition.
Burn's Diane Howells said that Burn's Pet Nutrition was delighted to continue their involvement with Pembrokeshire by The Pond event on 14-16 August by supporting a truly Welsh Agility competition. With over £100 of prize money she hoped the competition would attract the very best Wales had to offer.
Preparations are well in hand for another great event and schedules available soon.
---

Laverock Wins Open for Dogs Award
Laverock Multi-dog Holiday Cottages, near Barnard Castle are delighted to announce they have won the Kennel Club Open for Dogs - Somewhere to Holiday competition. The competition, run by the Kennel Club to promote businesses that welcome dogs, was judged purely on nominations from people who have experienced the facilities.
The Kennel Club said Laverock had won due to the quality of the comments about it and the fact that people obviously absolutely loved their time there. In fact, they said that the nominations for Laverock just 'came flooding in.
Owner Mandy Bainbridge said 'We were delighted when we were told that we had won the award and thank all our great people who voted for us. Many non-doggy people have been aghast at the thought of us happily accepting 6, 7 or 8+ dogs - in fact, the first four are totally free and then only £25 per week per dog after - but by providing each cottage with facilities such as doggy washrooms, enclosed gardens, non-slip stone floors etc. dogs and owners can have a great holiday whilst still enjoying being in a lovely clean cottage with cosy woodburners.
Having a 120 foot indoor agility arena behind the cottages and a six acre, stock-free field in front also helped in addition to a number of dog walks on the doorstep and two dog friendly pubs in the village.
Although many people are not really aware of exactly where Barnard Castle is (it's Co Durham) the fact Laverock farm is in a designated AONB (Area of Outstanding Natural Beauty) and only 15 miles from the Cumbrian and Yorkshire borders makes it an ideal base for exploring Teesdale, home of High Force, Britain's highest waterfall as well as Hamsterley Forest, Yorkshire Dales, the Lake District, Durham and Northumberland.
For further info and 2011/2012/2013 availability, please visit www.multidogcottages.co.uk
---
It's All New at Camddwr Canine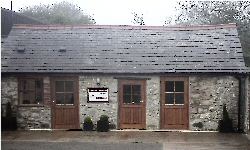 It has been a very busy few months at Camddwr Canine. The all new conversion at Camddwr Farm is finally ready for them to move into. The official opening of the new retail store will be on 1 December 2011.
Ann Harmes said, ' It's been a very exciting time for us. I have to say that Custom Builders have been absolutely amazing! We are so excited to be able to offer this great show room as part of our facilities, enabling our customers to come along, have a fitting session and see all our products under one roof! Our storage and packing facilities will make our order process even more streamlined, and finally mean that our home is not full of boxes!
New website!
There's a new Camddwr Canine website as well. The address is the same www.camddwrcanine.co.uk and it is live now. It will continue to bring you articles, news and special offers plus high quality products. But it is not just another web site. With more than 20 years of dog handling and competing experience, Ann and Stuart Harmes, are knowledgeable dog people and are there to support you in a friendly informed way. They are also happy to help via phone or email.
Ann continued, 'We are absolutely thrilled with it. We hope you like it, too. Please tell us what you think we are always keen to hear from you, and value your feedback either by email or on our Facebook page
Over the coming months, Ann promises to add some great new products to their range including some great 'welly' footwear, a brand new human outdoor range and plenty of exciting doggie products, too!

Take a look around. To say thank you for your loyalty and welcome you to their new home, Camddwr Canine is offering a discount to use on the new site. Please use code tog10 at checkout to receive a 10% discount on your next order. Some of their ranges will be available at discounted prices over the coming weeks.
New Affiliates Scheme
Along with our all new website, Camddwr Canine is offering a chance to join them and become part of the success at Camddwr Canine. If you like their products, have a blog or website and would like to get involved as an affiliate, you can earn money from every sale that you direct through to our website.
It's quite simple to sign up, and requires no work from you other than the placement of a text banner on your website or blog. You will then earn a commission from all sales that come from your link.
If you would like to join us, or would like to find out more, please send an email to sales@camddwrcanine.co.uk telling a little about you, and what you do.
And if you fancy a day out in some amazing dog walking country, or are planning an agility lesson. why not combine the two and book a visit to the new Camddwr Canine Showroom as well.
For more information visit the web site or contact Camddwr Canine Ltd, Camddwr Farm, Llanarmon Yn Ial CH74QX. Tel. 01824 780522
---

SWAG Takes Over BungeeDogs
Exciting news from South West Agility Goods (SWAG) and BungeeDogs. These two well thought of South West companies have joined forces and Bungee Dogs now forms part of SWAG.
The Bungee Dogs range of tug toys is a great extension to SWAG and, what's more, all the items are handmade to order in Cornwall.
SWAG director Daniel Millwood said, 'BungeeDogs is a highly successful business that Lisa Hughes has run for three years. We feel that this line in Bungee toys will compliment the products already available at SWAG.'
For more information go to either www.southwestagilitygoods.co.uk
http or www.bungeedogs.com
---
Win Two Tickets to 'Love Dogs'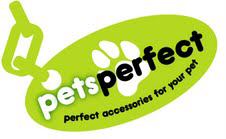 Pets Perfect has two pairs of tickets for the Love Pets Show to give away. The show will be held at in Peterborough at the East of England Showground on the weekend of 29-30 October 2011.
For a chance to enter the competition to win the tickets, all you need to do is figure out the anagrams below. The first clue is that they are all breeds of dog!
Once you have decoded the words, email the answers direct to Sophie at Pets Perfect at info@petsperfect.co.uk. The deadline is Friday, 21 October as the show is the week after!
| | |
| --- | --- |
| Scrambled Breed | Make your guess |
| 1. drug honey (9) | |
| 2. log entered river (6, 9) | |
| 3. surf flings robe (8, 7) | |
| 4. sea haven (8) | |
| 5. Nadine mind dot (6, 7) | |
| 6. fluid rhino show (5, 9) | |
| 7. is richest rotter (8, 7) | |
| 8. nan funded owl (12) | |
| 9. pickles cornea (6, 7) | |
| 10. liana sat (8) | |
| | |
---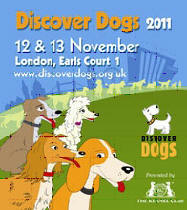 Discover Dogs Ticket Give-Away
Xtra Dog, in conjunction with The Kennel Club, is thrilled to be able to offer 6 pairs of tickets to give away for this year's Discover Dogs at Earls Court (London) on November 12-13. All you have to do is answer the simple question on their web site and you may be one of the lucky ones.
---
The Kennel Club Reveals Britain's Most Pup-lar Businesses

The Kennel Club has announced the winners of its annual Open for Dogs competition. The competition, now in its fourth year, operates entirely on the views of the public and aims to break down barriers for man's best friend by encouraging more businesses to be dog friendly. Amongst the winners was an agiity holiday destination Laverock Holiday Cottages, owned by Mandy and Marcus Bainbridge.
Winners of the 2011 competition include:-
Somewhere on the High Street
Metro Bank, providing friendly banking experience for all, including dog owners by supplying water bowls, dog biscuits and dog bandanas to customers. https://www.metrobankonline.co.uk
Somewhere to Sleep
Low Nest Farm, Keswick, Cumbria, a B&B providing fantastic amenities for dog-owning visitors, including an exercise field, heated kennels and a 'canine crèche'. http://www.dogfriendlylakedistrict.co.uk
Somewhere to Drink
The Jolly Cricketers, Seer Green, Buckinghamshire, a Michelin guide-featured village pub that offers water to dogs as well as local homemade dog biscuits to raise money for Stokenchurch Dog Rescue. http://www.thejollycricketers.co.uk
Somewhere to Eat
Highdown Tearooms, Goring, West Sussex, a tearoom set in the heart of hundred of dog walking routes, this business offers water and dog biscuits to canine customers as well as selling a variety of leads, collars and other dog products. http://www.highdowntearooms.co.uk
Somewhere to Visit
Remus Memorial Horse Sanctuary, Ingatestone, Essex, a Popular horse sanctuary that puts on events for dogs, such as fun dog shows, and offers water and biscuits to dogs.http://www.remussanctuary.org
Somewhere to Work
Pet ID from Pet Works, Hurstpierpoint, West Sussex allows its employees to bring their dogs to work to promote a calm and productive environment. http://www.pet-works.net
Somewhere to Holiday
Laverock Holiday Cottages, Egglestone, County Durham, Popular holiday cottages that strongly cater to dog-owning customers. The business has a 120ft indoor dog agility arena to promote health and wellbeing by customers exercising with their dogs. http://www.freewebs.com/comebyanaway
Care Home
Sunrise of Chorleywood, Chorleywood, Hertfordshire, a successful care home that encourages friends and family of residents to bring in their dogs on visits to keep the bond between humans and canines strong and to enhance the sense of residents' dignity.

http://www.sunrise-care.co.uk/find-a-sunrise/south-east/chorleywood

Special recognition
Royvdon Dog Hotel, South Wales for its boarding establishment. Dogs are given bespoke luxury suites with décor ranging from the grandiose in the Presidential Suite to the twee in the Country Retreat. Also the Royal Hospital for Neuro Disability for their dog friendly policy. The dogs give support and comfort to the patients.
The value of an Open for Dogs policy is supported by research released today by the Kennel Club that shows that dog owners are more likely to splash the cash than cat owners and those who own neither, leading businesses to court the 'hound pound.'
The research has shown that dog owners are almost twice as likely as those without a dog to regularly visit their local shops and stores, with a quarter saying that they regularly frequent them and half saying that they would use them even more if their dog could go too. And it is not only businesses that benefit from dog owner's generosity – it is also their friends - as dog owners are more likely than cat owners to buy the rounds in at the pub and almost twice as likely to buy in the rounds as people who own neither pet.
The winners of the Open for Dogs competition – including those who will be awarded a Special Recognition prize for pulling out all the stops for man's best friend, will be presented with their awards at the Kennel Club's Discover Dogs event at Earls Court, London on 12 - 13 November 2011.
Visit www.kcdogfriendly.co.uk for more information.