If you can't accept losing, you can't win...
Got an agility problem? Don't waste your time complaining. Do something about it. Need more practice on the contacts or weaves? Want to try out new ideas? Now you can help yourself. Book a workshop or a private lesson. Join an additional club or training group in your area. There are plenty of instructors and clubs around who can help you with your problems.
Got training news? Then email a paragraph or two about your event to Agilitynet. If you have openings at your club for new members, go to Training Places. You can also publicise your training day, workshop or seminar by putting its details on the E-vents page. Just complete the on-line entry form on the page.
---
2023

Spaces at Scrambles
Scrambles Agility Dog Training School, a long-established training school in Walton on Thames (Surrey) headed by Lu Candy, is expanding and now has vacancies for dogs at all levels.
With 30 + years' experience, teaching and competing at the highest levels of Agility, with Large, Intermediate and Small dogs, she is a fully qualified, expert trainer who has owned and trained various breeds of dogs to the very highest standard. She is a world champion gold medal winner, has competed regularly at Crufts and Olympia and is also a qualified behaviour counsellor, and Kennel Club judge.
Lu said, 'Our Agility courses are a combination of obedience/behaviour skills and basic agility designed to give you and your dog the very best start in Agility. We use only positive methods of training, and the dogs learn with us through fun and play. Our instructors include some of the best handlers in the country with most of them working dogs at Kennel Club Championship level and all the instructors have had many years' experience in Agility and worked various breeds of dogs.
There are classes for dogs/puppies from complete beginners up to Championship level. Minimum age (six months)
One to ones
Lu also does one to one/personal training sessions which are a brilliant way to start your dog's agility education.
This is also an excellent training opportunity if you do not wish to, or are unable to attend the group classes, or wish to work on particular individual problems to make you and your dog more successful.
For 1-2-1s or general information, please email
---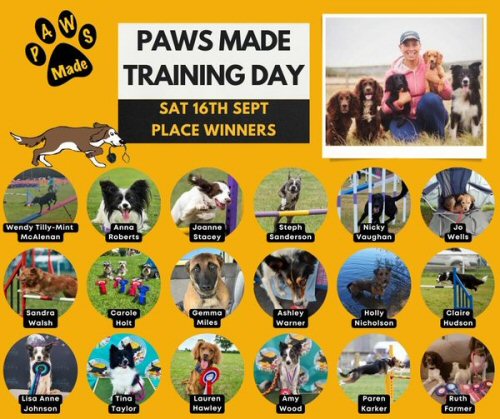 Paws Made 3rd Annual Training Day
After last year's successful training day with Craig Ogilvie, Paws Trading is hosting another free agility training day with guest trainer Sam Lane at Dog Sports Derby on Saturday, 16th September. 18 free places were selected at random from people who applied for a spot from more than 140 applications
People were asked to comment on their training so far this year. The idea behind the event is to give something back to the community that supports them so well.
Jack Wilkinson said, 'We loved reading all the stories of successes with your dogs from training to reducing nervousness to wins. You are all incredible. Congratulations all.'
---
2022

Dog Agility Trainer Wanted in East London
Agility trainer needed for Leyton, East London on Sunday mornings to teach Beginners at 10-11am and Intermediates 11-noon. The venue is a grassy paddock behind the Waterworks Centre, Lea Bridge Rd, E10 7QB (free parking).
Generous pay to be discussed. To start January 2023.
Lydia Burke, Manager at Friendly Creatures, said, ' We have all the equipment stored onsite and we have a trolley to wheel it 300 meters to the paddock. Our clients are non-competitive and require agility to be fun and a bonding experience for their pet dogs.
If you are interested in learning more, email
---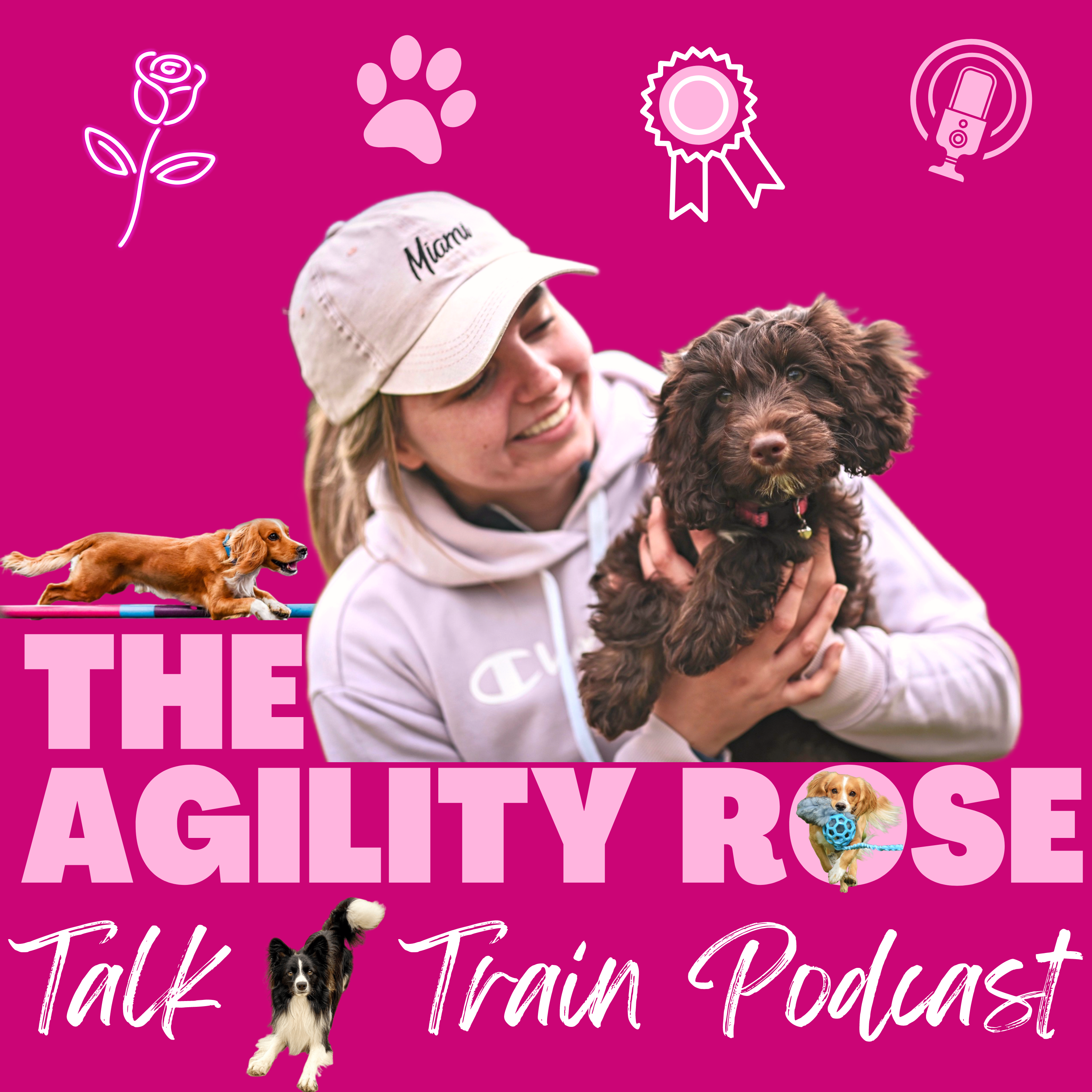 Agility Rose Talk 'n Train Podcast
Elise Finney has launched what could be first UK-based podcast, The Agility Rose Talk 'n Train, discussing everything agility in the UK and sharing some of her experiences along the way. The plan is to invite guest hosts as well.
She said, 'I'm very excited to have started this podcast. I really wanted to create something relatable for other UK competitors. I currently own five lovely dogs. One is currently competing while the others are in training. I've done agility now since I was 13 years old and started out with a lovely Cockapoo.

The name Agility Rose has a deep meaning to me as it came from my first agility dogs KC name. She was registered as Rose of Whitethorn and, as I'm from Yorkshire too, it really seemed to fit.'
You can find The Agility Rose podcast on Spotify and anchor.fm with new podcasts shared every two weeks.


NADAC Judges Clinic
The North American Dog Agility Council (NADAC) organisation has been invited to start NADAC UK.
In order to grow the program, there will be a free judges training clinic on Thursday, 12th May, 2022 in Leicestershire (LE14 4JR.) Previous judging experience is a plus, but not required to attend. All are welcome to join in.
NADAC UK representative Murrelet Halterman has promised to bring special American snacks all the way from California!
There will be a NADAC trial on 14th-15th May at the same venue. More information about the show can be found on the Taming Canines website.
Murrelet said, 'Come and check it out! You can register your dog and sign up to run. We will help you figure out what classes and levels to enter. If you're interested in judging, this will be a great opportunity to try that out with a mentor. I hope to see you there!
NADAC offers a wide variety of classes. The courses are fun and also challenging with something for everyone including height exemptions for older dogs who still want to play. There are great introductory courses for new teams. Dogs from 18 months to well into their 'teens' and handlers from four to 94 are welcome.
For more information on NADAC, check out NADAC Facebook
---
2021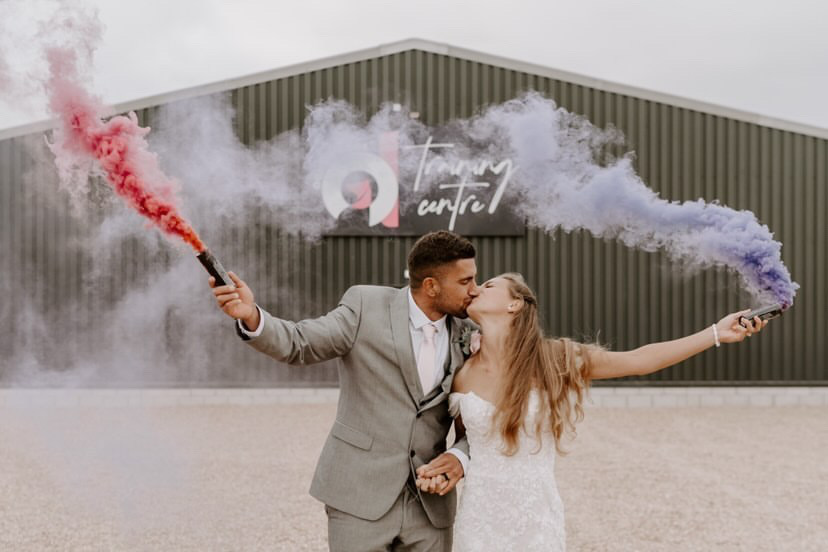 Craig & Marita Open the Ogilvie Dogs Centre in Style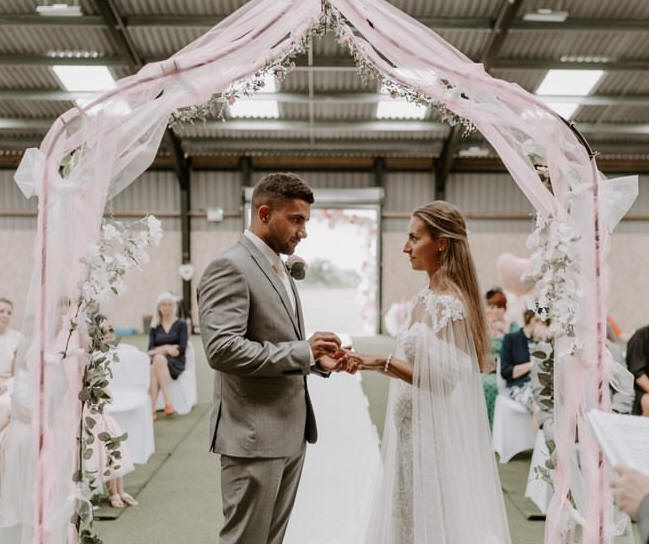 In August, Craig and Marita Ogilvie opened the Ogilvie Dogs Training Centre in style with their marriage celebrations.
They met on one of Craig's Interactive Play workshops five years ago and tied the knot this August. Their dream was to create a purpose-built, premium dog training venue and this August their dream venue came true. Along the way, they had many challenges including delays in planning permission, Covid and Brexit i.e. meaning material shortages but it was certainly worth the work.
Marita said, 'It's been a long journey, but we wanted to build a dog training centre that was friendly and welcoming to all dog disciplines and people - a central hub for all to share. We are super proud of the Centre and love seeing people enjoying training their dogs here.'
Set at Craig and Marita's home within five acres of land near Bourne (Lincs), the Ogilvie Dogs Centre is one of the largest, astro-turfed dog training centres (20 x 54m) in the UK. The Juta astro turf and 15mm shock absorber underlay provide a superb surface for dogs to train on.
As the Centre is sponsored by Galican, it has a full set of the most innovative agility and training equipment and features Galican's soft line of contacts which are soft and incredibly safe for dogs to run over.
It is open seven days a week from 8am to 9pm and has 50+ car park spaces.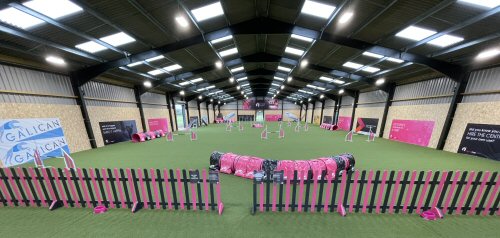 Ogilvie Dogs have aimed to make the centre bright, fun and welcoming to all dog disciplines. It can be booked out for half days, full days or hourly for any dog training needs such as:-
Agility

Obedience

Hoopers

Flyball

Ring Craft

Heelwork to Music

Rally

Mondioring
It is easy to book using the online booking system directly through the Ogilvie Dogs website. For larger bookings or enquires, it's best to email direct.
Workshops at the Ogilvie Dogs Centre have been filling fast so Craig and Marita have created the Ogilvie Dogs Club which gives you access to a private Facebook page where you get first access to booking on workshops, seminars and events. The membership also entitles you to many other benefits including:-
First refusal on all events, workshops, and seminars at Ogilvie Dogs Training Centre

10% off private hire

10% off spectator spaces

10% off Craig Ogilvie workshops at the Ogilvie Dogs Centre

10% off Marita's workshops at the Ogilvie Dogs Centre

10% off webinars

10% off Ogilvie Dogs clothing

10% off Paws Trading Paws Made

10% off 1 x Block of Craig's Online Coaching or Mentoring program

10% off 1 x Block of Marita's Online Coaching

15% off Biothane Bert collars and leads

10% off first purchase at The Dogs Butcher

For further details: https://ogilviedogs.com/ogilvie-dogs-club/
See the full tour of the Ogilvie Dogs centre by clicking on the YouTube video
You can keep up to date with the latest information, workshops and videos by following the Ogilvie Dogs Facebook page or website
Marita Insta: https://www/instagram.com/maritaogilviedogs
Craig Insta: https://www.instagram.com/craigogilviedogs
Wedding photos: Gina Fernandes
---

---
Trainer Wanted for Super Venue
The owner of South Lodge Meadows, an exclusive dog walking facility in Leicestershire, said that a lot of their regular customers have expressed an interest in doing agility. They three superb exercise paddocks - some with agility jumps, a shelter, benches, self-filling water troughs and proper poo bins as well as a good all-weather, fibre sand agility arena with a full set of KC agility equipment. All they need is a good trainer.
If anyone is interested in using this arena to hold training classes, simply Google South Lodge Meadows for details and photos.
---

International Insight Launch
Greg Derrett has announced new subscription-based training for anyone interested in international agility competitions.
Each month four lesson plans, based on current International Championship judges, will be released including:-
The original course plan

Suggested skills tested throughout the course

Various handling options

Three training drills based on the course which it will focus on
Practicing the skills required

Route choice timings

Optimum handling choice timings

Proofing the dogs skills and understanding of the required skills

Greg said, 'Whilst it is tailored primarily for the UK handler, we are positive anyone interested in FCI Championships and/or the World Agility Open will benefit from this training and everyone is welcome. Please feel free to share this post and we look forward to seeing you in the group.
The group is managed by Greg Derrett who has a vast knowledge and experience of International Agility events over the previous 20 years. Representing GB 21 times, he is currently the most capped handler competing with five different dogs at the European Open and FCI Agility World Championships and achieving podium places on 14 of those occasions. He has now turned his attention to the coaching and managerial side of GB and is the current Agility Team GB Manager for all three FCI events (AWC, JOAWC & EO). Greg is also the Events Manager for the World Agility Open where apart from the responsibility of the logistics of the events, he oversees Judges' selection.
For more information, please visit https://internationalinsight.co.uk
Join our public FB group to keep up to date with which four Championship judges each months training plans will be based upon, whom the guest presenters are, what topics they will be covering and when and where the course running days will occur.
---
2020

Indoor School for Hire in West Sussex
Equestrian indoor school available to hire fir private groups, clinics and dog agility training. Long term availability with storage, large parking facilities and toilets.
Located in Hosham area.
Please PM Kate Novell on Facebook or call 07824 395153 for more info.
---

Training the CPF Way
Stacy Weeks at Control Precision Flow is providing elite sports training for the dog sport handler on-line, incorporating a multitude of fitness methods, baseline testing and sport specific methods for the handler. A progressive programme that covers Pilates, proprioception, sprint training, self assessment, strength and conditioning, nutrition, mental prep (external contributors), monthly class/Q & A, private FB group and more.
The CPF Way is the online learning from the longest running dog sport specific handler fitness programme, backed by research and science, to help handlers improve the way they move.
Price: £19.99 per month (price as of may 2020- subject to change)
For those that don't want to join the full programme, there are individual modules, priced individually, on Warming Up, Base Line Testing, Pilates and more.
For more information or to sign up, go to website or email
---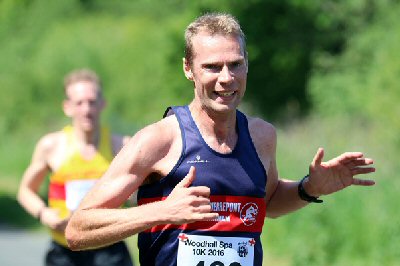 Special Offer

From Couch to Marathon in 10 Months
Running for Fitness coach Alex Loach is offering a free coaching opportunity to either an Agility or Canicross handler who is keen to improve their running. This would include a personal coaching plan and weekly on-line session for one person whether it be someone who is just starting out or an ultra runner. The offer is open to anyone to all.
His girlfriend Sam Bowman explains, 'Alex used to be over 20 stone, He liked to smoke and drink until the day he thought he was going to have a heart attack going up the stairs He proceeded to then turn his life around, He started running every day and lost weight. Since losing his weight, he has run for 2655 consecutive days, done a marathon in 2 hours 48 minutes, has a 10 mile PB of one hour, and 5k PB of 16:58 minutes. He also places in Ultras, usually running races of around 100 miles non-stop.

Alex gets real life results. His struggles are hugely relatable. He is the kindest, most supportive person of anyone who wants to run, at whatever speed.
To be considered, email with details about yourself including Your goals are and why you are keen to commit. The deadline for applications is 21st May.
---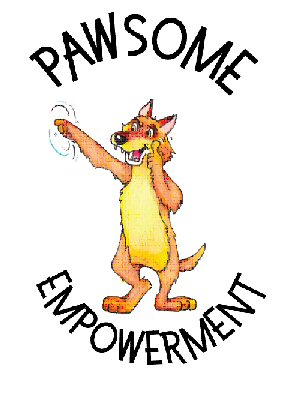 New Year - Fresh Start
Pawsome Empowerment Training Spaces Available
New club Pawsome Empowerment is a new indoor agility club, based in a lovely equestrian centre near Borehamwood, South Hertfordshire, on the A411. Our training night is Thursday evening. The Beginners class is at 7:20pm and the Competition class at 8:30pm. There are a few vacancies in both classes.
Come and join us for some fun, friends and achievement.
Please call Joanne on 07513 630582 or email
---
Whitminster Looking for Instructor
Whitminster CATC is looking for an agility instructor to teach one or two hours on Friday evenings, ideally three weeks out of four, but we are happy to discuss alternative options.
We are a small KC registered club based just south of Gloucester in an indoor venue about one mile from Junction 12 of the M5. Friday evenings are currently Intermediate/Advanced (G1-3 but training at a higher level) 6.45pm setup for 7-8pm, followed by Beginners 8.15-9.15pm.
Jack WIlson said, 'After teaching at Whitminster for the past 10 years I'm having to retire for health reasons. This role may suit someone looking to develop their teaching experience.
If you're interested, please PM either Jack Wilson or email the club Chair, Paul Wilkinson.
---
North Downs Training Places
North Downs, a KC Registered club that trains indoors at Merrist Wood near Guildford, Surrey, has a couple of available weekly training spaces - a G5-7 space for a Large or Intermediate dog and a lower grade space for a dog any height able to do all the equipment. Indoors so no weather cancellations and reasonable fees as per a KC club.
Email or message Lorna Goodban for more info.
---
2019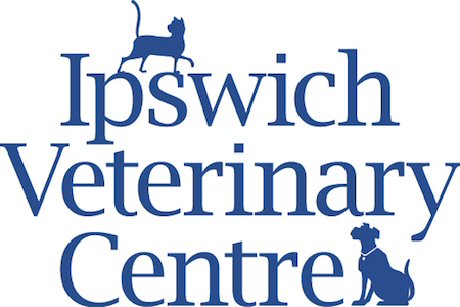 Instructor Wanted for Fun Agility in Suffolk
The Ipswich Veterinary Centre is seeking an additional team member to run fun dog agility sessions at their state of the art centre. The sessions will run throughout the year, using an undercover area. This is part-time work and the hours will include some weekend and evening sessions on a rota basis.
You will need to have the following:-
Experience in dog agility training with previous work related experience.

A qualification in Agility training would be preferable or several years experience in agility training classes as a leader.
Your responsibilities would include:-
The setting out and packing away of the equipment.

You will be running one to one sessions and multi class sessions.
If you would like to apply, please email your CV and a covering letter for the attention of Jacqui Garrett
---
Pawsome Places Available
Pawsome Empowerment, a new club in the Elstree / Borehamwood area of South Herts, has places for dogs at Beginners and Competition level on Thursday evenings.
Times:-
7:20 - 8.20 Beginners

8:30 - 9:30 Competition
Please call or email Joanne on: Mob: 07513 630582 or email: pawsome.empower@gmail.com
---

Canine Body Language Workshop
Leading dog Leicestershire-based dog training school, Xtra Dog Training is teaming up with The Dog Training College to bring their ever-popular Canine Body Language workshop to Pimlico (Central London) on the evening of 5th December.
There are many common myths about dog behaviour and what our dogs are trying to tell us. In this 4-hour seminar, Senior Lecturer Alex Wilson and Head of Training at the Dog Training College Leanne Wade will help to clear up some of these urban legends. For example, when your dog rolls on their back do they really want their tummy tickled? If your dog pulls on the lead are, they being dominant and wanting to take over the world? Does a wagging tail necessarily mean that the dog is happy? Is your dog capable of feeling guilty? What does it mean when a dog's arousal reaches a threshold level, and did you know that a dog can take up to 72 hours to come down from threshold? *
This workshop explores many aspects of Canine Body Language and Canine emotions dog-dog interactions. Wilson will discuss ways that to keep children safe around dogs, and the course will help educate delegates into ways to make sure that a dog is a happy relaxed member of the family so we don't miss a warning sign that the dog is trying to tell us.
It is known that a large number of dog-bites can be avoided if people had read the signals that the dog had given prior to them biting. It is rare for a dog's behaviour to escalate from calm to bite without any warning.
'I have a passion for canine body language,' explains Wilson. 'A lot of my work is with reactive dogs and being able understand what a dog is telling us. We so often miss signals that dogs give us, and this can cause dog's behaviour to escalate. Observing dogs in a skill in itself and I am looking forward to sharing these skills to help people better understand their dogs and discovering ways to enhance relationships with dogs and enriching their lives. Dogs are communicating with us all of the time and this course will teach you how to interpret what they are saying. '
The course is divided into three sections. The first section will look at the physical characteristics of the dog, the second section is a deep dive into canine emotions and the third section looks at dog-dog interactions and learning about the difference between appropriate and inappropriate play. The course finishes with some video clips of dogs and a group discussion about what is going on.
Leanne McWade, head of training at The Dog Training College commented, 'We are very excited that we are able to collaborate with Xtra Dog to bring the course to London, we wanted to offer an interesting learning opportunity for dog owners in the area at this time of year, as Christmas can often be a difficult time when managing dogs. I am thrilled to be able to send our Senior Instructor Alex Wilson to teach this course, he has a wealth of knowledge in this area and an enthusiastic teaching style that creates a great rapport with his audience.'
For more information or to book tickets, please visit www.xtradog.training or ring 0330 088 3647.
* Ref: Study at Bristol University 2013 Mitchell et al.
---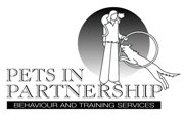 Experienced Pet Dog Trainer Wanted
Pets in Partnership, a training centre near Rayleigh, Essex, is in great need of an extra pair of hands in the form of the an experienced pet dog trainer. They also also provide pet dog agility services
This person must be:-
Motivated to join and become a valuable member of a passionate team with the adaptability to be able to adopt the ethos and processes of our training centre. You will have a natural affinity with dogs, be a great people person and a relaxed team player, able to work initially on a Tuesday evening.

You'll be both comfortable and trustworthy with team leadership responsibilities and focused on high quality client care.

You will be dynamic with both listening to and sharing in knowledge and have some understanding of, or connection to, the KCAI.
If you believe this is you, be ready to explain why when you contact Rebecca by Friday between the hours of 1.30pm and 5pm.
Email: rebecca@petsinpartnership.co.uk
---

Haslemere Seeks Instructors
Haslemere & District Dog Training Club is looking for one or two instructors to teach foundation agility at the Priory Equestrian Centre, Frensham, Surrey on a Monday / Tuesday evening from 18:00 - 19:00 hours, starting in September.
A negotiable trainers fee will be payable to the successful applicant(s).
Please email Hddtc@yahoo.co.uk for further details.
---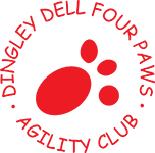 Dingley Dell Four Paws is Looking for a Trainee Agility Instructor!
Dingley Dell Four Paws Agility Club, a fun, friendly, non-competitive club in Pirbright, Surrey, is looking for a vibrant, enthusiastic animal lover with an interest in dog agility and training and happy to work as part of a team. All training will be given at Dingley Dell Four Paws Agility Club so no previous qualifications or training experience required although it would be beneficial.
The new trainee must be flexible and able to work one morning and 2 evenings per week as well as holiday cover during term time and school holidays.
For further information, please contact Ellen or Hannah by email or ring m. 07590 620552 or 7802 275717.
www.dingleydellfourpawsagility.co.uk
---
North Downs Places
North Downs KC club has a couple of spaces for competing dogs on a Tuesday evening, training indoors at Merrist Wood near Guildford, Surrey.
For more details, please contact Lorna on LornasRedDogs@gmail.com
---

The Canine Club Identify Gap in the market for Dog Agility Instructors
The Canine Club is continuing to expand its offering and set standards in education, by announcing a new Agility Instructor Course, taking place 12th-14th June 2019 in Binfield, Bracknell (Berkshire.)
The three-day course is designed to develop agility instructors and coaches at all levels, from recreational agility instructors to professional agility trainers and coaches. The program is led by highly respected, agility trainer and founder of The Canine Club, Ida Welch.
Commenting on the new course, Ida said, 'Dog agility coaching has become one of the most popular activities for dog owners, yet we are one of a limited number of organisations in the UK providing this service. There is a real gap in the market with major demand for agility instructor classes.'

I am delighted to announce this exciting new course. I have been teaching agility classes for the past seven years as a main part of my dog training business. I've taken clients from beginner to competition levels, and worked as a judge on several competitions. I have competed agility and showjumping myself before turning to full time coaching, and have a huge love and passion for this sport!'
Price: £295
For further information or to book, go to website.
---


Jerry Green Dog Rescue Gets Agile
Jerry Green Dog Rescue has acquired agility equipment for some of its centres that will not only benefit the dogs in its care, but the Charity as well as it hopes to raise much needed income by hiring out the facilities to a growing number of dog people who see agility as a way of connecting with their dogs.
The equipment, which is of competition standard, is set up in paddocks at the centres and includes an A-frame, dog walk, see saw, competition weavers, tunnels and adjustable competition jumps. The Charity did have some older equipment at one centre, and found that this greatly helped those rescue dogs that needed more exercise and enrichment.
Tony Benham, Centre Manager at Jerry Green Dog Rescue in Catton, near Thirsk, has extensive experience of dog agility outside of rescue and believes that the new equipment will be a huge asset to the charity.
He said, 'We've found the new agility equipment has been great for the rescue dogs and we are also able to hire the space to the public. Dog agility training can help to build a strong bond between you and your dog and can be great exercise for you both, as well as great fun.'
With the growing numbers of clubs offering classes and training in agility, the Charity is keen to ensure that the equipment is used properly by people who have had some experience and training already so that dogs are not put at risk of injury, so if you're already doing agility training but would like to practice in-between classes, improve your time, practice with a particular piece of equipment or simply have more fun with your dog then why not get in touch.
Agility field hire is available at Jerry Green Dog Rescue Centres in North Yorkshire, Nottinghamshire and South Lincolnshire and more information is available on their web site at All of the income generated through field hire, or using other Jerry Green Dog Services at your local centre, goes towards helping the charity to re-home and care for those dogs that find themselves without a family through no fault of their own.
For more information visit the Jerry Green website
---

Xcel Judging Seminars Announced
The Xcel Judging seminars, an innovative project set up by Martin Cavill and Neil Ellis, is aimed at qualified Kennel Club judges within the UK by identifying the most critical aspects of judging and how to incorporate them successfully into the planning and execution phase of your judging appointments. The first three seminar dates have been announced to be held at The Dog Training Barn (Oxon) at the end of the year.
Using their own knowledge and expertise, Martin and Neil have created great evidence-based content that is transferable to judges of all levels whether newly qualified or established Champ judges. Xcel seminars are an ideal way of enhancing your knowledge base if just starting out in your judging career or keeping up to date with best practice should you already be judging regularly.
Martin and Neil said, 'Expectations on judges are as high as ever and we look into a number of specific areas in great detail to ensure that judges perform to the best of their ability covering both theory and practical elements of a judges' responsibilities. Above all else, we hope these Xcel judging seminars will instil confidence in judges, providing consistency with the things you have control over so that you can be confident in reacting to the things you don't. Xcel seminars use interactive theory sessions as well as practical sessions to encompass the differing styles of learning and to make for a fun day of learning.'
Within course design, there are a number of factors that will be discussed such as skill set identification and appropriate use of these with course design, judges' path and the impact this has on your course design as well as understanding dogs' lines and discussing the troubleshooting options you can consider to make for successful course design outcomes. They will also be looking at the rules and consistency in applying them across all levels of competition, how to prepare effectively for your up and coming judging appointments and most importantly, course design and ring safety is discussed along with your responsibilities with regards to this as a judge.
Places are filling but there are still some available across the three dates so if you are interested in attending or have any more questions, please contact either Martin or Neil over Facebook or by email at neilellisagility@hotmail.com
---
2018

Agility Spaces Available in Basingstoke Area
Paws for Success has some vacancies in their agility classes held in Herriard, near Basingstoke.
The Club provides agility training in a friendly and fun environment and is designed to help handlers and their dogs have fun and bond. Training takes places outdoors on grass in fully -fenced paddocks.
This venue is ideal for dog agility training in the areas of Alton, Basingstoke, Odiham, Fleet and surrounding areas of Hampshire, Surrey and Berkshire.
For more information go to http://www.pawsforsuccess.co.uk/agility-vacancies/
---

Selena's Weave Excellence Workbook
During the last year while on maternity leave, Selena Bray had the opportunity to work with lots of people on 1-2-1s and at training days. Much of her time was spent trying to improve weaves. She realised that in almost all cases, the weaves were improved greatly by the application of a few easy to learn steps. And that's why she decided to write an ebook called Selena's Weave Excellence Workbook before she goes back to her day job.
Selena said, 'I have never done anything like this before! It's quite frightening really, but following a few judging appointments I realised how many problems, people of all grades were having with weaves and there's no ongoing support to improve that for the masses. I am hoping this will be a great step to helping people to improve their weaves and will also offer gret ideas for training sequences based around weaves!'
The unique ebook covers all the sequences that Selena does with her own dogs to bolster their ability to seek weave entries accurately and to develop independence during the weave and weave as well as at the weave exit. The idea is that the more time that can be built into the course, where we don't have to micro manage the dog, the better! This creates time to think and allows the handler to get away and consider other areas of the course, buying valuable think time!
When Selena started agility some years ago, she admits that she hated weaves but, using her current system, she no longer looks at a course and panics. She has 99% accuracy and they are now one of her favourite pieces of equipment to train. When judging and as a trainer, she is often surprised if she sees dogs struggling. She hopes this ebook will help others to gain confidence o improve their weave skills and have hours of fun with their dog.
Selena's Weave Excellence Workbook is ready to purchase now. It's £30 There's free access to 'ongoing support via Weave Excellence on-line videos' page on Facebook to maintain and continue to improve the weaves.
Selena's next eBook is on distance handling, and covers layering, discrimination, handling games and fun skills to build yours and your dog's knowledge.
---

New All Year Round Dog Agility Venue Opens in Warwickshire
Club Equs at Sandall House Farm (Lowsonford) has recently refurbished their award-winning equestrian centre and, after a number of enquiries from dog agility and obedience clubs, they are now open to horse and hounds!
With a great location 20 minutes from NEC and seven miles to Warwick and Henley-in-Arden, they are ideally situated to anyone wanting to train pre-Crufts. They are open seven days a week from 7am-9pm all year round, enabling you to train throughout the winter period.
They offer a flexible package and there is the option for you to leave your equipment in our secure environment and have us set up prior to your booking or if you prefer the arena can be left empty. In addition to their outdoor paddocks and arenas, they have 66 acres of trails and fields​ and plenty of on site parking​ for club members. A comfortable guest hub has seating, a fully fitted kitchen, free wi-fi and Sky TV so if you want to hold meetings or show films, Club Equs can accommodate you.
Martyne Manning said, 'Thus far, the ​feedback​ from our Dog Agility clients ​has been​ extremely positive. We've had interest from top trainers and even someone who just wanted to use an outdoor field for training. We look forward to welcoming to enquiries from clubs and individuals.'
Club Equs is located at Sandall House Farm, Narrow Lane, Lowsonford, Warks B95 5HN.
Click here for further details www.clubequus.co.uk or email clubequusuk@gmail.com
---

Billy's K9 Equipment Course Plans
Billy Knowler has published a book on challenging but fun agility courses for handlers who would like to have a go at something different. Inside this spiral bound 16 page book, there are 16 different Agility and Jumping courses for a mixture of all levels. It has a waterproof cover.
A keen competitor from Kent, Billy loves agility and competes at G4. When he trains his dogs, he likes to challenge his dog and come up with new ideas for testing courses. He is training to become an agility instructor.
These books are £10 each (incl postage).
if you would like a copy of his course book, please email Billy on billysdogagilityequipment@gmail.com
---
2017

Owner Awareness and Attitudes Towards Canine Complementary Therapies
Beatrix Benton, a final year student at Harper Adams University, is doing her dissertation project on the awareness and attitudes of dog owners towards canine complementary therapies, particularly those participating in Agility and Obedience. She is looking for people to complete this short survey for her research. It should take no longer than five minutes of your time.
Though only starting out in agility, Beatrix has been in the Obedience world a good while and has been involved in dog training and competitions from a young age.
She said, 'I have grown up with an awareness and understanding of dogs which comes almost second nature to me. I recently purchased an Anxiety Wrap for my own dog and noticed that when I mentioned this to friends and acquaintances, as well as the general public, many people had never heard of them. This made me think about my own awareness of complementary therapies, and made me question whether my involvement in obedience and agility had an effect on this. Therefore, for my final year project as part of my BSc Animal Behaviour and Welfare degree, I have decided to investigate whether participation in competitive obedience and agility, has an effect on owner awareness of and attitudes towards canine complementary therapies.
https://harper-adams.onlinesurveys.ac.uk/owner-attitudes-to…
---

Training at Newlands
Newlands Working Dog Society (NWDS) currently has spaces for more dogs. We have KC qualified instructors for our group classes and have vacancies in all of our groups. We cater for all level and size of dogs and have a new Beginners class starting in February 2018.
The venue Merrist Wood in Guildford (Surrey GU3 3PE) is a large, well lit indoor school with excellent surface for dogs and handlers to run on.
Classes run on a Monday evening from 7:15 - 8:15pm - classes 1 & 2 and 8:15 - 9:15pm - classes 3 & 4.
Class 1: Beginners class - For complete beginner dogs from around 10 months of age.

Class 2: Competition class - dogs that are already competing at agility shows in grades 1-4.

Class 3: Advanced class - dogs working at Grade 5 and above wanting to be challenged and learn different handling techniques to improve performance.

Class 4: Small & Medium class - For competition dogs of all grades.
The above classes all resume after the Christmas break on Monday, 19th February.
Currently £45 for members and £50 for non members for a 10 week term. Beginners class is £50 for members and £55 for non members for a 10 week term. Fees are under review but will remain low as we are a Kennel Club registered group and so have a 'not for profit' ethos.
Contact Sue Dennison if you would like to see if a space is available or have any questions. PM or email: sueanddogs@btinternet.com Mobile: 07973 713368
---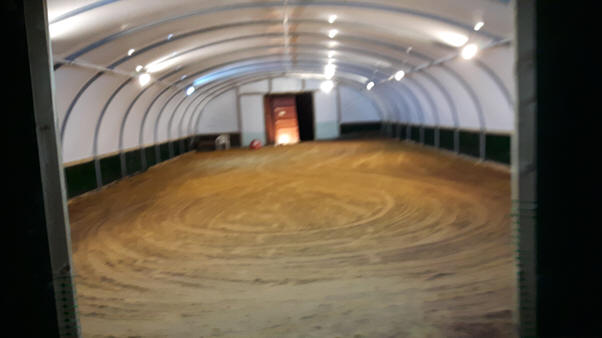 Train at Pendle
Do you need to train but can't access facilities in the North West? Why not hire Pendle Dog Training Club purpose-built, secure training centre.
We can offer individuals or groups indoor, outdoor and all weather surfaces agility training facilities available for days, evenings and weekends.
Our equipment is new from First Contact with rubber contact points.
We are based on the Lancashire / Yorkshire border between Skipton and Burnley in a rural setting.
Give us a call on m. 07812 838482.
---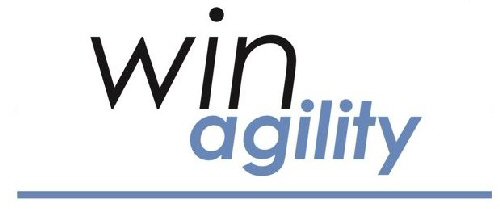 Puppies Win with Win Agility
Win Agility, an on-line agility training platform launched earlier this year by ACPAT Physiotherapist Nicky Grant and international handler and trainer Bonny Quick, has begun to release their Puppy Series on the web site. The four month old and five month old episodes of this month by month series are already live and ready to watch now.
The Puppy Series is one of a kind, combining an in-depth understanding of what is healthy for young dogs as they develop physically with an understanding of how they need to be brought on mentally in order to become agility partners and stars of the future. It is a great way to do loads with your puppy while gradually building body awareness, co-ordination and strength while minimising the risk of causing injury or future physical problems.
Bonny spoke exclusively to Agilitynet saying, 'Like many other people up and down the UK, slogging away in grassy fields week-in-and-week-out, I'm passionate about agility and work hard to continually develop my dogs. Keeping them in peak physical condition as they train and compete – without compromise – is hugely important to me.

A few years before we ever dreamed of one day creating Win Agility, Nicky and I slowly forged a partnership and she became the 'go-to person' I trusted with understanding the physical needs of my agility dogs.

I feel that appreciating our canine athletes from a physical as well as a behavioural standpoint is essential – it's the only way we can combine maintaining their health for the long-term with achieving their best competitively.

There are plenty of agility training websites out there. Win Agility is different because of our 50/50 partnership. Nicky and I approach every project together – looking at each subject from both a best physical practice and best training practice point-of view.

There is a lot of stuff on the internet at the moment purporting to be physical exercises for agility dogs. The trouble is, it often looks impressive and gets dressed up as clever tricks that anyone can teach their dog. This is where Nicky's contribution is invaluable to me because she keeps up-to-speed with the latest evidence-based research in the canine world and advises me on what to do – and not to do – with my dogs – plus what's appropriate when.
To find out more about Win Agility, visit www.winagility.com where you can catch up on blogs, sign up for the newsletter and check out the latest videos.
---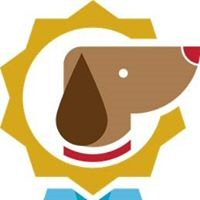 New Dog Park Opens in Lincolnshire
Former dog trainer Ros Reynolds has opened up her three acres of land at the back of her home as a dog park after suffering from various spinal issues that has left her with disabilities.
Sutterton Dog Park & Dog Training Centre in Boston (PE20 2LR) has a complete set of Adams agility equipment which can be hired per hour. The contact equipment is not rubberised, but they are hoping to upgrade. This is available for unlimited use so can be used by a person or group.
Ros told Lincolnshire Live News, 'Over the years I have noticed a lack of places for smaller shows to be held. Village halls are not taking in dogs, breed clubs are too big for village halls yet too small for the big venues which is out of their reach cost wise. So here I am sat on this land, all-purpose built. I want people to enjoy it. Seeing people here and happy is what makes me happy.

'One thing I have picked up on is that we live in the countryside yet people feel there's nowhere to take their dog for walk if they have any issues, such as being nervous or scared. Dog owners know too well that if they let a scared or nervous dog off the lead in an open park it might run off and not come back and those who own aggressive dogs are too scared to let their dog off in a public area where there could be other animals.

'I have installed a booking system online so people can book themselves in to half hour slots and can feel assured that no other dog with be in the field or cabin with them. They usually find half hour is long enough. They can use the cabin which is heated and has special rubber matting down and there's a fully equip kitchen.'
Training is held regularly throughout the week by various clubs for Obedience and Rally.
The venue is also available for hire for shows and is large enough to hold limited Agility shows. It also has a small hall suitable for seminars and indoor training.
Currently there isn't an agility trainer onsite, so if anyone is interested then please contact Ros Reynolds by email or on Facebook.
For more information about the venue, go to https://www.facebook.com/suttertondogpark/
---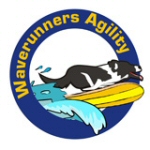 Training in The Ring Evenings @ Waverunners Agility
Put your Winter training plans into practice with our popular TiTR evenings nr. Chichester. Limited places. Cost: £12.00 (4 runs)
Bookings and further information can be found on the website: www.waverunnersagility.co.uk
---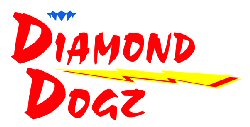 Diamond Dogsz Training Places

A few spaces have become available to train with Diamond Dogz ( Bucks ) Training is Thursday evenings at Brawlings Riding School SL90RE. Flood lite menage and training field.
Competition Grade 1 up to Grade 7 - Indoor school

Beginner and Pre-competition classes available along with 1-2-1 training at HP189UU
Please look at web site www.diamonddogz.org.uk and contact Duessa for more information.
---
Help Wanted at Scrambles
Lu Candy is looking for someone to teach agility classes at Scrambles for various levels but most pre-competition), while one of their trainers is away - and also possibly to take on a couple of classes if wanted over the winter.
The hours we need at the moment are:-
Wednesday, 23rd August: 6.30pm and 7.30pm

Tuesday, 29th August: 10am, 11am, 12pm, 1pm, 6.30pm and 7.30pm

Wednesday, 30th August: 6.30pm and 7.30pm

Tues, 5th September: 10am, 11am, 12pm, 1pm, 6.30pm and 7.30pm classes.
Excellent rates of pay.
If you are interested and could do any or all of these times and would like to know more, please contact Lu by email.
---
2017 Worldwide Course Challenge E-Book
Lee Gibson has designed a new Worldwide Course Challenge E-Book to finance the cost of sending himself and his dog Sadie to international competitions. All proceeds will go towards the considerable travel costs.
The E-book is made up of ten exciting and highly challenging original courses to test you to the maximum! Each course is different and challenges a variety of skills. There are five top level agility courses and five enthralling jumping courses which combine international flavours and trends from around the world with speed and precision.
As a extra bonus - and new for 2017 - the agility courses have a suitable judges path on them too, allowing you to hone your judges skills. You can even use some of the ideas in the courses for your own future judging appointments, if you wish!
Please note... because this is a digital E-Book only. no shipping is required. It can be purchased for £14.99 from this Lee's web site and will be sent to the buyer's email account as a PDF.
---
FORWARD Symposium DVD Released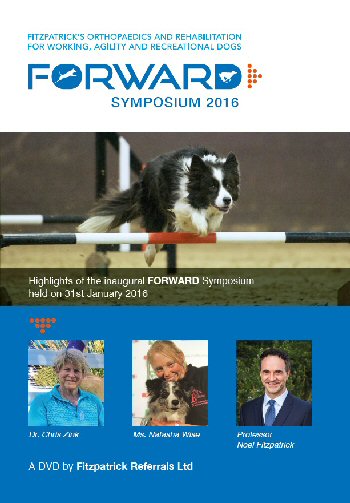 The FORWARD Symposium 2016 Highlights DVD is now on sale.
This is the only opportunity to keep all of the valuable insights, knowledge tips and tricks in a single reference DVD from the best speakers in their field – Dr Chris Zink, Specialist in Canine Sports Medicine from the US, Natasha Wise, top agility handler and trainer, and Professor Noel Fitzpatrick, Channel 4's The Supervet, Managing Director of Fitzpatrick Referrals and Specialist Orthopaedic Veterinary Surgeon.
These lecture topics and content are unique to the inaugural Symposium held on 31st January 2016, and were not repeated in 2017.
Dr Chris Zink
Canine Conditioning and Injury Prevention

Tips and Tricks for Early Identification of Injuries
Natasha Wise
How to Prepare for Top Competition and Keep Injury Free

Bringing Your Dog Back to Work/Agility Following Injury
Professor Noel Fitzpatrick
Is it an injury or was it going to happen anyway? Pelvic limb – Lumbosacral, Hip, Stifle & Hock

Is it an injury or was it going to happen anyway Thoracic limb – Cervical, Shoulder, Elbow & Carpus
The DVD costs £30, including VAT and P+P. If anyone wishes to purchase it, please email SarahC@fitzpatrickreferals.co.uk.
---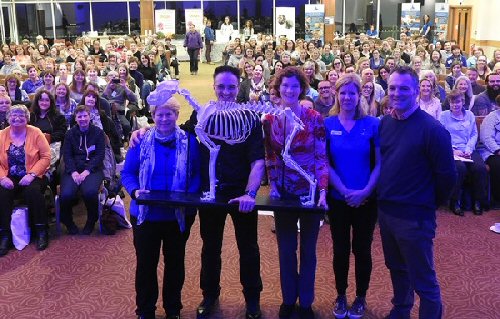 (Dr Chris Zink, Professor Noel Fitzpatrick, Nicola Way, Fiona Doubleday and Professor Nick Bacon at the FORWARD Symposium 2017.)
Integrity and transparency at the core of the FORWARD Symposium 2017
On Sunday, 5th February 2017, the FORWARD Symposium brought together over 250 delegates and 6 thought-leaders in the veterinary profession for one unique learning event in the agility, working and recreational dog calendar.
Dr Chris Zink and Professor Noel Fitzpatrick presented to a community of veterinary professionals, dog trainers and handlers alike at the symposium held at Epsom Downs Racecourse in Surrey. Other speakers included Metropolitan Police Dog Instructor PC Ray Haggett, Founder of Vancouver Animal Massage Nicola Way, Clinical Director of Fitzpatrick Referrals Oncology & Soft Tissue Professor Nick Bacon, and also Fitzpatrick Referrals Rehabilitation Team Leader Fiona Doubleday who attended with her team of physiotherapists and hydrotherapists.
The speakers covered a range of topics from common sports injuries, the diagnosis and treatment of musculo-skeletal conditions, massage and cancer in dogs to help delegates manage, treat and prevent injuries in agility, working and performance dogs. Dr Chris Zink also shared her key techniques to train your dog ready to compete again following injury. A significant theme throughout the FORWARD Symposium was Integrity and Transparency.
Speaking after the event, Professor Noel Fitzpatrick said: 'I can tell you from my own experience that every inch of your body is connected intrinsically, and a big theme for today was the holistic consideration of whole body dynamics and not just treating a symptom of injury in isolation. It's about conditioning and training wisely and trying to prevent injury.

Further to this a significant theme of the day is integrity and transparency. I strongly believe that it is the absolute right of the client to ask difficult questions - including what kind of scanner technology or surgery they are paying money for and especially in this new era of regenerative medicine, what kind of cell- or plasma-based product they are using. It should very much be about evidence, efficacy and ethics. I vehemently believe that we owe it to all of the families that love their dog to spend their money and their time wisely and to be abundantly transparent what, how and when we intervene and importantly to work as a team with regenerative medicine, conventional medicine, surgery and rehabilitation to always do the right thing for our canine partners. They give us so much as companions and friends, it's only right and proper that we do our absolute best for them.'
For more information about the FORWARD Symposium, please visit www.facebook.com/fitzforward or www.fitzpatrickreferrals.co.uk/forward.
A highlights DVD of the inaugural FORWARD Symposium in 2016 is now available to purchase. Please contact Sarah on SarahC@fitzpatrickreferrals.co.uk.
To register your interest for the 2018 FORWARD Symposium, please visit www.fitzpatrickreferrals.co.uk/forward-symposium-2018/.
For more information about FORWARD, please visit the Facebook page.

To find out more on the Fitzpatrick Referrals rehabilitation service, please visit: www.fitzpatrickreferrals.co.uk/services/rehabilitation/.
Contact: Ali, Lally or Sarah at Fitzpatrick Referrals for interview requests, further info and images.
E: AliL@fitzpatrickreferrals.co.uk | LallyB@fitzpatrickreferrals.co.uk | SarahC@fitzpatrickreferrals.co.uk |
Tel: 01483 423761
---
2016

FORWARD Symposium Announces Biggest Speaker Line-up Yet for 2017
Following the sell-out inaugural conference in 2016, the FORWARD Symposium is back on Sunday, 5th February 2017 with a new line-up of speakers, fresh topics and a larger venue of Epsom Downs Racecourse in Surrey.
This unique one-day event will guide you on the best techniques to manage, treat and prevent injuries in agility, working and recreational dogs. The 2017 speaker line-up includes:
Dr. Chris Zink, Consultant on canine sports medicine
Professor Noel Fitzpatrick, Managing Director at Fitzpatrick Referrals
PC Ray Haggett, Dog trainer and instructor at the Metropolitan Police
Professor Nick Bacon, Clinical Director of Oncology & Soft Tissue at Fitzpatrick Referrals
Nicola Way, Founder of Vancouver Animal Massage
Fiona Doubleday, Rehabilitation Team Leader at Fitzpatrick Referrals
The speakers will share their world-class knowledge and advice on achieving and maintaining your dog's peak fitness, and most importantly the best options for treatment and rehabilitation to bring your dog back to top condition. Q&A sessions throughout the conference will provide you with the opportunity to ask the speakers questions you have always wanted answered. A full conference programme will be released very soon.
Professor Noel Fitzpatrick, Managing Director of Fitzpatrick Referrals and Founder of the FORWARD Symposium, said: 'I am delighted to be holding the 2nd FORWARD Symposium that will advise handlers and veterinary rehabilitation professionals the best techniques in treating and preventing injuries. Understanding how to bring your agility, working or even recreational dog back to top condition after an injury is so important, and this unique event promises to do just that with the world-class expertise we have on our 2017 line-up of speakers. This year, we have gone bigger and better covering a wider scope of knowledge in order to tell you everything you need to know about achieving and maintaining your dog's peak fitness. It promises to be a truly great conference. I look forward to seeing you there!'
The FORWARD Symposium is an all-day session from 9am – 5.15pm at Epsom Downs Racecourse, Surrey. Tickets are £115-£125 and include non-alcoholic refreshments, lunch and VAT. It accounts for 8 CPD hours and CPD certificates will be issued following the event.
Tickets for the FORWARD Symposium are available now on Eventbrite: https://www.eventbrite.co.uk/e/forward-symposium-2017-tickets-28335671757?utm_term=eventurl_text
A video for the 2nd FORWARD Symposium is available here: https://www.youtube.com/watch?v=_SO-z8Ijxr4
For updates on the FORWARD Symposium, please visit: https://www.facebook.com/fitzforward
---
Club Opportunity in London Area
Established agility club based in East London has an opportunity for another agility club. Would you be interested in taking over the venue, and offering training on a Monday night to an existing group of agility handlers. The venue is equipped with agility equipment, and the venue has toilets and an exercise area and dog waste disposal arrangements.
If you are interested in expanding your club, please contact cluckett@hotmail.co.uk so we can arrange a meeting to discuss further.
---

Help Develop New Instructor Training Course
Having been training and competing with my dogs in agility for over a decade now, I'm fascinated at how things have changed and evolved in what is a relatively short period of time.
I can recall doing full-height equipment with my first dogs during the first couple of months of their training, with far less than half the confidence and enthusiasm my current young dogs do when they start obstacle training today. It's now obvious to me that my first dogs were over-whelmed by what was being asked of them, and that there are better and more efficient ways of teaching dogs the agility equipment. Plus it can be a lot more fun, too!
For me the best agility instructors are those who are capable of breaking down the training into manageable chunks for both dogs and handlers. They also have keen observation and communication skills when it comes to advising on handlers who are running agility sequences. Great agility instructors are people who are open-minded and always looking to learn more about our sport. Yes some are great competitors too, but competitive ability isn't always an indicator of a good teacher.
Good teachers have good planning skills. Instructors need to come up with creative and inspiring lesson plans that develop the partnerships that they teach. They need to keep things fresh and interesting to keep people's attention and enjoyment levels high. They need to be flexible about the methods that they use in order that it best suits the dog and handler combination they're presented with. Agility handlers can be both young and young-at-heart, and everything in between! One size truly does not fit all.
Positive reinforcement isn't just for the dogs! Instructors who mark progress with surprise rewards or certificates along the way, build loyal clients who want to stay within their training community. And it's cheaper - and arguably more rewarding - to look after existing clients than it is to constantly be advertising for new ones!

Whilst there is a range of training options for training your own dog in agility across the UK and online, there are few really in-depth agility instructor-training courses to support people who wish to teach. This is what I hope to change through my research, and I'd love your help! Please click on this link to take a short survey – it should only take you a couple of minutes to complete. And you could win £25.00 worth of Amazon vouchers for your trouble! https://www.surveymonkey.co.uk/r/DFWD5TZ
And if you'd be interested in the instructor training I'm developing as a result of this research, please visit my website and sign up to the mailing list to be kept informed: http://agilityinstructor.co.uk/
---
Agility Training Day for Young Handlers in SW
Young dog owners in Devon are invited to boost their canine training skills and try out agility activities by attending a fun training day organised by the Young Kennel Club (YKC) in Okehampton.
The Young Kennel Club Dog Agility Training Day will take place at Devon Dog's fantastic training grounds on Sunday, 17th April 2016. The day is open to all YKC members aged 6-24 years, whether they have experience in dog agility or are complete beginners to the competition.
The day will offer members access to agility training from top agility handler, Neil Ellis. Neil has been competing in agility for the past thirteen years and has come through the ranks of the YKC, competing in the junior finals at the Kennel Club International Agility Festival on numerous occasions, as well as competing in the YKC events at Crufts for the past seven years. Neil has represented Agility Team GB at the European Championships twice, made up an Agility Champion and won a number of senior titles over the past few years.
There are two sessions available: the first session in the morning is for beginners who have either just started agility or have never tried it, and the second session in the afternoon is for members who already compete in agility to improve their skills.
Jane Fullbrook, YKC Events Co-Ordinator said: 'We're delighted to announce the Okehampton Dog Agility Training day at the Devon Dogs facility. It's perfect for any young person who has a love of dogs and agility. We're happy to cater to all levels, whether you've never tried agility before or whether you want to hone your skills with your canine friend. Our training days are always such fun and lasting friendships are often formed along the way - we hope that Okehampton will follow in previous events' footsteps.'
The Young Kennel Club is the Kennel Club's group for young dog lovers aged from 6-24 and members can take part in dedicated events and activities that educate young people in the care and training of dogs in a fun and friendly environment.
To find out more about the Okehampton Dog Agility Training day, please contact the YKC team: YKC@thekennelclub.org.uk. Each session costs £25, and will last 3 hours with 10 minute breaks every hour. Members under the age of 18 must be accompanied by a parent or guardian, but they will attend free of charge.
To apply to attend the training day, please fill out the online form on the website: http://www.ykc.org.uk/content/get-involved/young-kennel-club-events-calendar/devon-dogs-further-info/.
---

FORWARD Symposium Success
On Sunday, 31st January, the Inaugural FORWARD Symposium brought together three world leaders in agility, working and performance dogs at an innovative event unique to the working dog calendar. Set in the grounds of Wildwood Golf and Country Club in Surrey, Dr. Chris Zink, Natasha Wise and Professor Noel Fitzpatrick presented to over 200 delegates.
The speakers provided world-class expertise covering high end, specialist veterinary medicine and surgery and the rehabilitation necessary to bring your dog back to competition condition. In addition, there was top level advice on optimal training and preparation of your competition agility and working dog. Delegates agreed this was the most exciting event of its kind ever held in the UK.
Delegates were also delighted to meet the Fitzpatrick Referrals rehabilitation team who took time out of their busy schedules to join the FORWARD Symposium. Their ACPAT Chartered Physiotherapists and ABC Level 3 Hydrotherapists were in attendance to introduce the new FORWARD initiative, as well as discussing how fundamental a tailor-made rehabilitation programme is in your dog's recovery.
The state-of-the-art rehabilitation centre is based at the Fitzpatrick Referrals hospital in Eashing, Surrey and offers the most advanced facilities in manual techniques, muscle stimulation, laser and shockwave, and rehabilitation exercise therapy. In addition, the team are also fortunate to offer a large hydrotherapy pool and an underwater treadmill beneficial for increasing flexibility, strength, core stability and cardiovascular fitness.
A DVD of highlights from the FORWARD Symposium will soon be available to purchase. Please contact Sarah for more information: SarahC@fitzpatrickreferrals.co.uk
Attendee feedback from the FORWARD Symposium:-
'Thank you for a fantastic day. It was amazing to see and listen to three such talented people.'


'What a superb day I had. Natasha Wise, Dr. Chris Zink and Professor Noel Fitzpatrick were absolutely brilliant.'


'Thoroughly enjoyed the day and all the lectures and speakers were excellent!'


'What an amazing day. Truly inspirational. My brain hasn't stopped buzzing and I want more!'
---
2015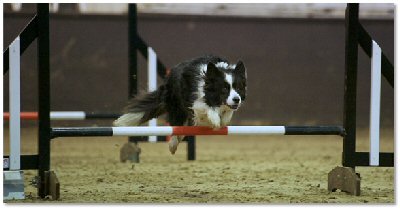 Top Speakers at Inaugural FORWARD Symposium
On Sunday, 31st January 2016, the inaugural FORWARD Symposium at the Wildwood Golf & Country Club in Alfold, Surrey will explore in detail the most common musculoskeletal conditions that affect agility, working and performance dogs. This unique one day event will be headed by three world leaders who will share knowledge built up over twenty years: Dr Christine Zink, Natasha Wise and Professor Noel Fitzpatrick.
The speakers will cover key areas including rehabilitation, veterinary medicine and surgery for the training and preparation for competition, and will also advise on the best options for treatment and rehabilitation following injury to bring your dog back to competition condition. It will be a landmark occasion in the working dog calendar and promises to be the most innovative and exciting event of its kind ever held in the UK.
Professor Noel Fitzpatrick, Managing Director of Fitzpatrick Referrals said, 'Understanding how to bring your dog back to competition level even after an injury is so important. I am delighted to be a part of this unique event that will also advise handlers the best techniques in treating and preventing injuries. The inaugural FORWARD Symposium will provide world-class expertise and will tell you everything you need to know about achieving and maintaining the peak fitness of your dog. It promises to be a really great day and a key date in the calendar!'
About the speakers...
Dr Christine Zink is a consultant on canine sport medicine who lectures all over the world, and has dedicated her life to understanding the conditioning and rehabilitation of performance dogs.

She is an award winning author of several books on conditioning, training and rehabilitation, as well as being a successful handler and competitor in her own right with many successes in agility and other sports with her own dogs. She is amongst the most qualified individuals in the world with regard to conditioning and rehabilitation.

Natasha Wise is a triple World Champion, winning gold in the individual FCI Agility World Championships. She has been competing in agility for 25 years and has multiple dogs who have won at both Crufts and Olympia.

Natasha has an MSc in Sport Performance and uses a Sport Science approach with her training and competition to sustain longevity and injury prevention in her canine athletes. Her large Agility Champion Maddie won her final ticket at 11.5 years old, and Dizzy at 9.5 years old has just produced some of her fastest ground speeds at this year's World Championships.

She and her dog Dizzy are two of the world's leading agility stars.

Prof. Noel Fitzpatrick has treated working dogs all of his career and is one of the leading orthopaedic and neuro-surgical specialists in the UK.

He is also the Principle of the Fitzpatrick Referrals Sports Medicine and Rehabilitation Facility and he is the only RCVS approved orthopaedic specialist who is also boarded by examination with the American College of Sports Medicine and Rehabilitation.

Noel is Managing Director of Fitzpatrick Referrals who are gaining a rapidly growing reputation among the working dog community for their treatment and rehabilitation back to competition of many successful dogs.
The FORWARD Symposium is an all-day session from 10am – 5pm. Tickets are £70 which includes non-alcoholic refreshments, a light lunch and VAT. Tickets for the inaugural FORWARD Symposium are now on sale here: https://www.eventbrite.co.uk/e/the-inaugural-forward-symposium-tickets-19163534648. For more information, please visit: https://www.facebook.com/fitzforward
---

URGENT
Agility Venue Needed Near Fleet
Paws for Success and KATS Agility are looking for a new dog training place as their current venue is undergoing building development. This is urgent as they have been given notice.
All types of venues will be considered , preferably within 10 miles or as near as possible to Fleet, Hampshire.
Paddocks

Riding schools

Old barns

Fields

Even an industrial unit
They will even willing to consider temporary venues to last until January 2016.
References can be provided.
If you might be interested / have any suggestions, please contact Lucy King on members@katsdogagility.co.uk or ring m. 07809 375885. Web site: www.katsdogagility.co.uk
---

Watford AC Needs a New Home
Watford Agility Club needs a new training venue following the announcement by Patchetts that they are closing at the end of July. They are looking for an indoor or outside venue in the North Watford/ Hemel Hempstead / St Albans area where they would be able to park a container, 20 X 8 used to hold equipment with space for parking for club members.
Chantal Fisher said. 'We are very well trained and good at clearing up after ourselves, and the dogs aren't bad either!! If you know of anywhere please can you contact me or Katie Alcock.'
---

To Run or Not to Run
Dawn Weaver's long-awaited follow up to Knowledge Equals Speed! will be available at the end of June. To Run or Not to Run reveals everything you need to know about contacts! Twenty+ years of knowledge is incorporated in the 339 pages of this book, which covers both stopped and running contacts on every contact obstacle.
Pre-order your copy now. Available from http://newsite.dawnweaveragility.com/catalog/books-uk
Book price: £39.00. No postage if picked up at a FAB show.
---

Chance Dog Training Centre Opens in Daventry
It had always been Deena Freeman's dream to set up a training centre but, when she first looked at the costs involved, she thought it was way out of her league. Last October, however, she took another look at the unit, sat down and worked out costs and thought 'Yes, I can do it' so she set the wheels in motion. .
Firstly she had to apply for Change of Use with the Planning Department as it was currently used as an Industrial Warehouse. This was a long winded process taking some weeks but we finally got the change of use granted in January. I had already pre-booked the astro turf flooring which was the Discover Dogs carpet. I then sourced a suitable shock pad underlay. The lease was signed on the 15th January and the flooring was laid on the weekend of the 17/18th.
Agility classes started on the 20th January. Since that date the Centre has been very busy with normal agility classes, handlers booking the unit for preparation for Crufts, obedience and clicker training classes.
All this was made possible by the support I have received from my club Chance Agility Training. Without them I would not have been able to have followed my dream.
Chance Dog Training Centre is available to hire for agility / obedience / heelwork to music etc.
www.chancedogtrainingcentre.co.uk
---

Jump to It at Greg Derrett's Seminars!
Greg Derrett, one of the world's finest agility coaches is coming to East Anglia for a pair of New Year seminars.
Greg Derrett has won every major agility title in the country, some of them several times over. Now he's booked to conduct four workshops over two days in Cambridgeshire in January. Trainers Estelle Lankester of Canine Sports and Jayne Widdess of DBDT have secured Greg's services on 6th and 7th January for a quartet of Master Classes, aimed at all those who want to improve their dog's performance.
The seminars and training will be held at Stuntney near Ely. On 6 January Greg will conduct seminars covering Reinforcement and Contacts and the following day he will hold practical workshops tackling Serpentines and Threadles.
Estelle said: 'Greg has won all sorts of awards over many years, including World Championships and UK national titles. He's a really inspirational instructor who works all over the world – we're really lucky to get him and the seminars are filling up fast.'
Greg Derrett began competing in 1990 and by 1991 had won Junior handler of the year in Great Britain with his first dog Hettie, a Golden Retriever X Border Collie. Throughout the 1990s Greg won Great Britain's Handler of the Year as well as winning Great Britain's Dog of the Year with his Border Collie, Jay. Jay was highly successful and won every major tournament in Great Britain at least once, and most of them twice including the Agility Stakes at Olympia. A succession of other great dogs harvested more prizes and he continues to compete and triumph at the highest levels today.
Complementing Greg's success in the agility ring, he completed an Advanced Studies Diploma in Animal Behaviour. He has become widely popular as a seminar presenter and has travelled all over the world from New Zealand and Australia, throughout Europe, Japan and all of North America.
Seminar venue: The Social Club, Stuntney, Nr Ely, Cambridgeshire CB7
Handling workshops venue: The Old Shire Barn, Stuntney, Nr Ely, Cambridgeshire CB7
Full directions will be sent by email upon booking Please email Estelle at estelle@k9-sports.co.uk or or Jayne at jayneywid@gmail.com for more information and booking forms.
---
2014

Queuing with Your Dog at Agility Events
If you have an opinion on the way dogs are queued at agility events, then here is your chance to have your say. Please can you spare a few minutes to help us with our research and make agility fun for everyone, especially for OUR dogs. If we don't know your thoughts we can't help.
By now some of you will be vrey much aware of the name Myerscough College and also perhaps the work they have been doing for the past four years, which is measuring the heart rate and monitoring the behaviour of agility dogs at numerous shows across the North of England.
Work is progressing very well, but a vital part of this research requires input from you. Three years ago over 1000 of you filled in a questionnaire for Stephanie Fleig who, at that time was studying for her Honours Degree. That was a huge number of responses, so thank you to everyone who responded.
Now Stef is hoping that you can do the same for her with her new survey...this time for her Ph.D. It is just a short multi-choice questionnaire which should take about 4-5 minutes of your time. Acquiring your thoughts and opinions is a vital part of Stephanie's work which is to see if her research can help improve any aspects of agility.
Stef already has had 650 responses from a posting on Agiitynet FB but she is hoping to beat the 1000 mark to make the research all the better. When you have a spare moment, please click on the link below and complete the survey. help out with this ground-breaking piece of research.
Click here to do the survey. https://www.surveymonkey.com/s/STQSRXK
---
KC Canine Sports Seminar Returns
Looking for the winning edge? The Kennel Club Canine Sports Science Seminar will be returning this November, further to the success of the previous seminars held regularly since 2007.
The 2014 seminar is scheduled to take place on Saturday 8th November at the Kennel Club Building in Stoneleigh Park, Warwickshire. Led by professionals from the world of canine health, treatment, training and nutrition, the Canine Sports Science Seminar aims to help handlers, instructors and trainers get the best performance from their dogs, with an emphasis on avoiding injuries and taking a holistic approach to the care of canine athletes.
Mark Laker, Agility Team GB Manager, has attended the seminars previously and commented: 'As manager of Agility Team GB, I have seen an incredible shift in the handlers' awareness and realisation of the difference that an understanding of canine sports science can make in their canine athletes' overall health and wellbeing, and agility performance. A sound understanding of the science behind this passion will ensure agility remains fun for both dog and handler.'
The seminars are geared towards all working dog activities, from agility to working trials, obedience to heelwork to music, field trials to flyball. This year the seminar is focusing on the 'Health and Welfare of the Canine Athlete' and will feature the following sessions:
Nutrition in the Canine Athlete – Marge Chandler
First Aid in the Canine Athlete – Emma Fretwell
Personality Profiling – Samantha Bremner-Harrison
The Impact of Training the Canine Athlete – Lez Graham
Each delegate will have the opportunity to attend all of the above sessions. Marge Chandler will be the first speaker, and all delegates will attend her session together. The last three presentations will take place after lunch and will be conducted in smaller break out groups, with delegates rotating between them. The day will be concluded with everyone coming back together for an open discussion, which will allow attendees to ask the speakers any questions that they may have.
Delegates are encouraged to book early, with an early bird discount price of £80, including lunch and refreshments, available if booked by 31st August. There are discounts available for Kennel Club Members and students studying a relevant subject.
To find out more information and to download the application form, visit: www.thekennelclub.org.uk/activities/canine-sports-science-seminar/.
Please note that pre-registration for this seminar is essential as there will be no tickets available on the day and applications must be received by Friday, 3 October.
---
Therapeutic Agility (TAg) for Nervous, Distracted or Reactive Dogs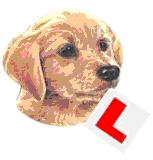 Dog Learning Zone (DLZ), a professional dog training, behaviour and therapeutic care centre on the Norfolk/Suffolk border, is planning to hold a series of workshops aimed at introducing nervous, reactive or just highly distracted dogs to agility. The idea is partly to use the agility as a remedial tool to overcome behaviour issues and partly to use a specialised set-up to help dogs that are easily distracted (e.g. by movement) to focus on their agility and their handler.
It is a frustrating fact that many of the dogs that really need agility as a positive outlet for their drive and attitude are unable to be part of the busy, often noisy, environment of a group class. Agility is a great way either to increase the confidence of a nervous dog or to divert the high work drive of a serial chaser/herder into a harmless channel but, so often, these dogs are never given the opportunity to learn. They are so stressed by the activity surrounding them in a class that they cannot concentrate. The negative aspects of the environment can thus outweigh the positive effects of the activity. They become disruptive and upset the other dogs and handlers in the group.
With these factors in mind, DLZ plans to hold a series of one day workshops. The number of dogs and handlers taking part in each workshop will be small with success relying mainly on controlling the environment to give the dogs a chance to learn and enjoy themselves. There will never be more than one dog off-lead and/or working in the agility area at a time. Dogs and handlers will be in an indoor arena but out of sight of the agility activity and of one another. As the workshops progress, low level distractions will be gradually introduced at a distance from the agility area and then slowly brought closer, all the while ensuring that the dog working on the equipment can still concentrate on the task in hand and shows no signs of stress.
The agility will form an integral part of an overall behaviour improvement programme for the dogs in the workshop. Other aspects of the programme will include Tellington TTouch bodywork and groundwork to help with focus and relaxation and other proven behaviour modification techniques.
DLZ is the brainchild of Elaine Brown who is a training instructor and behaviour practitioner and has a pool of experienced people with the joint expertise to run this programme – an Agility Club Approved Instructor, a second qualified behaviourist and a certified Tellington TTouch practitioner.
TAg Workshops
DLZ have been running specialist behaviour classes to help reactive dogs since 2009. Once these dogs have been through the Reactive Dog Group programme, their owners long to have something else to do. Agility would be an ideal activity for them. These dogs desperately need an opportunity to use their energy and brains but they would never cope in a normal agility class. This knowledge, coupled with the experience of DLZ's agility instructor Sue Smith, led to the birth of the TAg workshop programme. Sue had worried over the years for the dogs she couldn't accommodate in DLZ's 'normal' agility classes because the environment was causing their behaviour to worsen rather than improve.
A precedent has been set in the USA where Teamworks Dog Training TM have been successfully running 'Therapeutic Agility' classes since 2008. DLZ hope to follow their example but the continuation of this new venture depends on the interest received. DLZ very much hopes that the workshops will enable all dogs to reach their full potential and allow some to go on to take part in 'normal' agility classes and some just to have fun and learn to enjoy agility whilst building a better partnership with their owners.
For further information please go to DLZs websites at: www.reactivedog.co.uk and www.doglearningzone.co.uk or email Sue Smith: tagwithsue@aol.com
---

National Code for Agility Dog Owners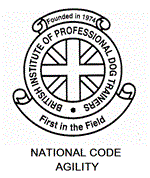 The British Institute of Pet Dog Trainers (BIPDT) has over the last year been working on the development of an agility test for dog owners whether participating for fun and fitness or competition. The purpose is to give encouragement and focus to agility training for all shapes and sizes of dog from small through to giant, with owner and dog gaining a certificate for each level of achievement.
There are four levels of achievement which are to be taken in order, starting with Groundwork and followed by Bronze, Silver and Gold and made up of Practical Control and Examination. Dogs are assessed on a Pass or Not Ready. Dogs must pass each of the exercises to gain a certificate although course faults will not necessarily result in a Not Ready result and are as follows:-
Groundwork = 0

Bronze = 10

Silver = 10

Gold = 10
Basic Practical Code
The National Code Agility is not a competition. It is to demonstrate that the handler/owner has the ability to control their dog whilst negotiating various agility obstacles. Assessment is based on the dog's response to their owner – the dog is under control and not a nuisance to others whilst on and around an agility environment.
In all exercises, uncontrolled jumping-up, lack of response or the use of food will be a failure. Handlers can use Voice commands, encouragement and signals. Contact equipment and the table may be used at training heights/widths, but not garden equipment. Jumps heights can be reduced for individual dogs by one level (against their height level category), if they are aged seven years and over or weigh three times their height or more.
Examination
This is a practical test demonstrating that the dog can be examined and showing no undue resentment prior to training taking place. The examination should be sufficient to pick up any issues that may affect the dog's ability to run the course.
Groundwork Certificate
6 Months

A. PRACTICAL CONTROL

1. Vehicle safety – Collar and lead put on before getting out, waits, gets out on command. Getting into vehicle dog waits quietly until handler indicates to get in, lead taken off when safely in vehicle.

2. Control around people and dogs – dog/ handler to be stood or sat close to others – to show no more than a casual interest with no whining/barking/pulling on lead etc.

3. Warm up – The dog is released to play min. 2 mins. Handler can throw a toy, dog then called to hand, put back on lead ready for the next exercise.

4. Wait – Dog off lead in any position, handler to walk around dog and return to side. Dog to remain in position until released by handler.

5. Control off lead - Change of direction and halt/s (position handler's choice). Dogs to be worked on both sides. Markers and poles may be used.

6. Pipe Tunnel – Handler not to move forward of entrance until dog has entered.

7. Channel Weaves – Toy or other marker may be used at the end of the weaves, maximum of 7 to be used. Distance between weaves should be adjusted to accommodate different breeds of dog.

8. Contact Points – Dog to touch a contact point and remain until released.

B. EXAMINATION / GROOMING

To test the handler's knowledge the Examiner will discuss various aspects of dog care with them.

Coat & Skin – Handler should feel all over dog checking for matts or skin blemishes before grooming.

Head – Eyes, Nose, Ears – Handler to be able to examine and clean if required.

Feet & Nails – Front and Rear – Dogs can be very sensitive about having their feet touched handler to show care..

Rear End – Under Tail Area

Bronze Certificate
12 months

A. PRACTICAL CONTROL

1. Vehicle safety – Collar and lead put on before getting out, waits, gets out on command. Getting into vehicle dog waits quietly until handler indicates to get in, lead taken off when safely in vehicle.

2. Control around people and dogs – dog/ handler to be stood or sat close to others, waiting their turn to run and to show no more than a casual interest with no whining/barking/pulling on lead etc.

3. Warm up – The dog is released to warm up min. 4 mins. Handler can use a toy and markers and poles.

4. Wait – Dog off lead in any position, handler to walk around one jump and return to dog's side.

5. Control off lead - Handler is not to impede the dog working the course.

6. Pipe Tunnel – tunnel to be in a 'U' shape.

7. Channel/Guide Weaves – Toy or other marker may be used at the end of the weaves, full set to be used. Distance between weaves may be adjusted to accommodate different breeds of dog.

8. Control over jumps – Minimum of 5, maximum of 7 jumps at no higher than medium - 5 of which should be in a straight line.

9. Contacts – Dog to negotiating either the A frame or dog walk.

10. Tyre - Can be included in the jump numbers for the test but must be in excess of the 5th jump.

B. EXAMINATION

To test the handler's knowledge the Examiner will discuss various aspects of care with them. Handler should fully examine the dog before working.

Coat & Skin

Head – Eyes, Nose, Ears

Feet & Nails – Front and Rear

Rear End – Under Tail Area

Silver Certificate
18 months

A. PRACTICAL CONTROL

1. Vehicle safety

2. Control around people and dogs

3. Warm up

4. Walk the Course – Dog is to be tethered whilst the handler examines and walks the course.

5. Wait – Dog off lead in any position. Dog to remain in position until released by handler.

6. Control off lead - Handler is not to impede the dog working the course.

7. Pipe Tunnel – Can include left or right hand entrance.

8. Weaves (straight line) – Toy or other marker may be used at the end of the weaves, maximum of 7 to be used. Distance between weaves may be adjusted to accommodate different breeds.

9. Instant Down – Dog to enter pause box/table and remain in the down for 5 seconds. Examiner is looking for a quick response, stopping when commanded and remaining still.

10. Jumps - A series of no less than 10 jumps which may include the tyre, including change of direction. Jumps should not exceed medium height for dogs measured as large.

11. Contacts - Dog to negotiate see saw plus either A frame or dog walk.

B. EXAMINATION

Coat & Skin

Head – Eyes, Nose, Ears

Feet & Nails – Front and Rear, Fur Between Pads

Rear & Under Tail

Tummy Area & Genitals

Gold Certiccate
24 months

A. PRACTICAL CONTROL

1. Vehicle safety

2. Control around people and dogs

3. Warm up

4. Walk the Course

5. Wait – Dog off lead in any position. Dog to remain in position until released by handler.

6. Control off lead. Handler is not to impede the dog working the course.

7. Pipe Tunnel

8. Weaves – Full set of 12. Distance between weaves may be adjusted to accommodate different breeds.

9. Instant Down – Dog to enter pause box/table and remain in the down for 5 seconds.

10. Jumps - A series of no less than 15 jumps which should include the tyre and changes of direction. Jumps to be at standard heights.

11. Contacts - Dog to negotiate a full set of contacts.

B. EXAMINATION

Coat & Skin

Head – Eyes, Nose, Ears

Feet & Nails – Front and Rear, Fur Between Pads

Rear & Under Tail

Tummy Area & Genitals

NB: The BIPDT does not endorse the tying up and leaving a dog as a general practice. The test is to determine if the dog can be left alone (without causing a stressful reaction) whilst the handler walks the course.

When dogs are being tested off lead every effort must be taken that the area is safe.
For further information please go to www.bipdt.org.uk
---

BIPDT Residential Dog Training Instructors Course
Want to improve your instructional techniques or add to your knowledge? Have you achieved an academic qualification but need to attend a practical Course? The BIPDT holds a residential week-long dog training instructor's course twice a year,

covering the disciplines of Obedience, Working Trials, Agility and Field Trials. There are four grades of excellence offered in each of the disciplines.

The courses are held at the excellent venue of Harper Adams University, Newport, Shropshire where you reside in student accommodation for the week. When you retire for the evening dogs are allowed in your room, although they should be fed outside. The course includes three great meals a day plus and tea/coffee break in the morning and then again in the afternoon. There is a small shop on site which should be able to provide anything that you have left at home or forgotten or alternatively you can make you way into the nearby town of Newport.

As this course is about improving your instructor techniques, you will learn a variety of methods from students taking other disciplines i.e., Field and Working Trials dogs are also required to jump although it may be a ditch or a fence rather than a more formal jump.

During the week all of the dog and handlers on the course will have the opportunity to have a go on agility irrespective of the discipline, and many enjoy it so much that they go away to look for an agility club to join. We like to give our agility students the opportunity to help run these sessions along with one of the course instructors.

This is a certificated course which is based on a test at the end of the week judged by external examiners.

For further information please go to www.bipdt.org.uk
---
<![if !mso]><![endif]>