Salomon Supercross Trainers Review
If you are thinking about buying new running shoes for Agility, you might want to read Iain Patz's review of the new Salomon Supercross trainer.

Special Offer... To celebrate a wonderful review by Champion handler, agility instructor, judge and overall agility expert Iain Platz, Agility World is offering £20 off the rrp of all Salamon Supercross and Supercross GTX shoes ordered via the website until the end of September whilst stocks last.




Rebecca Atkin's Rommie rescue Teagan measures LHO but seems to have built-in springs.
Young fundraiser Georgie Bearder will be honoured at The House of Lords for her unceasing efforts raising more than £4000 by selling hand-painted glasses and carrying water at agility shows.

Please support Bonnie Quick who is raising money for the Bristol Children's Hospital by running the Bristol Half Marathon on 15th September. Her young son Charlie was treated there after he was scalded by hot water last month.

Wing Work
Wing work is an important part of foundation training as it teaches dogs to turn tightly. In an exclusive extract from her book Foundation Fun & Games, Connie Sellers shares her secrets on doing wing wraps and associated handling moves.

Numb3rs
Some stats for the agility geeks out there... Of 259 KC shows in 2019
91.51% offered LHO of some sorts
29.73% offered LHO for Large only
61.78% offered LHO for Small/Medium
8.49% offered no LHO in any height

Flexitags
Louise Bray loves these colourful silicone dog name tags so much that she wanted everyone to know.
Thinking Aloud
Belle MacIntosh wonders, 'What do you do when you have a weekend without an agility show?'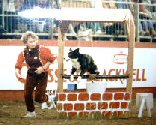 Coming Back to Agility
Brenda Johnston started agility way back in 1986 and reached the dizzy heights of Olympia two years later. Unfortunately she had to give up the sport she loved due to family and health problems. Well, she's coming back now. Find out what she thinks of agility today.
REVIEWS

K9 Custom Canopies
These custom-made sun reflective covers for most cars and vans are just what they say on the tin. Reviewed by Dave Nash who was motivated by the product and cake!

Winston & Porter® Hip & Joint Rescue™
Friends Shellie Smith and Alison Barlow review this canine joint supplement which contains a quadruple strength combination of Glucosamine, Chondroitin, MSM and Hyaluronic Acid (HA) for long term joint health and mobility.
Touchango Toys - The Ringo
Touchango K9 has launched a range of toys that they make themselves. Lisa Jordan reviews the Ringo, a durable ball on bungee handle which she uses with her collie Amp.

Photizo® Vetcare
Chris Garrett has used Photizo Light Therapy on her dogs and on herself for a while now, and she agreed enthusiastically to review the Photizo® Vetcare devise, a non-invasive alternative therapy tool for wound healing, musculoskeletal conditions and pain relief.
SPECIALS

Rain Rain


Sometimes humour arises out of adversity or, as we are experiencing, the bad weather! Agility people are nothing if not resilient and even when the rings at the KCIAF were underwater and caravans sinking into the ground, they still found time to smile.
Has anyone got a recent email address for God?

Course walking a la KCI

KC International Under Water Festival

Rosie Dains' reasons to be cheerful

Roger Brown's Hit List - The top 12

CSJ Open 2019
Anyone who has ever wanted to experience a high end, international competition will want to read Gina Colton's report on her second visit to the 2019 CSJ Open.

The Appliance of Science to Dog Agility


Many people say that agility is not 'rocket science,' but in

a series of humorous mini articles, Alan Waddington would beg to disagree. So sit back and prepare to be amused.

The Isaac Newton Dog Training Academy presents the impact of the laws of nature on dog agility.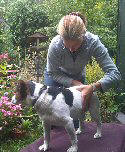 Pinched Nerves


Even the most athletic agility dog can get strains, sprains and painful pinched nerves. Therefore, it's important to spot these injuries early before significant damage is done. Chiropractor Petra Langen-Pieters explains how to tell if your dog has a pinched nerve. Once you start a love affair with a poodle, your life will never be the same again!Chris Stamps writes about what it's like to live with an Agility Standard Poodle. Yes, those are the big ones! And don't ask about the name.

The Five Second Rule
Something as innocuous as walking the dog when it is too hot can be dangerous. On a typical summer day, the pavement can reach a temperature of 52° or more. Fortunately there's a handy way to test the temperature of the ground.

Kratu went viral after his hilariously 'bad' performance at Crufts 2019. He's a natural clown and a great ambassador for rescue dogs around the world.

My Other Half
WAO judge Sally Jones has been on her agility journey for 30 years now with her long suffering husband Steve who still cannot see the merits of spending a day in a muddy field, full of noisy dogs with bunch of people talking about their 'if-only' rounds. And she's not the only one...
---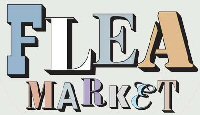 Still the best way to reach agility people!
You can buy and / or sell your unwanted items on the Flea Market all year round. It's free and talks direct to the dog people you want to reach.
---
LEAGUES, QUALIFIERS & FINALS
There's an extra 'run for fun' qualifier for every Grade level now, not just the Advanced dogs. You can find a qualifier to suit you by using the Qualifiers button on the Show Diary page. Don't be shy. Go for it!


Doc Docherty will be judging the LOW 550 Scotland Final in August.
If you want to run Doc's final course with the chance to win great trophies, a 3m pipe tunnel or a free space on training workshop, be sure to put the dates in your 2019 diary.
---