NEWS HEADLINES
Follow the (grey link) for more information
---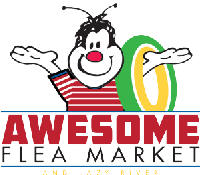 A great way to buy from or sell to agility people!
It is a brilliant place for finding things to buy and sell. Pamela Llewhellin
The Flea Market is open 24/7 for you to buy and / or sell your pre-loved items all year round. It's free and talks direct to the dog people you want to reach for as long as it takes!
---
RESCUE ME


Can you give a dog like me a new start?

You can now add potential agility dogs direct, using the on-line form. This is a free service for rescue organisations and private individuals!
---
SCHEDULES

It's not be practical to list ALL the schedules available here for space reasons so we've opted for those that we've received in the last two weeks. The shows in red are closing this week so hurry if you want to enter. Schedules can be downloaded direct from the
Show Diary
page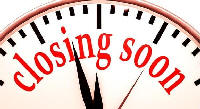 ---
E-VENTS & MEASURING
Events added in the last two weeks.
---
GDPR Compliance

News and information is at the heart of everything we do at Agilitynet. We are ? and have always been - totally committed to protecting your privacy. Our promise to you is to hold your information securely and use it responsibly and transparently. Your Privacy is of the utmost importance to us. (T&Cs)
WHAT'S NEW...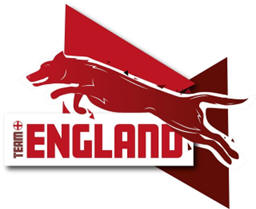 Sponsorship News
Dogeria UK is proud to be one of the official sponsors of the England team at the 10th WAO Championships.
WAO England Team placings thanks to
Pentathlon Jumping 2
300 Jo Gleed & Topic - 1st

400 Aemillia Nicholson & Wyllow - 2nd

500 Jo Gleed & Scooter - 1st
Biathlon Jumping
300 Jo Gleed and Topic - 1st

400 Dalton Meredith and Munchie - 2nd
Gamblers
250 Lucy Osborne-Norton & Fling - 1st

400 Dalton Meredith & Munchy - 2nd
Team Jumping 1 - 1st
Team Jumping 2 - 3rd
Snooker
300 Ashleigh Butler - 3rd

400 Dalton Meredith - 1st

400 Aemillia Nicholson - 1st

500 Nicola Wildman - 1st

600 Gemma Haycock - 3rd
Penthalon Jumping 1
300 - Ashleigh Butler - 1st

400 Dalton Meredith - 1st

400 Aemillia Nicholson - 2nd
Games
250 Lucy Osborne-Norton and Fling - 1st

400 Dalton Meredith & Munchy - 1st
Pentathlon
400 Aemillia Nicholson & Wyllow - 1st

400 Dalton Meredith & Munchy - 2nd

300 Ashleigh Butler & Sully - 3rd
Biathlon
250 Lucy Osborne-Norton & Fling - 3rd

300 Rachel Ward & Fiametta - 3rd

Junior News
Thomas Newsam (9) came home from school the other day to find a parcel from Judge Angelo 'Doc' Docherty. It was a trophy and a card - and that's what makes agility such an amazing community for our youngsters.
The Agility Challenge celebrates much of what is good in agility and is one of the 'must try' competitions on the agility calendar for G1-4 handlers and experienced competitors with new dogs. Results of Heat 1 at
Andoversford Point to Point Festival. With a great (if short) interview with the winner.

Merlin's Diary
Helen Jones fell in love with a merle pup which she saw on the Agilitynet Rescue page. He turned out not to be a collie at all, but he's brought great joy to her and a lot of fun - and considerable laughter - to judges and spectators around the ring.
Brags and Anti-brags
Mother Andrea Miles and her daughter Laurissa Miles won out at the same show on the same day. Can anyone top that?

Confidence in Competition
Trust yourself, your dog and your training recommends Becky Sinclair.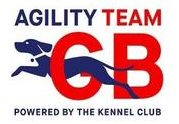 Junior Agility Team GB
Please help our talented Juniors get to Finland for the Junior Open World Champs in July by contributing to their travel expenses. Their parents have set up a JustGiving page to raise enough money to cover their transport and accommodation.

Max & Bunny - A love story with a hoppy ending
At the tender age of 14, every day is a bonus for collie Max. After his owner died, he went to live at Valgrays BC & Animal Rescue where he fell in love with Bunny.
Good news... Max will be living at Valgrays for the rest of his twilight years.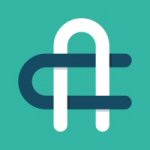 How Arthritis Affects Agility Dogs
In an article commissioned by Canine Arthritis Management specifically for Agilitynet, international competitor and trainer Jana Gams talks about how to identify arthritis and reduce the chances of your dog developing this painful disease.
---
SPECIALS

Ag.Ch. Dogs
Two more dogs have joined the 2022 Agility Champions- Welcome to Snazzy and Mark Wingate-Wynne and Clippy and Dalton Meredith.

The YKC Girls in Black
Meet the three young handlers who share a love of dogs and dog agility and are now BFFs.

In Memory
It is with a heavy heart that we announce the tragic death of David Marshall who was Chair at Glandore DTC for many years and was known to everyone in the Northern Ireland canine world.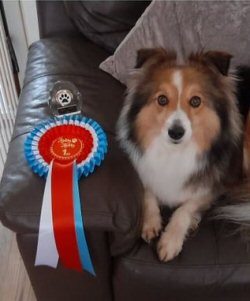 Dixie - The All or Nothing Dog
Calm isn't a word you'd ever use to describe Dixie but, when she went to her first show of the season, she was came 1st in her fourth run thus making her G5. And it only took five years!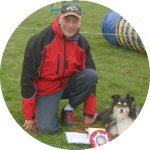 Clive Foden - A Life in Agility
Meet one of the latest inductees to the Agility Hall of Fame, talking about the good old days in his own words.

Weaving or Darning
Our favourite 'The Agility Whisperer' is back with his unique and thought provoking take on the wonderful world of agility. So what's he on about now?
---
AGILITYNET STUFF
Flea Market
Ever wonder what the most popular page on Agilitynet is? According to Google, it's the Flea Market. Have you checked it out lately for a bargain or two?

Judges A-List
We've heard that a number of old friends have retired from judging post-Covid. If you are no longer accepting agility appointments, regardless of the reason, please let us know so we can update the list.
Show Diary
Thank you to all the show organisers who have provided dates for 2022 and 2023. There are now more than 400 dates on the Agilitynet Show Diary - large and small, KC, UKA and independent. The KC qualifiers which are now available via the filter on the Show Diary, thanks to help from Georgie Lott. Agility is back!

Senior Agility League
Are you a member? Don't be shy. SAL is open to anyone 55 years and over and you can claim points on any win or place as long as you get a rosette.
Find a Club
We've been busy reconnecting with clubs we've not heard from for a while and removing those which are no longer offering agility training. New groups always welcome.
Agilitynet FB
Agilitynet FB has reached almost 28,000+ members. Welcome to all new members. And thank you to the dedicated Admin who have kept it growing.